24 October 2019
Press release - Red Cross warns of risk of death for thousands of people across Bosnia and Herzegovina
The Red Cross has warned that refugees and migrants across Bosnia and Herzegovina are having their lives put at risk due to inhumane living conditions
Official refugee reception centres are overcrowded leaving thousands of people, including women and children, living out in the open without food, water and shelter.
The charity is calling for the closure of the unofficial Vučjak camp and is appealing for donations to help anyone sleeping outside ahead of winter
The Red Cross has warned that more than seven thousand refugees and migrants trapped in Bosnia and Herzegovina are in desperate need of help ahead of winter.
With temperatures set to drop below freezing in the coming weeks, the charity is urgently calling for funds to help them save lives and provide people with warm clothes, safe shelter, food, and water.
According to the Red Cross, the unofficial Vučjak camp in northwest Bosnia is bearing the brunt of the country's migrant crisis and has been stretched to breaking point.
The Red Cross is the only organisation currently providing assistance in Vučjak, which has grown from accommodating approximately 700 people to over 2,000 people in the past few days.
Since the camp was established in June, the charity's volunteers – who rely on donations to feed people in Vučjak - have been providing two meals a day to its residents. But the sudden influx of people has forced them to cut back their support to just one meal a day.
As well as being surrounded by minefields from the Yugoslav wars, the camp has no toilets, no running water, no electricity, no medical assistance and is eight kilometres from the nearest town.
Freya Carr, who works for the British Red Cross recently visited the camp:
"There is no doubt in my mind that people will not survive here for much longer. The temperatures are already dropping below freezing and it's only going to get colder.
"There are now thousands of people living here, most without proper shoes or warm coats and the majority are surviving on just one small meal a day.
"The conditions are inhumane and the sense of desperation and sadness among people is unbearable to see, they simply cannot stay here any longer."
The United Nations and European Union have both expressed concern at conditions in the camp, but no progress has been made in identifying a more suitable location for the thousands of people living there.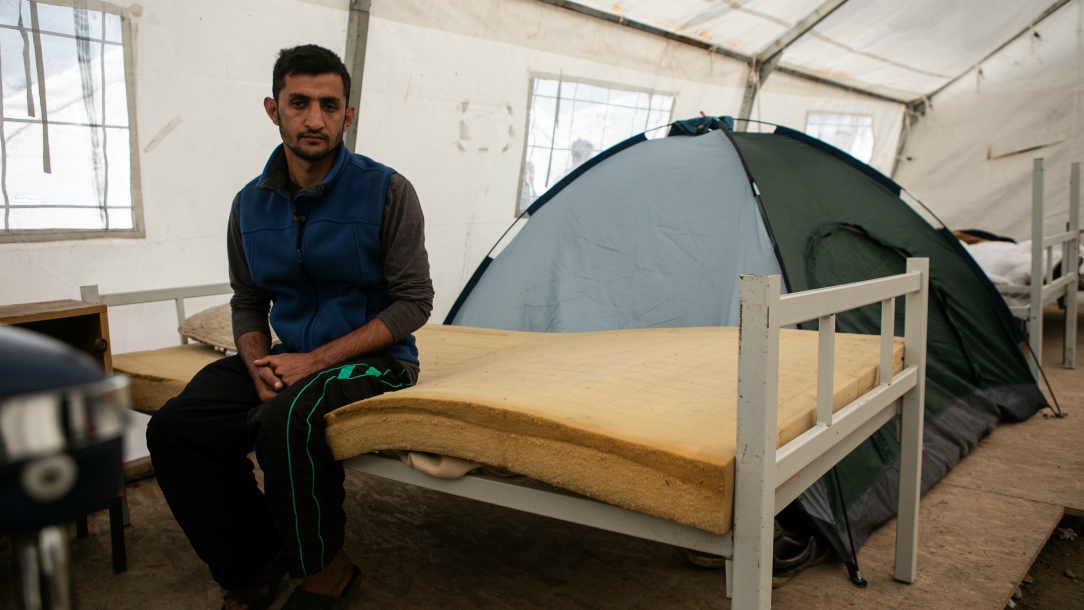 23-year-old Huzrat from Afghanistan used to work for the British Army in Helmand. When his family were killed, and fearing for his life, he fled to Europe. Now living in Vučjak, he said:
"The past three months that I have spent here has been the worst time of my life.
"The situation in this camp is very bad. We are six people living in a single tent and we have three blankets between us. We don't have a toilet, we don't have washrooms, we have water for only three hours a day and not enough food to eat. I am so hungry.
"I am not here to go to Europe for money, I just want to live a safe life, that's it."
The Red Cross is now urging the Bosnia and Herzegovina authorities to close Vučjak and find a suitable alternative for the people living there.
Reports suggest that up to 1,000 people may also be sleeping on the streets and in abandoned buildings due to the lack of capacity in official UN run camps and people not wanting to enter Vučjak.
Red Cross mobile vehicles have been trying to reach unassisted people with food, water and first aid - but without further funds the charity is concerned many people will be left without support at a time they need it most.
More than 20,000 people are thought to have arrived in Bosnia and Herzegovina since the beginning of the year. UNHCR estimates that there are currently 7,000 migrants in the country, with more than half of them sleeping rough.
To support the British Red Cross to help more refugees and migrants across Bosnia and Herzegovina, donate to the charity's Global Refugee Fund
For spokespeople or more information:
Freya Carr, senior media officer, 02078777461, fcarr@redcross.org.uk
Out of hours, 07710 391703