06 June 2022
British Red Cross unveils unseen photographs of Her Majesty The Queen to mark the Platinum Jubilee
To celebrate Queen Elizabeth ll's Platinum Jubilee, on 1 June 2022, a new exhibition curated by British Red Cross will be launched showcasing unseen historical photographs, unpublished letters and keepsakes of the charity's longest-serving patron.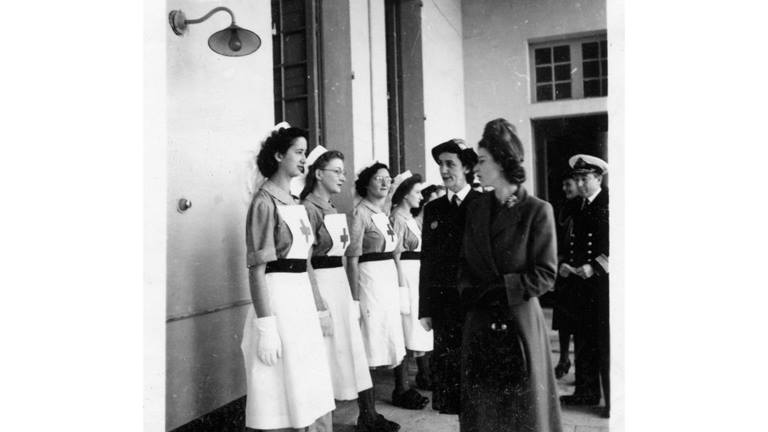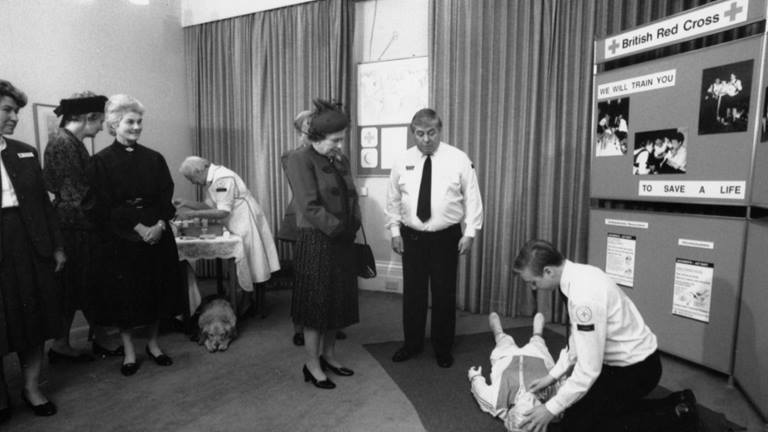 'The Royals and the Red Cross: A celebration of the Queen's Platinum Jubilee' will display historical pieces and photographs of Queen ELizabeth ll that have never been seen by the public before.
Her Majesty The Queen has been the Patron of the British Red Cross for 70 years, following her accession to the throne in 1952. Unseen photos from the charity's museum and archives show how passionate Elizabeth II was about supporting the charity.
Some of the images date back as far as to when she was a young princess, travelling overseas to visit Red Cross nurses working on the frontline (exhibit 3) and captures the time she spent inspiring hundreds of young Red Cross volunteers (exhibit 1 & 2).
Alongside striking images of the work and visits she carried out, there will also be unseen letters, a telegram dating back to 1958 and awards from The Queen to Red Cross volunteers and staff.
Since becoming Queen, Her Majesty has continued to recognise the work of volunteers and supporters of the charity who have made a huge difference to the lives of millions of people who have faced crisis, both in the UK and overseas.
As an active Patron, The Queen has maintained a keen interest and involvement in the charity's vital work supporting people in crisis in the UK and across the world (exhibition 29), delivering life-saving skills and equipment needed to help people in times of war and peace.
One long-standing volunteer, Ann Humphreys, 74, met The Queen in 1986 during a royal visit to her hometown Machynlleth in Wales. Rarely seen photographs from this occasion will also be displayed in the exhibition.
Volunteering for the Red Cross is something of a family tradition for Ann. As well as her parents being involved with the charity, she signed up with her sister Myra, 70, when they were just 5 years old.
"I look back at my time volunteering very fondly and discovered a shared passion with my sister that brought us closer together"
The sisters gave up their time, mainly supporting disabled people in their community and it was during that period that Ann met Her Majesty the Queen.
"We couldn't believe she travelled all the way to see us. It was wonderful and particularly nice because we could share it with our disabled members. It was a beautiful, clear, warm day and we were so thrilled to see The Queen.
"I remember the anxiety and excitement prior to her arriving but she somehow laid all of that to rest and helped you feel very comfortable.
"She was very gracious and sweet. She does something that puts you at ease, I think it's because she goes out of her way to listen. In the photographs, you can see me and dad felt totally relaxed. If you were to cut the photo in half, you'd think I was chatting to a friend.
"I think it was something no one ever expected to happen in their life time"
The Royal Family has a long history of supporting the work of the British Red Cross, dating back to 1870 when the charity was founded and Queen Victoria became the first official Patron.
Mike Adamson, Chief Executive of the British Red Cross said:
"We want to celebrate The Queen's Platinum Jubilee with a memento that truly signifies the close relationship Her Majesty has with the British Red Cross.
"This new exhibition, including never before seen photos, enables us to reflect and take stock of the enormous contribution The Queen has made to the British Red Cross and the tens of millions of people we have supported over the last 70 years."
Mehzebin Adam-Suter, Curator of the British Red Cross Museum and Archives said:
"It's rare to bring together a collection with so many unseen items relating to such an iconic public figure.
"These historical photos and items are very poignant because they accurately capture, The Queen's true sense of compassion, humility and desire to help people in crisis.
"During The Queen's reign, she has been a constant advocate for the work that we do both in the UK and overseas and has endlessly demonstrated that she is a true humanitarian.
"As we emerge from the pandemic, with climate disasters frequently intensifying, alongside devastating conflicts forcing people to flee from persecution, this quality is something we should be proud to have at the heart of our State."
Explore the online exhibition: https://www.redcross.org.uk/royalsandredcross
Visit the exhibition from 6 June – 5 September 2022:
British Red Cross Museum
44 Moorfields
London
EC2Y 9AL
To book a visit, email museum@redcross.org.uk
-Ends-