19 November 2019
British Red Cross calls for change in the law to improve response when emergencies or disasters strike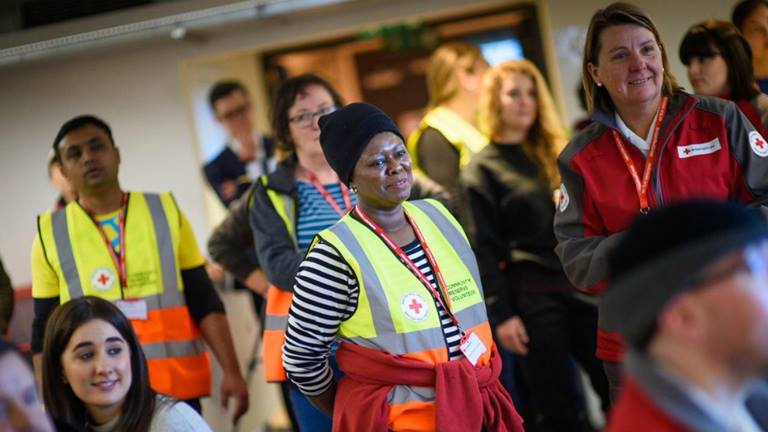 The British Red Cross is calling for the law to be updated to give individuals and communities more say in how they are treated and the support they get in an emergency.
Currently emergency services, government bodies and councils, who together are responsible for planning for emergencies, aren't legally bound to involve voluntary and community groups. As a result, local knowledge about needs, vulnerabilities and sensitivities may not always be known or taken into consideration.
In its latest report, People power in emergencies, the charity looks at how far local resilience forums, which lead local council emergency planning, factor in the knowledge, skills and capacities of the voluntary and community sector.
It reveals that collaboration is variable, meaning responses to emergencies tend to focus chiefly on 'command and control' mechanisms, which of course are important. At the same time, this can mean missed opportunities to mobilise people power encouraging communities to build their resilience and support their recovery from within. The report highlights the very different needs of individuals, and how those needs can best be met.
One of the report's key recommendations is for an urgent review of the 2004 Civil Contingencies Act. The British Red Cross is calling on whoever wins the election to update the Act to enshrine in law the role of the voluntary and community sector in emergencies.
Other recommendations in the report include:
A 'people at the heart of planning' checklist for local resilience forums, produced by the British Red Cross, and championed by the recently formed voluntary and community sector Emergencies Partnership
A further amendment to the Civil Contingencies Act, Regulations and Guidance to require local resilience forums, in partnership with the voluntary and community sector, to plan what the report calls a more 'person-centred' approach to preparing for and dealing with disasters and emergencies.
Previous research by the British Red Cross has shown how involving grassroots organisations in responding to emergencies ensures people and communities feel listened to and more empowered and in the face of disaster. As every individual will react differently, it is unrealistic to ask councils and emergency services to adopt a 'one size fits all' approach.
The British Red Cross is calling on local authorities and the voluntary and community sector to work with it on the report's recommendations, and to see the law amended urgently.
British Red Cross CEO Mike Adamson said: "Our own response to the recent floods across Yorkshire and the Midlands has shown the value we bring, whether welcoming people who've been flooded out of their home into rest centres, or supporting fire and rescue to distribute sandbags. This is about showing how we complement the work of our partners.
"It's also about giving a voice to those affected by emergencies and highlighting local challenges, sensitivities and opportunities to help people survive and recover better.
"It's people and communities who know best what their needs are and how they want them addressed. They are the experts in who may be seriously ill, have a disability or mobility issue, or face difficulties because of language barriers, poverty, immigration status or anything else. By listening harder and tapping into that resource, people will have the best possible chance of survival and recovery.
"By updating the law so that statutory agencies work more with communities and the voluntary sector, people's immediate needs will be met more easily, in the most appropriate way."
Dr Andy Johnston, Chief Operating Officer of the Local Government Information Unit (LGIU), and Convenor of the Local Government Flood Forum, has welcomed the report: "It is very timely, given the recent emergency response to flooding in the North of England and the Midlands. Emergencies in the UK are evolving, with climate change and threats of terrorism, and are very complex, affecting both communities and councils.
I am therefore pleased to see the recommendation for reviewing the legislation to better guide the local agencies in their planning for emergencies. In my roles as part of the LGIU and Convenor of the Local Government Flood Forum, I very much look forward to working more closely with both councils and the voluntary and community sector to take forward these insights and recommendations to ensure community insight is key to local government emergency planning."
Download People power in emergencies (PDF)
Download the people at the heart of emergency response checklist (PDF)
For further information, please contact the British Red Cross media team: on press@redcross.org.uk or 07710 391 703.
Notes to editors
About 'People Power in Emergencies' report:
The report outlines findings from three strands of research, conducted between June to August 2019:
Survey of voluntary and community sector representatives in local resilience forums (Voluntary and Community Sector Emergencies Partnership): the Emergencies Partnership surveyed voluntary and community sector representatives on local resilience forums. The aim of this was to discover how – and how often – local resilience forums engage with voluntary and community organisations. Representatives on 27 of the 38 forums responded.
Review of local resilience forum plans (British Red Cross): the British Red Cross reviewed local resilience forum plans to see whether they followed human-centred principles – outlined in our reports Ready for Anything and Harnessing the Power of Kindness. 24 of the 38 forums provided us with three or more of the five plans they were requested to produce.
Survey of NAVCA membership (NAVCA): the National Association for Voluntary and Community Action (NAVCA) surveyed 45 of its member charities to find out how well local resilience forums engage with the broader voluntary sector.
The findings of this research are used to make constructive recommendations for local and national bodies involved in crisis planning and response to ensure that people and communities are at the heart of crisis response in England. Informed by the findings of this report, the British Red Cross will be reviewing structures and plans in each nation of the UK, to develop an understanding of variation and to identify examples of best practice.

People Power in Emergencies follows on from two previous British Red Cross reports on emergency response in the UK: Ready for anything: Putting people at the heart of emergency response and Harnessing the power of kindness for communities in crisis.
About the British Red Cross
The British Red Cross helps people in crisis, whoever and wherever they are. We are part of a global voluntary network, responding to conflicts, natural disasters and individual emergencies. We enable vulnerable people in the UK and abroad to prepare for and withstand emergencies in their own communities. And when the crisis is over, we help them to recover and move on with their lives.

Follow the British Red Cross on Twitter
Follow British Red Cross Policy on Twitter