31 December 2022
Scottish volunteer awarded BEM in New Year Honours 2023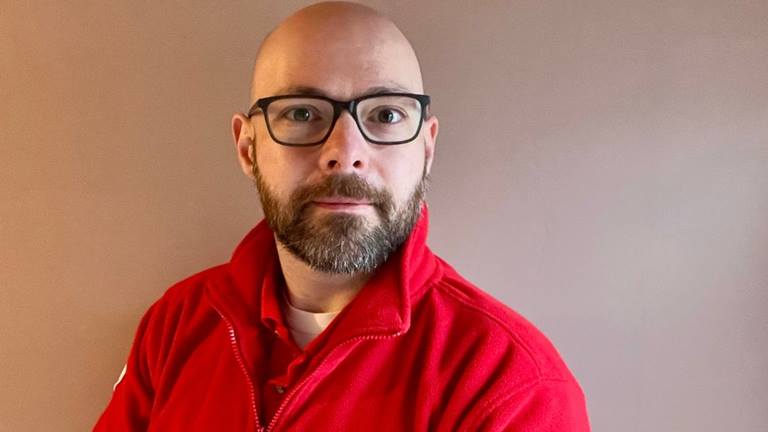 Further information and interviews:
press@redcross.org.uk, 07879 689968
David Mackay from Glasgow, has been awarded a British Empire Medal (BEM) in the New Year Honours List 2023 for his volunteer work with the British Red Cross.
David, 40, joined the British Red Cross in May 2020, most recently supporting the organisation across West Central Scotland through the Covid 19 pandemic.
"My day job is in a bank," explains David. "I work in Technology, so I wanted to do something completely different in my spare time. I was looking at opportunities to be more hands-on in my community and that's when I came across the Red Cross. I love being a volunteer as I get to meet people and give something back. Everyone we support is so grateful."
David was at work when he got an email to say he was on the New Year Honours list.
"I work in CyberSecurity so naturally I assumed it was a scam," David laughs. "I was about to delete the message but the more I read, the more I began to realise it was real. When it eventually sank in, I couldn't believe that someone had gone to the trouble of nominating me.
"I feel really honoured, but also a bit embarrassed," he says. "I work as part of a team, so I feel like this is an award for all of us. It is so rewarding being a Red Cross volunteer already, but to be recognised in this way is a bit overwhelming to be honest."
David, an Emergency Response volunteer for the British Red Cross, was nominated for his hard work and dedication during the height of the Covid pandemic. David delivered food parcels, helped in Covid test centres and personally delivered prams, nappies and toiletries to pregnant mums struggling to access vital supplies during lockdown.
British Red Cross Chief Executive Mike Adamson is delighted that David is getting recognition for his work during this challenging time:
"David exemplifies the characteristics of a British Red Cross volunteer. He is inspiring, dedicated and leads by example. During the pandemic, David was part of a team providing 300 food parcels a day to those who were isolating. David has continually taken on more responsibility in his roles offering invaluable support to the emergency response team in the area. His passion and commitment to support vulnerable communities is remarkable and humbling.
"I would like to congratulate David on this award and thank him for his vital work with the British Red Cross. We are incredibly lucky to have his continued support."
David admits that the first people he plans to tell about the award will be his Mum and Dad. "I haven't told them yet as it still doesn't seem real," he admits. "I keep thinking that I'll get a call to say there's been a mistake and it's not really meant for me."