Red Cross support following Indonesia earthquake
The Indonesian Red Cross is supporting communities affected by a powerful earthquake, which has caused mudslides and collapsed buildings in Java, Indonesia.
Last updated 7 December 2022
Earthquake in Indonesia's West Java province: Thousands affected
Around 2,200,000 people have been affected by a powerful earthquake, which struck the Indonesian island of Java on 21 November 2022.
The 5.6 magnitude earthquake affected the Cianjur region of West Java at 13.21 local time, triggering landslides and collapsing buildings. Tremors were felt across the Sukabumi, Bandung, Cianjur and Bogor districts as well as Jakarta and Bekasi City.
Around 73,860 people have been displaced by the earthquake. More than 40,202 people are now living in evacuation centres, nearly half of these are children and people with disabilities.

Reports from the Indonesia National Agency for Disaster Countermeasure (BNPB) have confirmed 310 lives have been lost, with a further 1,500 people injured.
Tragically, many of those who've died in this disaster are schoolchildren who were in lessons when the earthquake hit. Nineteen schools have been destroyed. The picture is still unclear, but it's feared that the death toll will rise.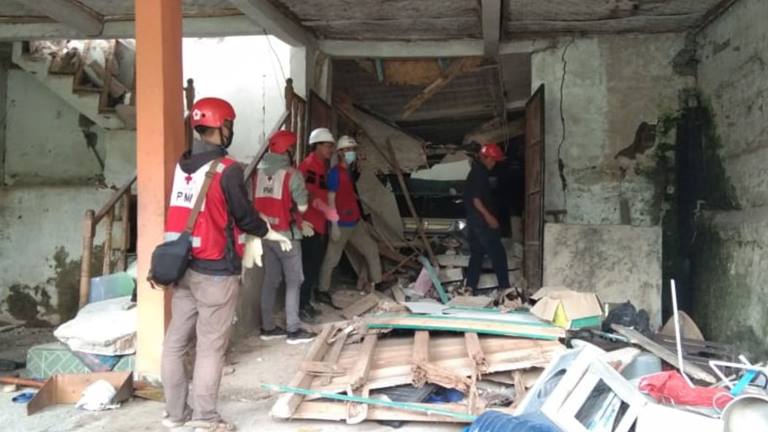 Looking for family in Indonesia?
If you know someone who may have been affected by the earthquake in the West Java region, please try to contact them first by normal communications methods such as telephone or mobile.
If you are still without contact, our tracing service may be able to help.
How are people being affected by the earthquake in Indonesia?
Reports show that this has been a moderate, but shallow earthquake. These are often the worse kinds, bringing greater damage and disruption to life than deeper ones. In this case, the damage was made worse by 117 smaller aftershocks. The true extent of the damage is still unknown, but state of emergency response has been declared until 22 December.
The worst of the impact has been in the Cianjur, Sukabumi, and Bogor districts. Across Java, there has been widespread damage to buildings and infrastructure with hundreds of houses destroyed along with five health facilities. Cianjur hospital is enduring powercuts and is struggling to cope with the number of incoming casualties.
Power outages are still affecting thousands and disrupting communication networks in some of the affected locations. In the Cianjur district alone, the state-owned electricity company, PLN have had 358 sub-stations impacted, leaving 17,900 customers without electricity.
Indonesia is especially vulnerable to earthquakes because of its position on the Pacific "Ring of Fire", the most volcanically active zone in the world.
In February this year, a magnitude-6.2 earthquake killed at least 25 people and injured more than 460 others in West Sumatra province.
Where is the earthquake in Indonesia?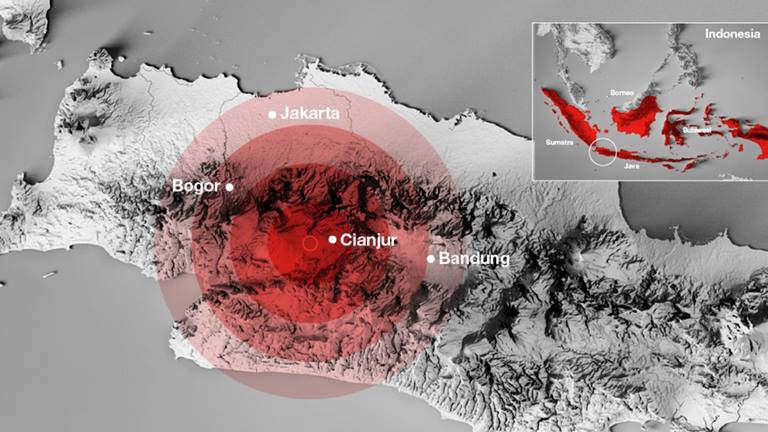 The Indonesian government is focusing on the rescue effort
The Provincial government has declared a state of emergency for a period of 30 days from the 21 November to the 20 December 2022.
The Indonesia National Agency for Disaster Countermeasure (BNPB) has deployed a Rapid Reaction Team and logistical assistance to the affected locations, including Sembako. They are focusing on the ongoing evacuation effort, impact assessment, and building of tents.
How is the Red Cross supporting people after the earthquake in Indonesia?
The Indonesian Red Cross, known as Palang Merah Indonesia, are on the ground, helping with search and rescue and to set up relief centres. They are making sure people have the very basics: food, clean water, blankets, healthcare kits and shelter they need.
Staff and volunteers are also running mobile health teams to treat people experiencing severe stress and injuries, and to support with surgery and triage. Teams are also transporting injured people to hospital in ambulances.
To help the rescue efforts, the Indonesian Red Cross have mobilised:
13 personnel
3 units of transport trucks
2 water tanks
3 platoon tents
100 tarpaulins
300 mattress
200 blankets
150 baby kits
800 hygiene kits
20.000 medical masks
500 rubber gloves
1 unit of electricity generator
Red Cross teams from around the world are also supporting. They are providing humanitarian assistance, alongside the Indonesian government and other humanitarian agencies.