Modern slavery and trafficking
The British Red Cross supports trafficked people with dignity, kindness and respect.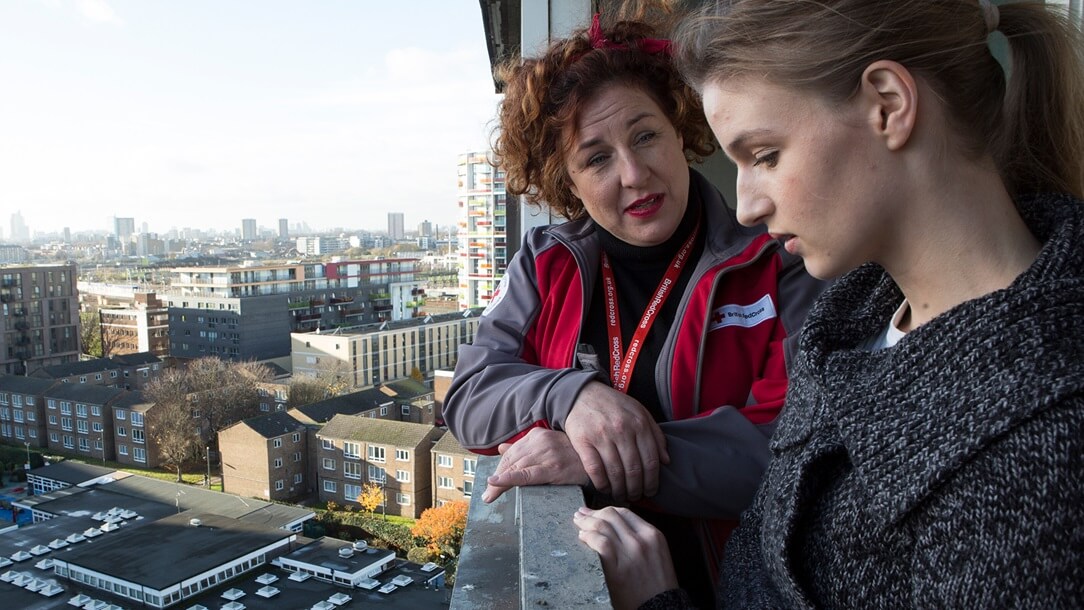 We focus on providing care and support to trafficked people because we believe that anyone who has been trafficked and exploited should be recognised and protected.
We work in the UK and internationally to increase the number of care, support and protection programmes.
Human trafficking and modern-day slavery
Survivors of trafficking and slavery are people who have been exploited for others' personal gain. The trauma they experience can have lasting impacts on their mental and physical health, wellbeing, and ability to rebuild their lives.

The exploitation can take many forms, including forced labour and criminality, sexual exploitation, and domestic servitude. Often, people are exploited in more than one way at once, and are trafficked within countries and across borders for the exploitation to take place.
Who we help
Many people who use British Red Cross services are among groups at risk of trafficking and exploitation. They could be refugees, asylum seekers, European citizens or people who come from other countries.
The British Red Cross might be able to help people who have been:
deceived about work conditions
threatened and forced to work or carry out activities they don't want to do
forced to work to pay off a large debt
treated badly by others and in ways they did not want to be treated.
In addition, people might:
still in exploitation and not ready to leave
have recently left exploitation
have left a while ago.
Some people don't think of themselves as trafficked people. Some don't wish to enter the National Referral Mechanism (NRM) and prefer to explore their options.
Regardless of what stage they are at, we aim to help people make an informed, safe decision.
How we help
Survivors of trafficking and exploitation are very vulnerable and need help within the first few days of asking for it. They can get immediate help and longer term support from a range of Red Cross services.
First few days
The Red Cross' Your Space programme provides accommodation, advice and support to trafficked people right after they have left exploitation.
Currently running in Derby and Nottingham, it helps give people time and space before making a choice about their next step. We are working to roll out Your Space across the UK.
Working with the Human Trafficking Foundation, the Anti-Trafficking Monitoring Group, and Anti Trafficking and Labour Exploitation Unit (ATLEU) we developed key principles. Based on what we learned from the Your Space project, they are central in supporting people in the first stages of recovery from exploitation.
Through another activity, our UK crisis response teams set up reception centres for exploited and potentially trafficked people. These are open once local police or the National Crime Agency (NCA) identify people in need.
The centres are open 24 hours a day for a short-term period. Inside, we:
provide emergency provisions such as food, clothes and blankets
offer a listening ear and emotional support
give first aid.
Beyond the first few days
We have specialist anti-trafficking officers in London, the north-west and the east Midlands. They can give more complex support to people and are also able to help other frontline workers.
Trafficked people who are also refugees or asylum seekers may be able to get help through our refugee support teams.
Refugee support teams can also give support and advice so people can make informed decisions about what to do next and where to get more help.
People who are trafficked are often separated from their families, and sometimes unable to find them. We can help them look for their loved ones and, if eligible, be reunited with them.
International work on trafficking
Anyone can become a victim of trafficking and many factors can make people more vulnerable to it. However, migrants are particularly in danger of being trafficked, or trafficking may even be a central element of their migration pathway.
The British Red Cross works through the Red Cross and Red Crescent Movement to improve how we recognise and respond to trafficking. We now work along key migration trails and are expanding this work.
STEP project: long-term support
Our EU-funded STEP project aims to help trafficked people recover and regain their independence.
In the UK we provide longer term support for trafficked people in partnership with organisations that offer places of refuge and housing.
STEP will bring together organisations in Croatia (a transit country), France (a transit and destination country), the UK and Netherlands (two destination countries). Together we are developing an EU-wide anti-trafficking platform to:
create a longer-term care and support plan for trafficked people in Europe
increase awareness among asylum seekers about the warning signs of trafficking
provide guidance materials for frontline workers.
STEP is generously co-funded by the European Commission Asylum Migration and Integration Fund.
Tracks project: the identification of TRafficked Asylum seeKers' Special needs
Our EU-funded TRACKS project was a multi-country research project led by Forum Réfugiés-Cosi in France. The British Red Cross was the lead UK partner, working closely with the AIRE Centre, the Human Trafficking Foundation and UNHCR. Running for two years, the project ended in February 2018.
The project's long-term goal was to improve support given to trafficked people in the asylum system. To achieve this, the project focused on understanding the experiences and needs of trafficked asylum seekers.
These needs remain a key priority for the British Red Cross beyond the TRACKS project.
The TRACKS project produced three key documents: the EU Comparative Report comparing all partner countries, the UK findings report and the UK Toolbox.
The British Red Cross approach
Treating trafficked people with respect, kindness and dignity, we help them understand all their options. They can then make informed decisions about what to do next.
We focus on helping people understand all the possible options they have so they can make informed decisions on what to do next.
We believe that if people are given enough time, the right information and support, they can make their own choices about their next steps.
We never tell people what they should do, such as leave exploitation or enter the National Referral Mechanism. Choices must be made by the trafficked person when they are ready to make them.
Our support is usually time limited – mostly ranging from between three and four days or six to twelve weeks. But we offer our services for as long as people need them. Our longer-term support programme is offered for months or years. Ultimately, we want trafficked people to be independent again and we will support them to get there.
We also acknowledge that people's need for help will change over time and anyone may come back to us for further support when necessary.
One of our objectives is to strengthen support services for survivors of modern slavery and trafficking. Many organisations can offer support in specific areas and our projects work through strong partnerships.
We focus on areas where there is not yet any support available, and help other organisations to build new and effective support programmes.
Both the STEP and TRACKS projects were generously co-funded by the European Commission.