Access to food in emergencies
Our report explores food insecurity in the UK during the coronavirus pandemic.
Our report, Access to food in emergencies: learning from Covid-19, explores food insecurity during the coronavirus pandemic in the UK, as well as the policy, practice and guidance seeking to address it.
Access to food in emergencies draws from a collection of national-level polling, interviews and evaluations from British Red Cross services during Covid-19.
For more information please contact our media team on 07834 525650 or press@redcross.org.uk.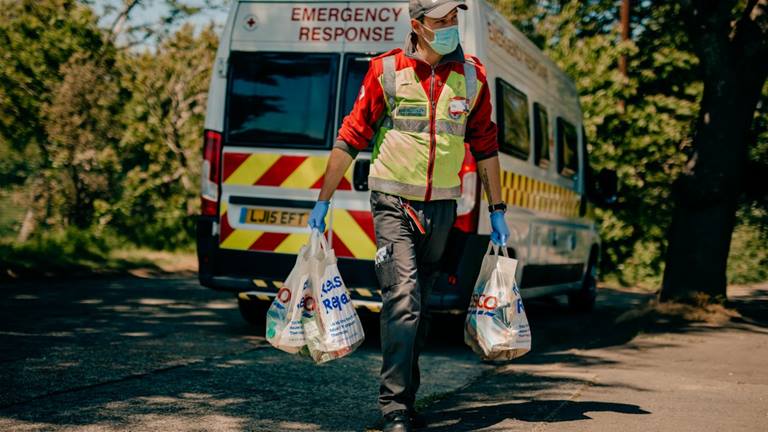 Key findings
No single agency has a specific statutory duty to provide humanitarian assistance, including food, in an emergency under the relevant legislation, the Civil Contingencies Act 2004.
The Covid-19 emergency has reduced access to food for some in the UK.
The causes of food insecurity are complex but key factors include, isolation, poor physical or mental health, lack of employment, financial hardship and insecure accommodation, all of which have been exacerbated by the Covid-19 crisis.
Food provision during the course of the emergency is not always tailored to meet needs and looks different across the country
Our recommendations
1. Identify those most at risk so that support can be targeted and reach those most in need. The Government, local resilience forums and local authorities should work with voluntary and community sector organisations to identify people who may struggle to access food, using insights such as the British Red Cross Covid-19 Vulnerability Index to develop a better understanding of who is at risk. This nuanced understanding of vulnerability should be incorporated into planning at a local and national level.
2. Consider making the provision of accessible, nutritious food a statutory requirement in emergency response. To ensure a consistent, clear approach to food provision for future crises, the Government consider reviewing the Civil Contingencies Act 2004 and its corresponding guidance. We need to ensure there is a clear statutory responsibility for national government and Category One responders to fully meet the humanitarian needs of their communities. This should clearly include providing accessible, nutritious food which meets personal requirements. This change should be supported by guidance, training and funding to help relevant organisations deliver this support.
3. Ensure food provided in an emergency is suitable and meets people's needs as far as is practical. The Government should provide clear guidance to make sure food is provided in a way that suits individual needs, setting out recommended pathways of support for all groups who are experiencing food insecurity due to Covid-19. The guidance should outline who is responsible for providing this support, alongside information on how best to identify and meet people's personal requirements as efficiently and effectively as possible, such through emergency cash provision.
4. Utilise the strength and insight of the voluntary and community sector to help tackle food insecurity in local areas.
Local resilience forums and local authority hubs should take advantage of the unique insights of voluntary and communitysector organisations to help tackle food insecurity in their local areas, as well as ensure a coordinated approach. This could be achieved through mechanisms such as the Voluntary and Community Sector Emergencies Partnership Multiagency Cells. In the longer term, the Government should review the Civil Contingencies Act 2004 to legally incorporate the role of the voluntary and community sector into emergency response.
The Government should support voluntary and community sector organisations financially so that they can continue to provide food and other essentials throughout the Covid-19 response and in recovery. This should build on existing measures, such as the £750 million government charities fund announced in April 2020.
5. Put in measures to tackle the longer- term causes of food insecurity to help prevent people reaching crisis point in the future. As part of the recovery from the Covid-19 outbreak, practical policy solutions should address the longer-term causes of food insecurity such as health and housing. This will help to build and support resilient communities so that they are better able to prepare effectively for, and recover from, future crises.