Tesco
Tesco's charity partnership with the British Red Cross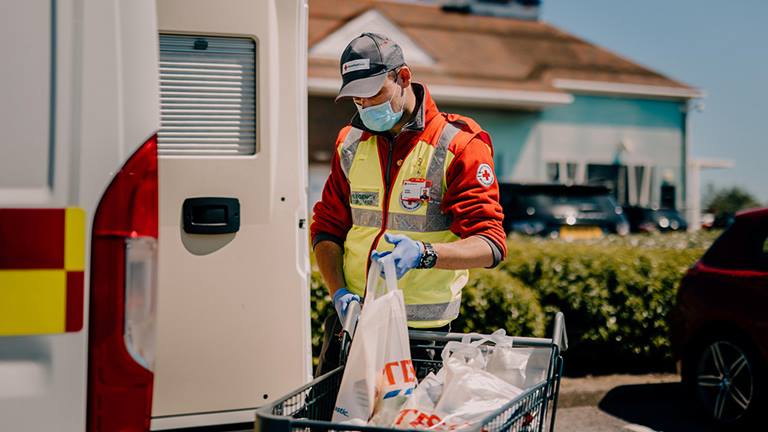 Our partnership with Tesco

Tesco and the British Red Cross have been working together since 1997 to support communities in times of crisis. During this time, Tesco has donated over £23 million to provide vital support for emergencies in the UK and abroad through in-store collections, colleague fundraising, appeals and donations.
We're seeing unprecedented levels of disasters and emergencies both in the UK and internationally. Tesco's funding has provided a lifeline to those affected by these crises in getting the support they need.
The crisis in Ukraine
The conflict in Ukraine continues to fuel a devastating humanitarian crisis, affecting the lives of millions of people. Since March 2022, Tesco and the Red Cross, with the generous support of Tesco's customers and colleagues, have raised an incredible £8.5m for people affected.
Together, we've been able to supply humanitarian aid such as food, shelter, hygiene kits, first aid and training. Thanks to the generosity of Tesco Mobile, we've been able to give SIM cards to people arriving from Ukraine to help them settle into life in the UK and connect with loved ones back home.
Helping communities during coronavirus
Our partnership with Tesco became even more critical during the coronavirus pandemic. Tesco supported us to reach the most vulnerable people in society through:
donating £2 million to our coronavirus response to help communities across the UK
signposting Tesco customers to our support line for practical and emotional support through in-store promotion and marketing campaigns
Tesco mobile providing handsets and data packages to support isolated people such as refugees and asylum seekers, which help them stay connected to their friends, families and communities
giving our staff and volunteers priority access to all Tesco stores when shopping for vulnerable customers.
Supporting those in crisis through our Emergency Protocol
Through the Emergency Protocol agreement our partnership has in place, the Red Cross' emergency response teams can access any Tesco store in the UK to get food and everyday essentials when crisis strikes. Whether it's a fire or a flood, goods such as toiletries, bottled water and food can be provided to bring relief to affected communities.
With the Red Cross responding to an emergency every four hours, it's important that our expert teams also have the right skills, equipment, and response vehicles to provide support.
By investing in the Red Cross' crisis response teams, our partnership helps expert teams be ready to respond, providing immediate practical, emotional and psychosocial assistance to support local communities across the UK.
Helping people regain their independence through mobility aids
Tesco and the Red Cross are working together to help people regain their physical independence through mobility aids support. With millions facing financial hardship as a result of the pandemic and the cost of living crisis, many are struggling to afford basic needs including hiring a wheelchair.
Thanks to Tesco's support for our mobility aids service, we have been able to provide hundreds of pieces of vital mobility aids to support local people and Tesco customers.
Using Tesco's resources and position in the heart of local communities, our partnership has so far set up over 20 mobility aids services in car parks to meet local needs. They have also provided vital funding to the Red Cross' mobility aids service. Find your nearest wheelchair service here.
Donate your Clubcard points to support those in crisis
Through our partnership you can now donate your Tesco Clubcard points to the Red Cross. Your donations will help us support communities, both in the UK and abroad, during times of crisis.
Building resilient communities through our Disaster Relief Alliance
Building on their long-term support of international disaster relief, Tesco is also a founding member of our Disaster Relief Alliance. This group of corporate partners supports vulnerable communities to deal with emergencies before they happen through focusing on preparedness, response and recovery.
With Tesco's support, we can continue to help communities become more resilient and ensure everyone receives the help they need in a crisis; today, tomorrow and in the future.