Understanding migration and refugees
Activities to help young people understand migration
Activities to help children and young people develop their empathy and understanding. Explore why refugees flee their home and what it is like to arrive somewhere new away from their family.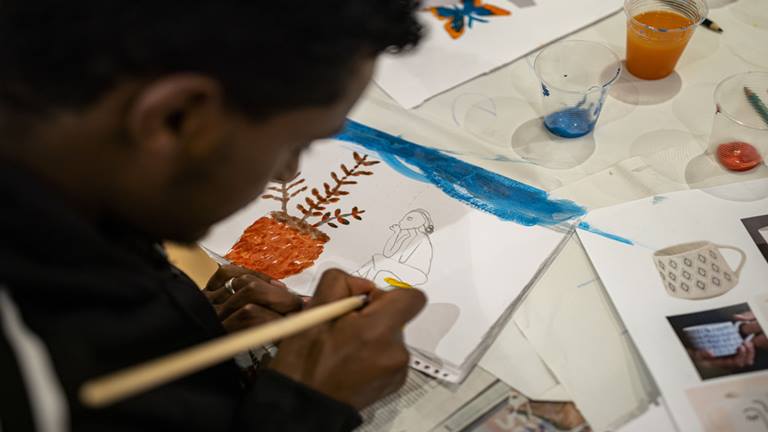 Age:

7-18

Type:

Activities

Subjects:

PSHE, SMSC, Citizenship

Topics:

Kindness, Refugees and migration
Imagining ourselves in others' shoes helps to build empathy and understanding.
The films, discussion ideas, creative activities and stories within this resource will help learners to think why people migrate and how we can help refugees and people seeking asylum feel welcome. Using the theme of kindness, learners will also consider how their kindness can impact the lives of others.
Suitable for primary and secondary school aged students (7 to 18).
Learning objectives
Learners will:
discuss what terms like "refugee" and "asylum seeker" really mean
identify how fleeing your home might impact your life
examine the difficult choices people have to make and decide what you would do
create a pledge to support refugees and show others that you believe every refugee matters
Within the downloadable resources there are differentiated activities for primary and secondary learners. Definitions of different terms are also included in the resource to help support teachers or educators. You don't need any additional training to teach this topic just ensure you create a safe space for discussion.
Resource overview


1. Teacher briefing
If you have refugees and people in the asylum process at your school, read the supporting refugees teacher briefing for ways you can help them and how to discuss this topic empathetically with your learners. The advice was cowritten with refugees who wanted to highlight how educators and education can have immense impact on building a kinder world for people seeking safety on our shores.
2. Sharing stories
Listening and sharing stories can create a connection and help you to imagine how they feel and imagine what it is like to be them. Explore the stories of young refugees in the UK and use your imagination to draw your own stories.
3. Family and community
Explore the importance of family and build empathy with refugees and asylum seekers who live in the UK without family members. Use a powerful film of a refugee who misses her family to gain understanding.
4. Making difficult decisions
Consider why people leave their home. Using photos, imagine you were in that position - what would you do? How could you welcome a refugee to the local community. Design a poster with useful information.
5. Get involved
Could your school get involved in being kind to refugees? Download our printable pledge to encourage your learners to show support and persuade others in the community to do the same.
Share with us on social media using #EveryRefugeeMatters on our Teacher Facebook Group or by emailing reducation@redcross.org.uk
6. Empathy plus migration workshops
Did you know the British Red Cross run interactive workshops, both face-to-face and online? Our Empathy plus migration workshop is for learners aged 10-19 and explores types of migration, reasons why people may have to leave home and helps students to develop empathy for migrants' motives for moving. By using and exploring people's stories and experiences, we can help students challenge assumptions and improve their understanding of their community to build mutual respect.

Sign up for a session or find out more about our community education workshops, here.
Don't miss out
Sign up to our mailing list and receive new teaching resources like this, newsworthy resource packages, and information about educational offline and online products straight to your inbox.
Credits
The resource was developed by the British Red Cross and updated in May 2022.