Community education workshops for children and young people
Helping young people build essential life skills
Our free educational workshops cover a range of topics including first aid, wellbeing, migration and more. Available to ages 10 to 19, explore what young people could achieve.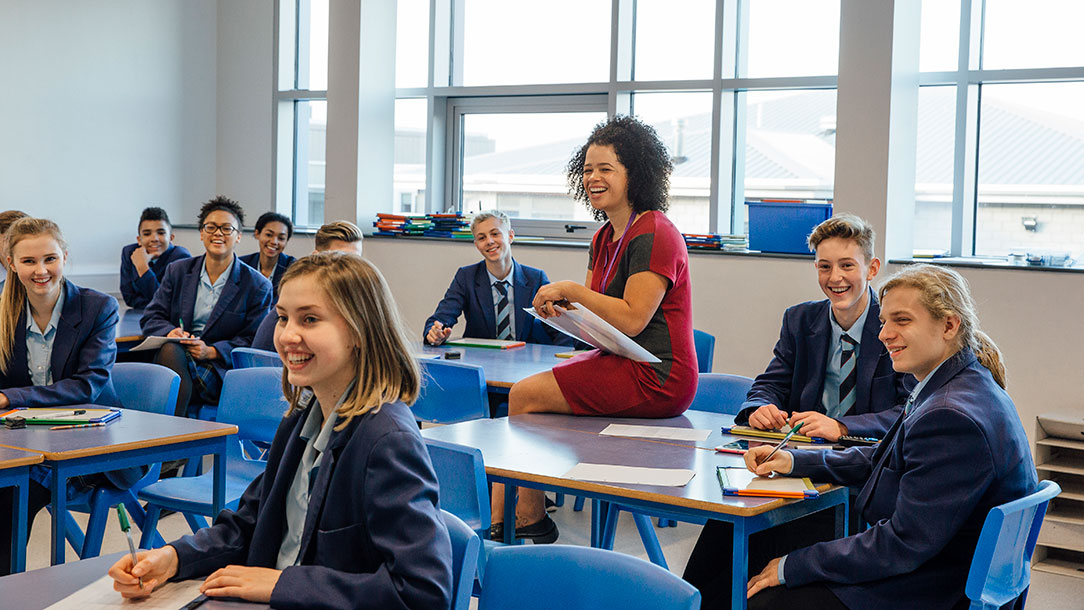 Free workshops for schools and youth groups
Whether young people are learning at school, at home or in a youth group, the British Red Cross has a workshop to suit them. Covering humanitarian and wellbeing topics, the workshops are designed to help children and young people ages 10 to 19 build vital skills in a fun and engaging environment. These skills can help them in their everyday lives and include building confidence, resilience, and understanding, as well as developing empathy for others.
The sessions are conducted by trained and experienced British Red Cross educators who offer well-researched and effective approaches to educating young people on these topics. Workshops are designed to complement the curriculums of the UK as well as reflect issues experienced in the community.
Workshops
Here you can browse the workshops available, the format of delivery (online and face-to-face), and find out more about what your students can achieve by taking part.
First aid workshop
Delivery: Online, face-to-face (eligible groups only)
Time length: 60 minutes
Group size: 5 to 35 participants
Description:
A workshop where students will learn essential first aid skills. We will help them to build the confidence and willingness to help someone in an emergency, using everyday objects that they have around them. We also show them where to get support if they have an injury or illness, as well as introducing them to the work that we do in the UK.
Children/young people will learn to:
be more confident to help someone in a first aid emergency
be more willing to help someone in a first aid emergency
be more able to help someone in a first aid emergency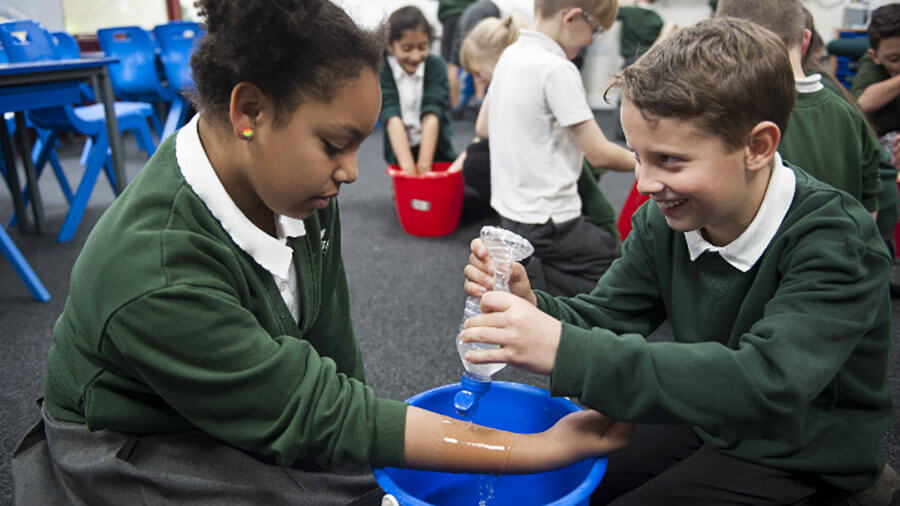 Empathy and migration session
Delivery: Online
Time length: 60 minutes
Group size: 5 to 35
Description:
An online workshop to learn more about the people in the community. We'll look at the different reasons people leave home and help students to develop empathy for migrants' motives for moving. They will also learn more about the obstacles migrants face in their new homes. By using and exploring people's stories and experiences, we can help students challenge assumptions about migrants, asylum seekers and refugees - as well as to improve their understanding of their community and build mutual respect.
Children/young people will learn to:
develop knowledge and explore their assumptions surrounding refugees, asylum seekers and migration
think about the different reasons why people leave home recognise connections between migrants and yourselves
empathise with their experiences and share them with others
Coping with challenges
Delivery: Online, face-to-face (eligible groups only)
Time length: 60 minutes
Group size: 5 to 35
Description:
Young people face a variety of complex challenges in their lives. This workshop aims to provide them with a resilience- building framework to help them cope better with the challenges they face. The workshop uses experiential learning to encourage learners to take part in group tasks and activities. This is followed by guided periods of discussion and reflection to help consolidate learning.
Children/young people will learn to:
explain how people can cope with challenges using the four pillars of resilience
understand the relationship between connections with others and resilience
feel confident to apply what they have learnt to better cope with challenge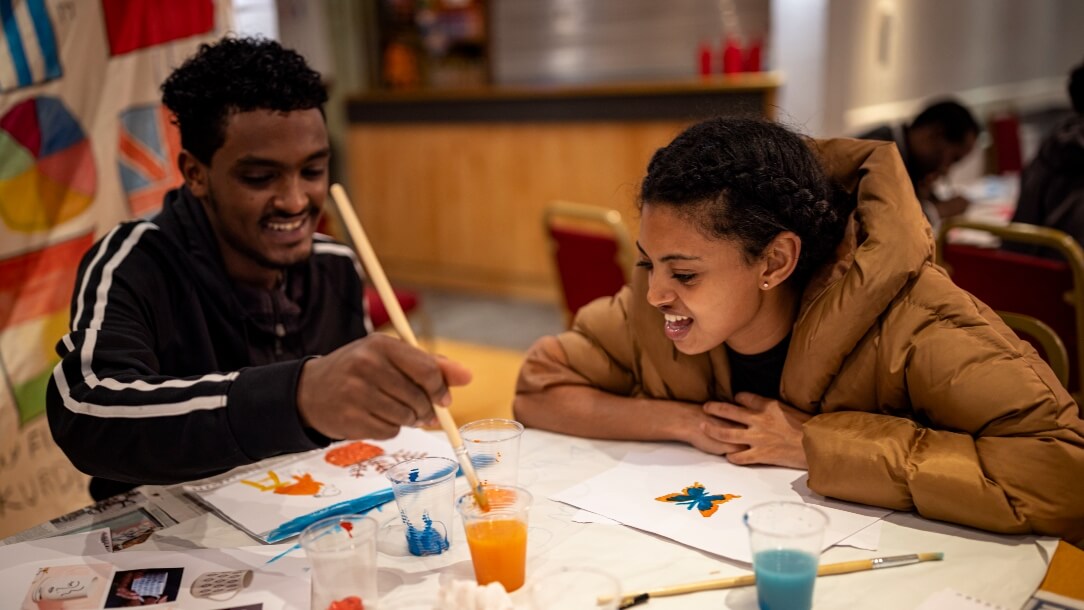 How to book your workshop
Online
Use our simple online form to book an online workshop for your class or group.
Face-to-face workshops
Our face-to-face workshops are offered to groups in communities who need it the most. Find out if we're able to deliver a face-to-face workshop in your area or to book a session.
What's involved in a youth workshop?
Workshop Overview
Each workshop will be slightly different depending on the topic and delivery type, but all will follow the same structure:
Introduction: This is a chance for the educator to explain how the session will run and what your group will be doing.
Practice: This will change depending on the topic, but it will be a chance for the group to try some practical exercises to help build their skills.
Discuss: Everyone in the group will be given the chance to discuss and share their views, if they are comfortable to do so.
Reflect: Everyone in the group will be able to share how they felt about the workshop and what they learned with the educator. Your educator will also recommend what they can do next to continue with the topic. 
Classroom resources for teachers
Alongside our live workshops we provide teaching resources you can download and use with your class. Suitable for ages 5 to 19, the resources cover similar humanitarian and wellbeing topics to the workshops including refugees and migration, First aid, kindness building, and disasters and emergencies. There are also Newsthink resources which focus on current news events
The resources are great way to prepare for your workshop or use as standalone resources for lesson activities or assemblies.
Sign up to the Teaching resources mailing list
Sign up to our mailing list and receive teaching resources straight to your inbox. As well as receiving new resources as soon as they are released, we also provide newsworthy resource packages, and news about all our online teaching resources and offline education including free educational workshops, and downloadable resource packs
Who can take part in a youth workshop?
Children and young people aged between 10 and 19 can take part in a youth workshop. They can take place in school or in an organised group within the community. Workshops must be organised by a teacher, educator or representative for an organisation. Groups must have a minimum of 5 and maximum of 35 attendees for each workshop.
How can students take part in a workshop?
Youth workshops are available in online and face-to-face formats. The content and format of the workshop will be the same, but some aspects will vary.
Online
Online workshops take place either via Zoom or Microsoft Teams. This is specified when making your booking. You can use a smart phone, tablet or computer for the online sessions - you just need a microphone to take part. Groups can access the online workshop either from home individually, or from one location e.g. a classroom. You can book an online workshop by filling out the correct booking form.
Face to face
The face-to-face workshops involve our educator coming to an agreed location to deliver the workshop in person. All you will need is space for the group to work in a comfortable and safe manner. The face-to-face workshops are offered to groups in communities who need it the most. To enquire if we're able to deliver a face-to-face session with your group and request a booking click below.
> Check availability and book face-to-face session
How can students with additional needs be supported?
If you have any students that require additional support, then please get in touch with our team. They will be able to advise on specific cases.  This could include students with English as a second language, blindness/low vision, and deafness/hearing loss.
What size group can take part?
Groups must be a minimum 5 and maximum 35 attendees.
What are the Covid-19 measures in face-to-face workshops?
We are running Covid-19 secure workshops, which are fully risk assessed. Our workshops will be delivered by experienced educators who will assess the group and environment and select delivery methods/activities based on this. We will maintain social distancing and wear face masks throughout the workshop. You can read our full safety statement and risk assessment here. We require each organisation to submit a copy of the risk assessment for the workshop to be confirmed. If you have any further questions on how we are keeping you safe, please contact:  RedCrossEducation@redcross.org.uk.
How does the workshop fit with the curriculums of Wales, Northern Ireland, Scotland, and England?
Youth workshops are created to compliment PSHE education and in line with the curriculums of Wales, Northern Ireland, Scotland, and England. Workshops can be attended by students aged 10 to 19, covering key stage 2 to 5 in Wales, Northern Ireland, and England. In Scotland it covers P6, P7, and S1 to S6.
Will groups need to be supervised?
The workshop organiser (e.g. teacher/youth organiser) will need to be present for the duration of the workshop for both online and face-to-face delivery.
What level of education will attendees need?
There's no educational requirement needed for groups to take part in the workshop.
What is expected from those taking part?
The workshops are interactive and there's an expectation that groups will join in with activities and discussion. How much they join in is based on what they're comfortable with. If you have any concerns regarding group activities such as this, contact our support team who will be happy to advise how the workshop could proceed.
I'm having problems booking a workshop, what should I do?
We've tried to make it as simple as possible to book onto a workshop. If you run into problems or feel more comfortable speaking to someone from our team then please get in touch with us, either via email RedCrossEducation@Redcross.org.uk or call 0344 412 2734.
Do students get a certificate or qualification for completing the workshops?
The workshops are designed to build personal skills and learn valuable insight into topics and issues affecting young people and their community. Rather than a formal qualification, each workshop has a set of learning objectives that can be achieved by completing the entire session. If students take part in a first aid workshop, we can provide a certificate of learning you can fill in yourself, but this does not meet any workplace requirements. For accredited first aid courses, please visit British Red Cross training.
How can students' learning be supported outside of the workshops?
Alongside the workshop you can enhance your students' learning by using our Teaching resources. These have been designed for offline teaching in the classroom and cover humanitarian topics such as First aid, kindness, refugees and migration, and conflict and war. There are also Newsthink resources which are created in response to current news events that can be used to facilitate discussion with a humanitarian and neutral approach.
The teaching resources can be used before or after the workshop to broaden students' learning, or as a stand alone activity in the classroom.
Get in touch
If you have any specific questions about the workshops or want to enquire about eligibility for a face-to-face group workshop, please contact us via e-mail or telephone.