Flooding in Pakistan: the latest news
Pakistan authorities have evacuated more than 100,000 people after torrential rain caused flooding conditions. This happened a year after the 2022 Pakistan floods deaths reached more than 1,700 people.
A year on from devastating flooding: what is happening in Pakistan?
Last updated 30 August 2023
Floods in Pakistan are threatening lives in Pakistan one year after floodwater caused widespread devastation in 2022.
After weeks of torrential rain, the Sutlej River in the Punjab region swelled to 'extremely high levels' on Saturday 19 August, expanding 4km wider at points. 100,000 people have been evacuated by authorities.
For 33 million people, the situation will bring back painful memories of this time last year, when the worst disaster in a decade hit Pakistan. More than 1,700 people lost their lives in the 2022 Pakistan floods, and almost 13,000 were injured.
Many people just haven't had the chance to recover. Families lost their homes, education, livelihoods, and in some cases loved ones.
Children are being hit the hardest. An Islamic Relief assessment in flood-affected areas found that 40% of young children are enduring stunted growth as families struggle to access food and healthcare.
Waterborne diseases such as malaria, cholera, and dengue fever are also rife.
The Red Cross Red Crescent Movement is on the ground, helping with evacuations and supporting people who have nothing.
Let's not forget the people of Pakistan. Help us continue our vital work and donate to our appeal if you can.
How were people affected after the 2022 floods in Pakistan?
The impact has been unimaginable.
Millions of people were impacted by the destructive 2022 Pakistan floods and landslides straight after the monsoon season. The country still continues to struggle in the aftermath of the worst flooding in decades. UN Secretary-General António Guterres described the floods as "a monsoon on steroids".
More than 33 million people were impacted, 90 districts hit, and an estimated 8 million people were displaced.
As of 18 November 2022, the Pakistan National Disaster Management Authority reported that over 1,700 people having lost their lives and at least 12,867 people injured.
As the largest humanitarian organisation in the country, Pakistan Red Crescent Society teams remain at the forefront of the response, along with partners from the Red Cross Red Crescent Movement.
"The Pakistani people are facing a monsoon on steroids — the relentless impact of epochal levels of rain and flooding." António Guterres, UN Secretary-General
How much of Pakistan was flooded?
During the extreme floods in 2022, a third of Pakistan was under water. The areas of Pakistan most affected by the floods were the Balochistan and Sindh districts, as they are more rural areas that were harder for relief teams to reach.
Why is Pakistan flooding and what are the causes?
Pakistan has a monsoon season between July and August, during which the country sees about 255mm of rain per month, on average.
In 2022, the monsoon rains saw record highs, receiving over 190% of its normal rainfall in July and August. Flood basins became saturated with water, rivers overflowed and the natural drainage system was unable to cope with the volume of water. Enormous rainfall is the direct cause of flooding in Pakistan.
However, extreme weather like this is happening more frequently and intensely because of climate change. The impact of climate change in Pakistan saw glaciers melting, contributing to the torrential rain.
Were the floods in Pakistan due to climate change?
Climate change, biodiversity loss, and pollution are threatening human development and the survival of humanity.
Billions of people are already suffering from the humanitarian consequences of the climate crisis. And the world's most vulnerable communities, who contributed least to the climate crisis but are bearing the brunt of it.
Waseem Ahmed, Chief Executive of Islamic Relief Worldwide, states that: "As climate-related catastrophes increase, it is the poorest and most vulnerable people who bear the brunt of the suffering. They are the ones most likely to live in fragile homes and least likely to have savings to fall back on, or assets to sell, or any kind of 'Plan B' when floods hit and crops and livestock are wiped out."
Pakistan's carbon emissions are less than one percent in the global carbon trajectory, but it's ranked among the ten most vulnerable countries to climate change, according to the Germanwatch think tank.
The effects of climate change in Pakistan include a heightened frequency of extreme weather events, like the devastating floods that occurred in 2022. Many of the world's most vulnerable and at-risk communities, like Pakistan, face multiple or consecutive disasters, leaving no time to recover before the next extreme weather event arrives.
When communities are prepared, extreme weather events do not become disasters
While disaster response will always be necessary, far more funds, expertise, and energy should be spent on helping local communities predict disasters, prepare for them, and mitigate their impacts. This would be far better than reacting to disasters after they wreak havoc.
"As climate-related catastrophes increase, it is the poorest and most vulnerable people who bear the brunt of the suffering." Waseem Ahmad, Chief Executive of the Islamic Relief Worldwide
Is malaria a health emergency in Pakistan?
Yes. according to the World Health Organisation, there has been a four-fold increase in the number of malaria cases after the floods in Pakistan, from 400,000 cases nationwide in 2021 to more than 1.6 million cases in 2022.
The floods have effectively driven the worst malaria outbreak in Pakistan since 1973 and upended all the extensive malaria control efforts undertaken before the floods started.
The Balochistan and Sindh districts have been particularly affected. These more isolated rural areas were particularly hard to reach after the Pakistan flooding, allowing water to stand for longer and for malaria to take hold.
Due to the large amount of residual stagnant water, other diseases such as cholera and dengue fever are also flourishing.
Are there any other health emergencies after the floods in Pakistan?
Scabies are prevalent among children residing in flood-affected areas due to contact with stagnant floodwater. Being a contagious skin disease, one person can affect the entire family.
Consuming contaminated water has resulted in multiple cases of diarrhea, vomiting, and fever.
After the Pakistan floods, what is the Red Cross Red Crescent Movement doing to support people's health?
Working on multiple fronts, the Pakistan Red Crescent Society has provided life-saving shelter and treatment.
Mobile medical health teams have been providing free healthcare, and portable water treatment plants were installed to provide vital clean, and safe drinking water.
Many people are deeply distressed by the chaos caused by the flooding. The PRCS is providing psychosocial support where possible, but the needs are vast.
What is the Red Cross doing to help people in Pakistan?
In one of its biggest relief operations ever, the Pakistan Red Crescent has since reached 930,734 people with emergency life-saving assistance since the devastating Pakistan floods in 2022.
They are continuing to work closely with the wider movement, as well as national and local authorities.
Thanks to the generosity of our supporters, the Red Cross Red Crescent Movement has been able to get vital support to those in need, focusing on urgent necessities such as food, water, and shelter.
So far, the Red Cross Red Crescent has delivered critical relief, including:
317,072 people have received temporary shelter
Over 283,800 people have been given critical relief items, including 26,500 food parcels, 33,300 mosquito nets, and over 34,700 hygiene kits
11 water treatment plants have been distributed, providing 187,000 litres of safe drinking water to 37,400 people each day
Over 73,000 people have been provided with critical health care through 13 medical health units, 17 medical sites, and continued first aid support.
As you have read, there is still so much more we need to do. Please donate to our Pakistan Floods Appeal if you can. It all adds up and saves lives.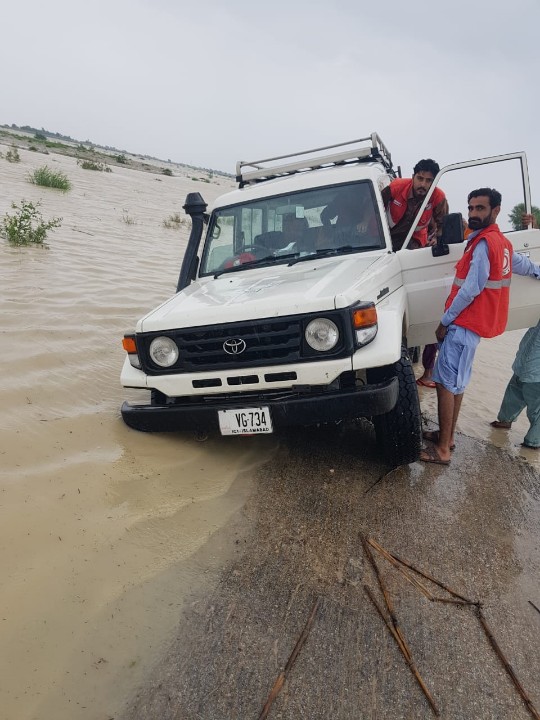 What will my donation to the British Red Cross Pakistan Floods Appeal do? 
Your gift will help teams reach people in the affected areas:
£20 could help to provide a hygiene kit to one family that includes things like toothbrushes, soap and toilet paper
£40 could help to provide ten families with a jerry can so that they can store clean water for drinking and cooking
£65 could help to provide one household with financial support so they can meet their basic needs like buying food and clean drinking water
£100 could help to provide a family of seven with a winterisation kit to protect them this winter
Pakistan Floods Appeal
 Over 500 staff at the Pakistan Red Crescent are providing essential support, with help from a roster of over 3,000 volunteers. Your gift will help teams to reach people in the most affected areas.
DONATE NOW