The
karate queens

of Barishal

 In Bangladesh, the Balumath Women's Squad is learning the (martial) art of women's empowerment one kick at a time
Last updated 4 August 2023
Meet Rumi, Shilpy, Kajol, Salma and Rashmi. Every day, they spend an hour practising karate together. The group started learning through the Balumath Women's Squad, one of many teams of women that have been set up in Barishal, with the help of the Red Cross and our partners the Bangladesh Red Crescent.
Part of our It starts with her campaign, these squads give women a safe, supportive place to discuss and act on the issues that affect them the most - helping to build their voice and role in the community. But for these karate queens, their daily practice is also a welcome break from daily life.
Meet the squad
Salma, 18, is best friends with fellow squad member Rumi, whom she has known since she was a child. "Growing up here we have many obstacles," said Salma. "They would say, as a girl why would you play sports? As a girl, why would you speak aloud? As a girl, why would you demand this and that?"
Shilpy, 34, is another keen karate-goer. But as well as the karate practice, the Balumath squad has already shown its mettle in the face of emergency. When Cyclone Bulbul hit in 2019, the squad members organised groups to go to vulnerable residents, including the elderly and pregnant women. They took them to the safety of a cyclone centre, distributed food and water.
IT'S FUN AND WE ARE LEARNING A NEW SKILL TO PROTECT OURSELVES
RUMI, SQUAD LEADER
Rumi, 18, is passionate about a woman's right to independence: "Women want to protect themselves against things like domestic abuse and to become stronger and more independent," said Rumi. "One way we are doing this is by learning self-defence. It's fun and we are learning a new skill to protect ourselves. I'd like to compete in the Olympics one day."
Kajol, 28, is also on the karate squad. She donates blood for pregnant women and for disadvantaged people when emergency – such as flooding – strikes. Kajol and the team are currently having to teach themselves karate, after local community members complained about them having a male instructor. They are hopeful of getting a replacement (female) instructor soon.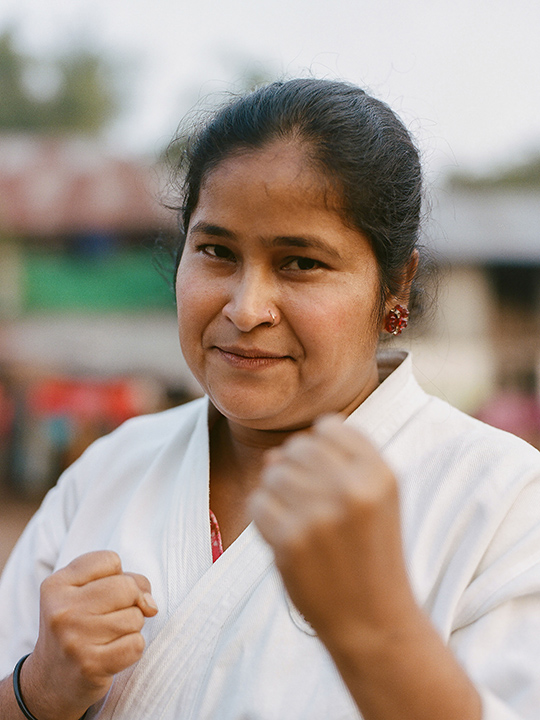 Big ambitions for Barishal
No one is more keen for a proper teacher than 33-year-old squad leader Rashmi.
"If I had a better trainer, I would have learned more," said Rashmi. "If I were able to give the women and adolescent girls in my area self-defence training, it would help them in their journey through life."
She has big ambitions for the women of Barishal. "I want to help women so that they can be economically empowered," she said. "I want to work with all the women squad members and change the other women's lives via the squads, so that they can start a business – or do anything they want."
A common issue for the women of Barishal is the threat of harassment. But these strong women are no victims – after all, they started their karate lessons in order to defend themselves from unwanted attention.
This is just a small group of the women living in Barishal. Given the right resources, they will make a real difference in strengthening their community. Salma thinks the wheels are in motion already.
"By being a member of the Women's Squad, it has made me more courageous than before," she said. "[Before] If I wanted to say something, I felt I couldn't speak out, and I wouldn't be able to move forward. Now I am progressing. To girls around me similar in age, I've been saying that they need to learn how to speak up."
Instructor or no instructor, it's clear that these women are already a force to be reckoned with.
Get involved
Donate to our It starts with her appeal to help make strong women stronger. Every pound you give, up to the value of £2m, will be doubled by the UK government.
Donate