Six months on from the Türkiye-Syria earthquake, and mental health is a 'ticking time bomb'
Emotional scars remain for millions in both Türkiye (Turkey) and Syria. A mental health crisis looms if we don't plan long-term.
Last updated 4 August 2023
It's been six months since two powerful earthquakes hit Türkiye (formerly known as Turkey) and Syria in February, killing more than 55,000 people.
The cameras have gone and the headlines have slowed down, but the earthquakes have rocked survivors to their core.
Entire communities have lost everything, from homes to jobs, to education, healthcare and belongings. People have lost loved ones under the piles of rubble – which still remain in places - or were pulled from the rubble themselves.
And many people have witnessed highly traumatic things, including caregivers and first responders, who are struggling to cope with what they've seen.
It's little surprise that the demand for mental health and psychosocial support has been immense. In some areas where access to mental health services is difficult, people are at risk of developing medium and long-term mental health challenges that could hinder recovery and resilience.
To help prevent a 'mental-health time bomb', the IFRC, Syrian Arab Red Crescent and Turkish Red Crescent Psychosocial support (PSS) teams were quick to respond thanks to funding from across the Red Cross Red Crescent Movement, including the British Red Cross' Turkey-Syria Earthquake Appeal.
Specialists who support people who have experienced trauma or loss, these teams set up dedicated PSS tents offering psychosocial first aid and safe spaces in the worst affected areas.
Lauren Clarke, IFRC health coordinator for the humanitarian response, said:
"Responding from a local level, with both mobile and fixed units, is what allows the Turkish Red Crescent and IFRC to respond immediately to the physical and mental health needs of those most affected.
"A localised and early health and mental health response is, and will continue to be, essential to prevent negative long-term and even permanent effects on people's lives", said Lauren Clarke, IFRC health coordinator for the humanitarian response in Türkiye."
"Much of the damage caused is not visible"
In Syria, many people are showing signs of trauma.
Since the earthquake hit, mental health teams have been visiting temporary shelters to provide vital care. After 12 years of conflict and crisis, SARC has provided psychological first aid to more than 34,000 survivors, as well as to paramedics and first responders.
Sadly, the earthquake has hit children particularly hard. Many Syrian children were already impacted by the years of conflict which have torn the country apart.
Now, they are having to cope with the aftermath of an earthquake, the loss of their homes and schools and the anxiety of aftershocks.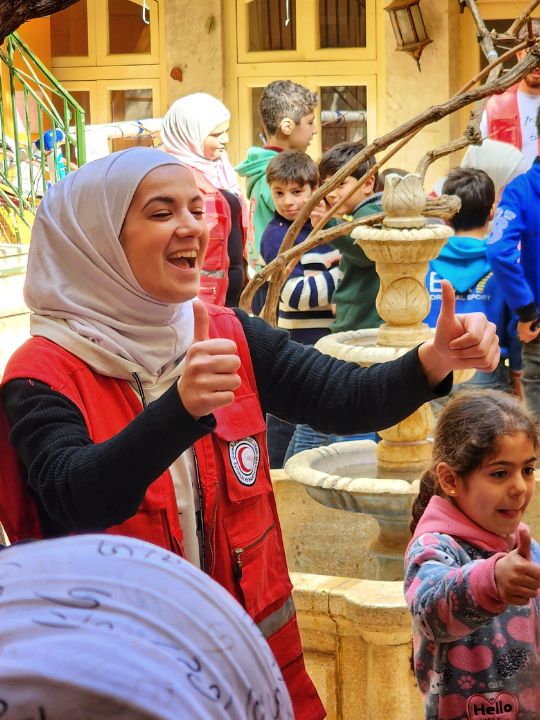 At SARC-run mobile health centres, psychosocial support specialists are giving children tools to cope and talk through their problems.
One of the most important goals is to make the children feel safe. But they also encourage play, fun and learning: many of Syria's young people have had to take on heavy responsibilities at a very young age.
As well as treating children, volunteers conduct mental health sessions for adults, teaching parents how to support their children through this very difficult time.
In the face of a crumbling healthcare system - an issue even before the earthquake hit - SARC volunteers have also been providing vital first aid and replacing medical equipment lost in the earthquake.
Hassan is a 14-year-old boy from Latakia, a coastal city in Syria and affected badly by the earthquake. He was six years old when he lost the ability to walk as a result of muscular dystrophy.
The earthquake damaged his family's house so they had to flee the house to a temporary shelter. There, the Syrian Arab Red Crescent physiotherapy team met Hassan and saw his condition. He had no wheelchair or other equipment to help him to cope. The team acted quickly, providing him with a wheelchair and sessions to teach him how to use it. His mental health improved rapidly.
"After I got the chair and we returned to our house, I began to recognise the roads and people. I began to practice on my own.
"One day, I hope I can recover so that I can swim in the sea. But one thing I dream even more. I hope I can go to school so I can learn how to read and write like my friends do."
In Aleppo, Sabah and her family lost their house in the earthquake. They are staying in an old school which Syrian Arab Red Crescent refurnished as a temporary shelter for those who have had to leave their homes. She has a husband and three children, one of them with a physical disability.

SARC provided mattresses and blankets to stay warm, kitchen items to be able to cook as well as children's clothes. They lost most of their belongings in the earthquake.
The family has also received vital medical help, and psychosocial support to cope with the situation.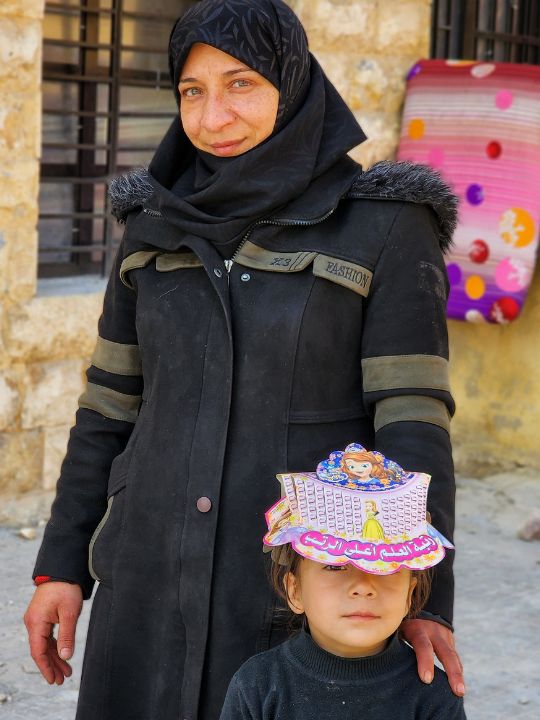 Scaling up mental health support in Türkiye (Turkey) and Syria
In Syria, the earthquakes struck a country already dealing with complex, overlapping crises. 15.3 million people were already in need of humanitarian support and an estimated 90% of the population lives below the poverty line. In the makeshift shelters, survivors are not sure how to start the road to recovery. They face tough decisions – return home, stay in temporary camps or with host families? Or rebuild a new life elsewhere?
With so many still in need of support, and so many others left in limbo, the implications for mental health in Syria are huge.
There are also concerns about recent cholera outbreaks in the region which could spread northward into displaced populations. If cholera takes hold here, it will mean more loss and more devastation for people who have been through so much.
While SARC PST teams have done an incredible job in Syria, Gwendolen Eamer, IFRC Health Coordinator in Syria, worries that Syria is at breaking point. She said:
"Many of the damages caused by the earthquake are not visible. People have suffered more than a decade of conflict which has already affected their mental health and wellbeing. This earthquake adds another layer to that.
"We also have seen that psychological wounds won't always appear right away. That is why we need to provide continuous support, not only right now but for years to come.
"Hopefully, there will not be another disaster that would complicate the situation even further."
Can you help us support people in Syria?
The impact of the earthquake will be felt for years to come and the road to recovery has only just started.
Funds are urgently needed to support people now and in the longer term as they rebuild their lives so we can scale up our response to the growing mental health crisis in Syria and Türkiye (Turkey) and continue helping people like Hassan, Sabah and her daughter.
Please help those affected by the earthquake by donating to the Red Cross Turkey-Syria Earthquake Appeal.
More information