Raluca had the first aid skills to save a stranger's life
Last updated 2 February 2021
Would you know how to save a stranger's life? When Raluca Corneanu spotted a man lying on the floor of a station, she stepped forward to help until an ambulance arrived. Luckily, she'd just been on a British Red Cross first aid course.
It was early evening and Raluca was at a London Underground station, on the way to meet friends with her husband. Looking around the lively station, she spotted a man lying on the ground.
"Another man was with him trying to help, but no one else was stepping forward – perhaps they thought they might do something wrong," Raluca said.
The 35-year-old had recently learnt first aid through a British Red Cross course and felt confident that she could help.
"The one man who was trying to help told me he had called an ambulance."
So while waiting for the ambulance to arrive, Raluca assessed how she could help the man.
"I started to speak loudly to the man on the floor, asking for his name and checking to see if he was breathing," she said.
"He didn't respond to us speaking to him, but I could see that he was breathing, so I moved him onto his side and tilted his head back.
Raluca stayed with the man, talking to him to provide reassurance. After a while, the man started to respond. By the time the ambulance arrived, he had opened his eyes and told Raluca his name.
It turned out the man had drunk a little too much alcohol, which had caused him to become unresponsive. The paramedics praised Raluca for her actions.
"They reassured me that I had done the right thing by putting the gentleman on his side.
"This meant that if he had vomited, it would have come out of his mouth and he wouldn't have choked on it," Raluca said.
How to help someone who's not breathing
Check if they are breathing by tilting their head backwards and looking and feeling for breaths.
Move them onto their side and tilt their head back.
As soon as possible, call 999 or get someone else to.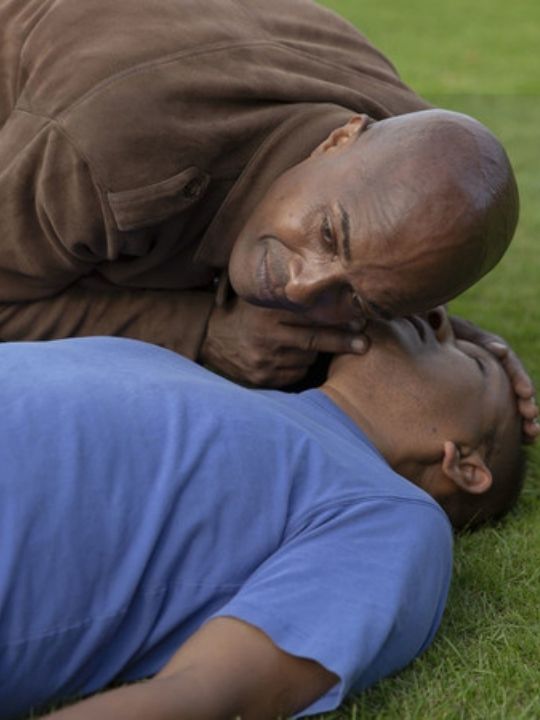 Don't stop at 999
Raluca's actions seem simple – because they were. And simple actions save lives.
A study commissioned by the Red Cross and conducted by the University of Manchester found that up to 59 per cent of deaths from injury may have been prevented had first aid been carried out before the arrival of the emergency medical services.
There is a window of opportunity between dialling 999 and the arrival of the emergency medical services where two simple first aid actions could save someone's life.
These are:
Use your first aid skills – you could save a life
"I think people often panic when they need to do first aid. They worry about what would happen if something went wrong and it was their fault," Raluca said.
"But really, they should think the other way – if someone needs help and no one does first aid, it's more likely that something will go wrong."