The legacy of Florence Nightingale, the first professional nurse
Last updated 10 May 2023
Florence Nightingale was a pioneer in nursing and social care. Today, her work is more relevant to the Red Cross and the public than ever.
Who was Florence Nightingale and what did she do?
Florence Nightingale is best known as the founder of modern nursing.
She was born on 12 May 1820 in the Italian city of Florence, after which she was named. The second daughter in a prominent and wealthy British family, growing up it was clear Florence was devoted to serving others. As a teenager, she would spend time helping the sick and poor in the village near her family estate and believed nursing was her calling.
In 1844 she announced her decision to work as a nurse, which, due to her social standing, her parents did not approve of and forbade her from pursuing. Despite their objections in 1850, she studied as a nursing student for four months at the Kaiserwerth Deaconesses' Institute, in the city of Düsseldorf. She took up her first nursing role in 1853 at the Institute for the Care of Sick Gentlewoman in London where she was superintendent.
While most famous for being the founder of modern nursing, Florence was also a social reformer and statistician, writing widely on all three subjects.
The Crimean War and 'The lady with the lamp'
Florence Nightingale is best known for leading a group of 38 nurses to care for British soldiers wounded in the Crimean War in 1854. When Nightingale and her nurses arrived at the military hospital in Scutari, Turkey they were shocked at the terrible conditions with a lack of medicines, low hygiene standards, and mass infections common. They immediately started to clean every room and Nightingale told her nurses to wash their hands often. Nightingale's focus on cleaning and washing hands helped improved conditions and, thanks to her, we now know it is one of the best ways to stop the spread of disease.
To see her patients during the darkest nights, Nightingale carried a lamp as she walked among their beds. After that, she became known as 'The Lady with the Lamp'.
Wherever there is disease in its most dangerous form and the hand of the despoiler distressingly nigh, there is that incomparable woman sure to be seen. Her benignant presence is an influence for good comfort, even amid the struggles of expiring nature." Mr MacDonald, a patient during the Crimea war writing in a letter home, 1855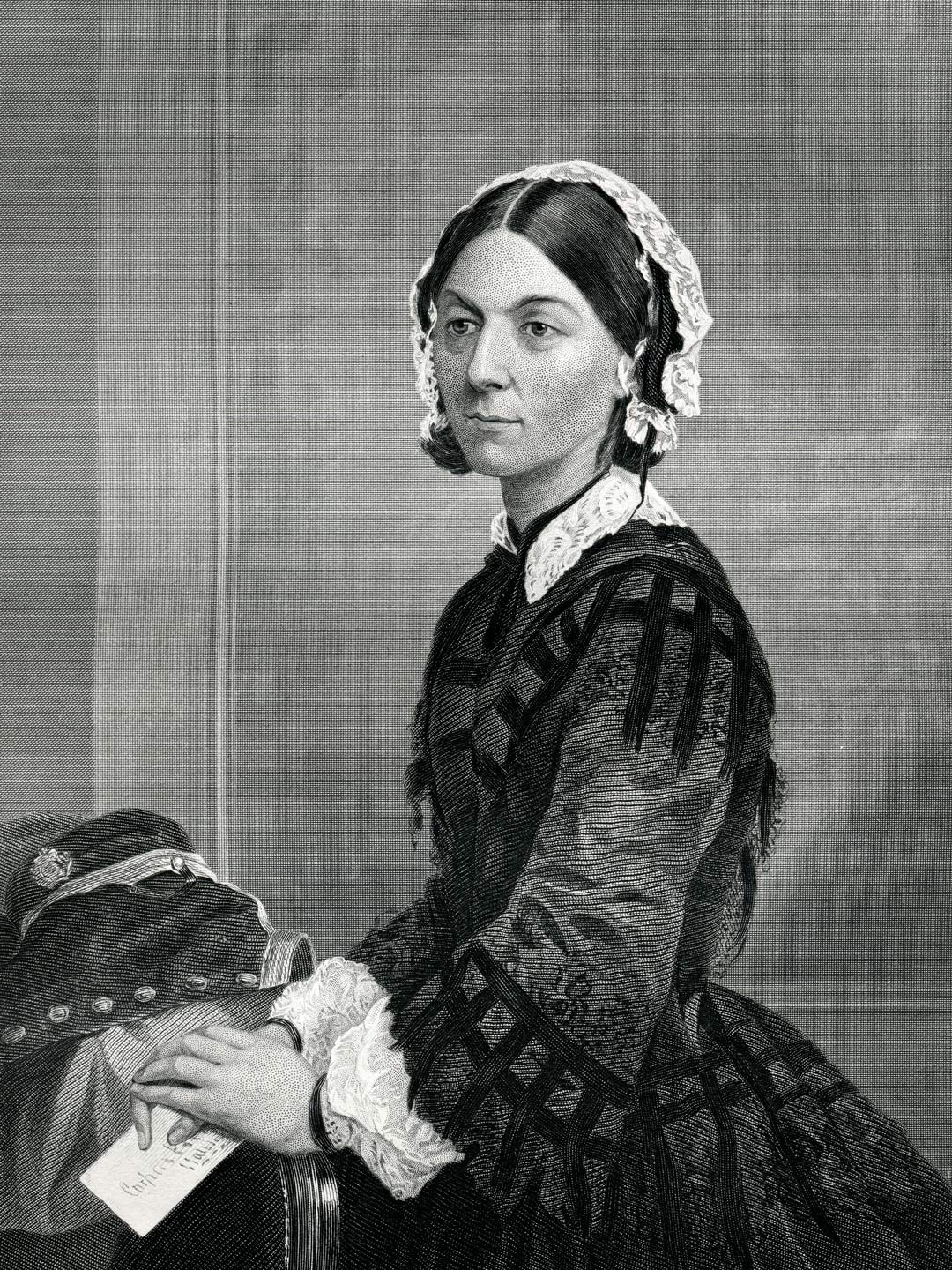 With her guidance, nursing became a profession
Florence Nightingale returned from the Crimean War as a heroine and the Nightingale fund was set up to fund her continued work. By 1860, she had used the donations to establish the world's first professional nursing school at St Thomas' Hospital in London. The Nightingale School of Nursing raised the reputation of nursing as a profession and had a global impact with similar schools set up in America, Africa, and Australia. She also helped design the wards by proposing full-height windows to let in more light and fresh air.
Her pioneering work didn't end there. She continued to campaign for medical reforms and in particular brought in changes to improve the health of the British army. Nightingale also wrote extensively on the topic of English feminism and women's suffrage. While bedridden due to illness in her later years, her spirit wasn't dampened, writing over 130,000 campaign letters.
A well-known and influential figure, she met Queen Victoria on several occasions and the two wrote letters to each other for over 30 years. In 1907 Nightingale became the first woman to receive the Order of Merit from Edward VII, the UK's highest civilian decoration.
Nightingale's principles and support helped to found the British Red Cross and keep it going
Florence Nightingale agreed with one of the Red Cross' fundamental principles: neutrality. As Nightingale said, "Suffering lifts its victim above normal values. While suffering endures there is neither good nor bad, valuable nor invaluable, enemy nor friend. The victim has passed to a region beyond human classification or moral judgments and his suffering is a sufficient claim".
Nightingale went on to support the foundation of the British Red Cross in 1870 and gave advice on nursing and running hospitals. She was also a member of the young organisation's Ladies' Committee.
Florence Nightingale's name still means care, bravery, and kindness
Florence Nightingale died in 1910 at the age of 90. Since then she has become a symbol of compassion and care throughout the world. Her important role in founding the modern nursing profession has made her a globally revered figure even 100 years after her death, as is her legacy of kindness and commitment to patient care.
"Perhaps the greatest good that has resulted from her noble life has been the setting in motion of a force which has led thousands of women to devote themselves to systematic care of the sick and wounded." The New York Times obituary, 14 August 1910
Following her death, her work and legacy have continued to be remembered. In 1912, the International Committee of the Red Cross instituted the Florence Nightingale Medal to recognise exceptional courage and devotion to victims of armed conflict or natural disasters. It also rewards exemplary service or a pioneering spirit in public health or nursing education. In 2019, one of the recipients was Kirsty Boden, a young Australian nurse working at Guy's Hospital, in London. Kirsty was tragically killed while helping members of the public during the London Bridge attack in June 2017.
Nightingale's birthday, 12 May, is now known as the International Day of Nursing. In the US nurses recite The Nightingale Pledge, an oath of ethics similar to the Hippocratic oath, at pinning ceremonies where newly qualified nurses are welcomed into the profession. In 2020, temporary hospitals set up by NHS England in response to the COVID-19 pandemic were named "NHS Nightingale Hospitals".
You can learn more about Florence Nightingale's life and work at the Florence Nightingale Museum, at St Thomas' Hospital in London, which is on the site of the first training school for nurses she founded in 1860. She is also remembered with a statue at Waterloo Place, London near the Guards Crimean War Memorial.
Inspiring Florence Nightingale quotes that live on
Florence Nightingale was an inspiring, courageous woman. She also wrote widely publishing over 200 books, pamphlets, and articles on nursing, hospital management, and English feminism. Her most famous works, Notes on Nursing were circulated to hundreds of thousands during her lifetime and are still used widely today.
Some of her most famous quotes include:
"The very first requirement (in a hospital) is that it should do (the sick) no harm".
Notes on hospitals, 3rd edition, 1863
"The word nursing … has been limited to signify little more than the administration of medicines and the application of poultices. It ought to signify the proper use of fresh air, light, warmth, cleanliness, quiet, and the proper selection and administration of diet".
Notes on Nursing: What it is and what it is Not 1859
Learn more about Florence Nightingale
UK Coronavirus Response Appeal
The coronavirus pandemic is the biggest health emergency of our time. With your help, we'll continue to provide vital support to those worst affected by the outbreak, wherever the need is greatest.
DONATE