Our volunteers: 150 years of helping people in crisis
Our Movement has been built by thousands of people who, one kind act at a time, have made us who we are today. To mark our 150th birthday, let's take a look back at some of those people...
Last updated 28 March 2023
In the summer of 1870, Colonel Robert Loyd-Lindsay, appalled by what he'd witnessed in the Crimean War, wrote to The Times calling for the creation of a society that would provide aid to soldiers on both sides of a conflict.

He offered £1,000 of his own money to the cause and, less than two weeks later, the Red Cross Society was formed at a meeting in London.
Then, just two months later, volunteers like Thomas E. Smith were sent to ease the suffering of soldiers in the Franco-Prussian War. They had, in Loyd-Lindsay's words, "done nothing to deserve their hard fate." As a clerk, Smith helped distribute some of the 83,000 blankets, 171,000 pairs of socks and 2,390 lbs of chloroform used to help casualties on both sides of the conflict.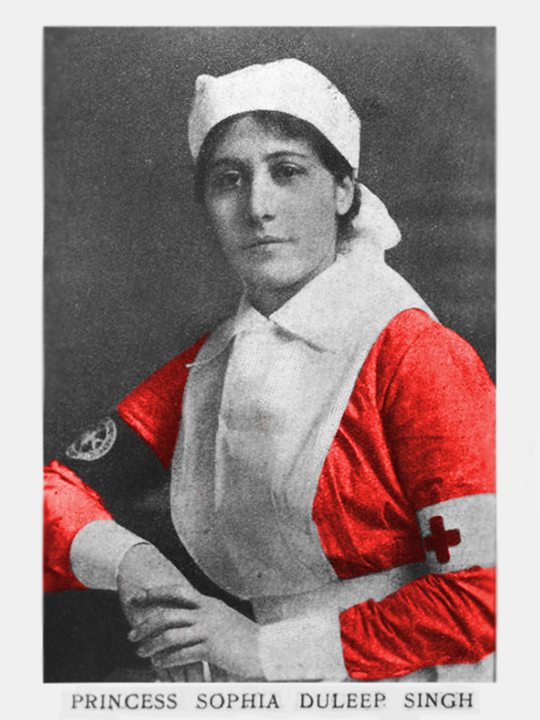 1914: VADs in World War One
Princess Sophia Duleep Singh was one of the thousands of voluntary aid detachment nurses who cared for the sick and wounded during World War One. She served at an auxiliary military hospital in Isleworth, London from October 1915 to January 1917.
But VADs were not only women: Despite being rejected by the Royal Army Medical Corps, Doctor John Alcindor signed up alongside the other 90,000 volunteers with the British Red Cross.
Throughout the long years of the conflict, he helped countless wounded soldiers at London railway stations as they returned from the battlefields. Deservedly, Dr Alcindor was later awarded a Red Cross Medal for his life-saving work.
1918: the influenza pandemic takes hold


At the start of the 1918 influenza pandemic, a request was made to the recruit and train more volunteers.
Joyce Sapwell was one of these brave volunteers and later wrote about her experiences of the influenza outbreak while working in a hospital in Aldershot:
"About one-third of the staff were down with it, and the hospital was full. We had one hundred and eight deaths in eight weeks… Several patients became delirious, and if they got out of bed they usually died. I had to go from one ward… to the other all night long… This was a very hectic time, on the go all night."

1921: The UK's first blood donation service
Percy Lane Oliver set up the first blood donation service, running it from his home. The service grew quickly and after five years, the London Blood Transfusion Service got the official support of the British Red Cross Society. It ultimately became the National Blood Transfusion Service we know today.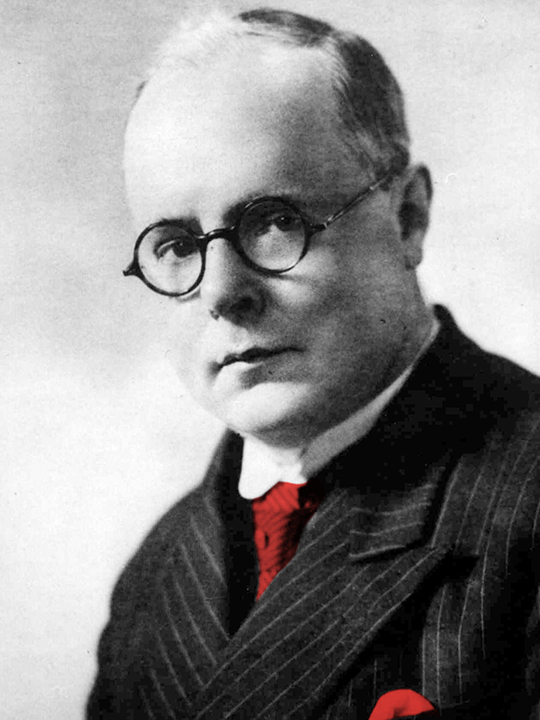 1939: Tracing missing families

During and after the Second World War, our volunteers helped families trace their missing loved ones - a service we still run for refugees today. The Red Cross Foreign Relations Department was formed in May 1940 to trace people missing because of the war.displaced persons.
1948: The Red Cross and the NHS

We've been working alongside the NHS from day one. What started as a five- year plan to help the service establish itself has turned into a 72-year-long partnership. Helping people access the health and social care they need has always been our priority.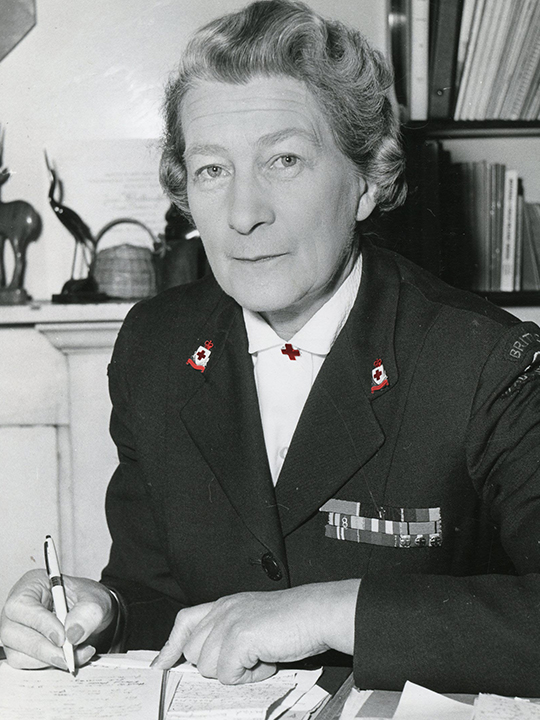 1950: helping people overseas
Joan Whittington joined the Red Cross at the end of the Second World War. Her first role was in Cairo as a voluntary nurse assistant and then she was in Tripoli, Italy and Greece. Her passion for helping people only grew and she eventually became a full-time staff member and the director of overseas branches, shaping a lot of the work we do today.
1966: disasters and emergencies at home

When a 1966 mining disaster hit the community of Aberfan, volunteer John Cole drove all night from Coventry to Wales to help with recovery efforts
John was one of hundreds of British Red Cross volunteers who tended to the injured and supported those who had lost loved ones or been made homeless.
1975: Supporting refugees
As refugees fled the end of the Vietnam War, Helen Cookson supported them as they arrived in Hong Kong waiting to be resettled. She was later awarded the Florence Nightingale Medal for her work.
1997: Royals throughout our history
Queen Elizabeth II has been our Patron for over 60 years and Prince Charles, our President, has shown incredible support for our work. In 1997, Princess Diana visited Angola's active minefields with us, leading to a ban on anti-personnel mines.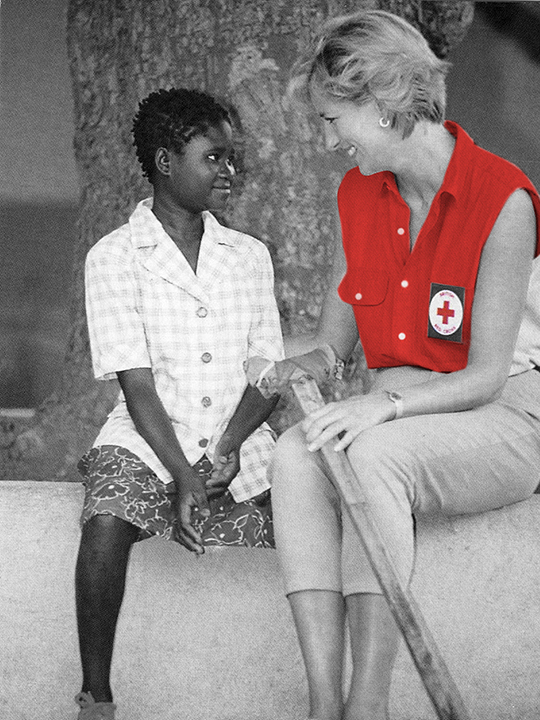 2017: Responding to an emergency every four hours

2017 was a difficult year for the UK. Our staff and volunteers worked tirelessly to provide support and comfort to those impacted by the Manchester bombing, the London Bridge attack and the heart-breaking Grenfell Tower disaster.
Laszlo has volunteered at three National Societies since he was 16. He joined the British Red Cross in 2015 and supported in the aftermath of the 2017 attacks and disasters.
Hollie Booth was caught up in the Manchester Arena bombing and received a wheelchair from the British Red Cross that allowed her and her dance troupe to compete in Britain's Got Talent.
2019: Simple acts save lives
From providing first aid courses to businesses and individuals to campaigning to get first aid on the curriculum, we know the importance of having simple skills that can save lives.
Stephen and Hanna both learned first aid at school and helped us during our successful campaign and both saved a life thanks to the skills they learned.
2020: Coronavirus
We have continued to help the most vulnerable throughout the coronavirus pandemic. From providing a listening ear on our support line to helping refugees and getting food to people, our staff, volunteers and supporters stepped up to the challenge once again.
From then to now, it's thanks to the dedication of our volunteers and the generosity of our supporters that we can be there for people, without judgement.
Find out more about some of the people who have contributed to 150 years of kindness.
Emergencies in the UK
We respond to an emergency in the UK every four hours. People are at the heart of what we do. If you're inspired by what you're reading on Stories, please consider donating to make sure we're ready to spring into action.
Donate