Celebrating the Coronation of His Majesty King Charles III
Find out more about our relationship with His Majesty The King and our participation in this historic event, including the heart-warming stories of our volunteers who are invited.
Last updated 22 May 2023
His Majesty King Charles III and the British Red Cross
As the world eagerly anticipates the upcoming Coronation of His Majesty King Charles on Saturday 6 May, join us in remembering His Majesty's involvement with the British Red Cross over the years.
We have a longstanding history with the Royal Family, going back to our formation in 1870.
Our staff and volunteers played an active part in the coronation of Her Late Majesty Queen Elizabeth II in 1953 with 1,500 members on duty to support the crowds.
And this weekend, alongside the Civilian Services Contingent, 22 British Red Cross volunteers will march out from Horse Guard in the morning and take up their positions ahead of Their Majesties passing by.
Unwavering commitment
Like his mother before him, His Majesty King Charles has been actively involved with us for many years.
Over this time, His Majesty has donated his time, money, and unwavering commitment to support people in crisis both at home and abroad.
His Majesty most recently served as our President, showing his dedication to the Red Cross in a tangible way.
Support includes hosting a magnificent garden party at Buckingham Palace to commemorate 100 years of the Red Cross' first Royal Charter. His Majesty also praised the tireless work of Red Cross volunteers in the wake of the Grenfell tragedy and through the Covid-19 pandemic.
And most recently, The King and Queen also showed their support for the Ukrainian community during a visit to the Ukrainian Catholic School in London. British Red Cross representatives from our refugee services joined the visit alongside other humanitarian organisations to offer practical support.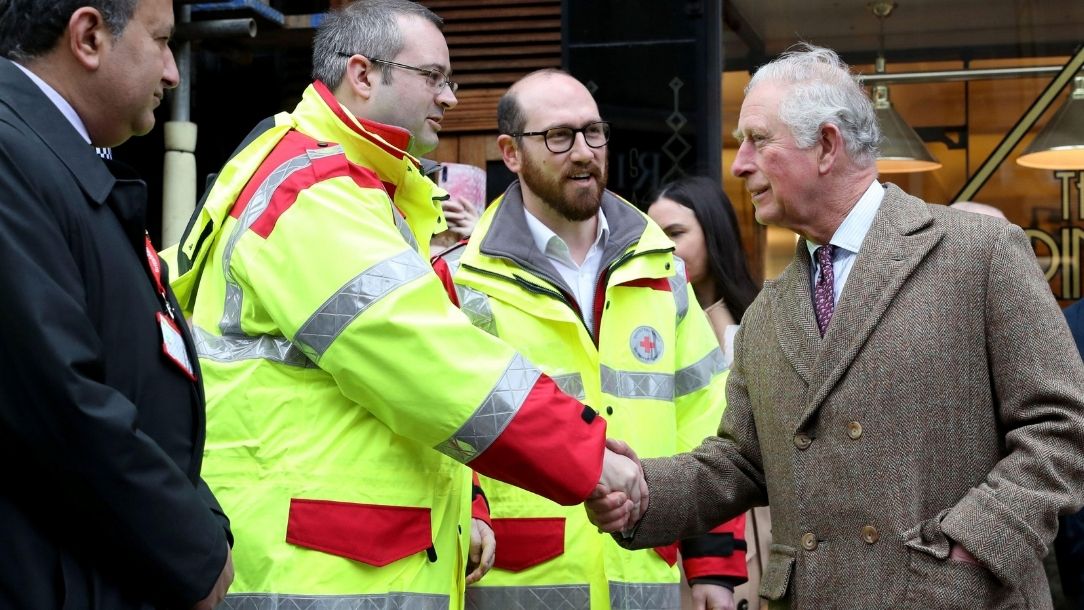 Not limiting his support to just the British Red Cross, King Charles has generously contributed to the International Red Cross and Red Crescent Movement.
This included support of the Australian Red Cross following devastating bushfires and recognising the contribution of staff and volunteers in supporting people in crisis worldwide.
In 2022, His Majesty made his first donation on accession to the throne to support the Red Cross relief efforts for the Nigerian floods.
Later that year, he welcomed the Disasters Emergencies Committee Chief Executives to Buckingham Palace to discuss international emergencies, from the Africa food crisis through to supporting the Pakistan floods response.
The British Red Cross' involvement in the Coronation
To mark His Majesty The King's Coronation, we'll be joining thousands of other organisations on Monday 8 May, for The Big Help Out.
This huge event will encourage people to try their hand at volunteering and make a positive impact in their community.
To learn more about the volunteering opportunities we are offering, head over to the Big Help Out website or download the app.
Liz Padmore, Chair of the British Red Cross, will be attending the Coronation ceremony on behalf of the organisation, in addition to the 22 street liners who will march in full ceremonial uniform to line the King's procession route.
We're also proud to be providing 20 wheelchairs to be used by members of the public attending the ceremony on 6 May. They were safely delivered by Jason and Emma from our Crawley branch, after a request from the Department of Culture, Media and Sport.
Meet four of the British Red Cross volunteers proudly representing the British Red Cross at the King's Coronation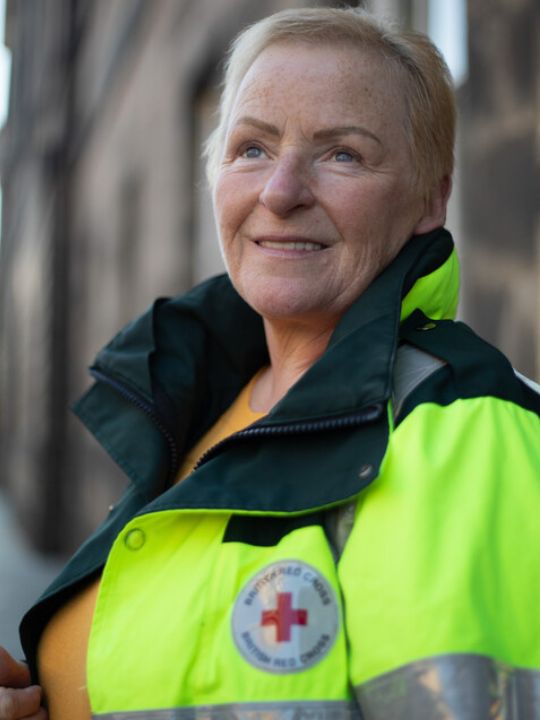 Irene
Based in Fife, Irene has been a devoted volunteer with the British Red Cross for over a decade. Following the heart-breaking loss of her son, she has found a way to help people and communities in need.
She has provided first aid services at major events and has volunteered throughout the Covid-19 pandemic.
And she is no stranger to representing the British Red Cross at major events. Irene has proudly taken part in the Remembrance Sunday ceremony at the Cenotaph in London and other occasions attended by Her Majesty The Queen.
Following the Queen's death last year, she was part of the British Red Cross team supporting members of the public at the lying-in-state at St Giles' Cathedral in Edinburgh. Here, she assisted people with disabilities and mobility issues to pay their respects. Irene also stepped in to help a mourner who was taken unwell while queuing inside the cathedral.
Now Irene has been invited to attend the coronation of His Majesty King Charles. She says she feels a deep sense of honour at the prospect.
Nicholas
Nicholas Brown is an emergency response volunteer in Wrexham. His life changed when he was diagnosed with prostate cancer during lockdown and underwent treatment.
This experience gave him a new outlook on life and wanted to give back. As a retired police constable, he naturally gravitated towards emergency response and joined the Red Cross.
Nicholas values face-to-face interactions and finds it rewarding to be there for people in their time of need. His team attends house fires and floods. Nicholas feels honoured to represent his colleagues from North Wales at the Coronation and hopes to encourage others to get involved.
As someone from an Afro-Caribbean background, he is proud to represent his community and promote fundraising efforts for the Red Cross. With his uniform in hand, Nicholas is excited to be a part of something bigger and to make a positive impact.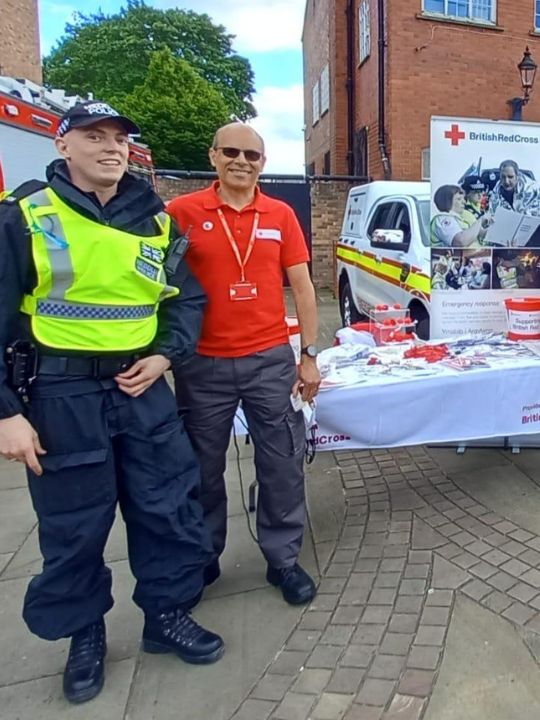 Jonathan
Jonathan Capener, 51, is based in Newcastle-under-Lyme and joined the Red Cross six years ago as an emergency response volunteer. He is often called out to provide practical and emotional support to people affected by domestic fires and floods.
As an emergency response volunteer, Jonathan often supports people by providing refreshments, clothes, toiletries and a sympathetic ear.
He has helped people affected by the floods in Doncaster in 2019. More recently, he was one of the team welcoming refugees arriving in the UK from Afghanistan, Ukraine and most recently, Sudan.
Jonathan is one of the lucky 22 street liners to appear in the procession. He says: "I am incredibly excited and extremely lucky to have been chosen to represent the British Red Cross at this once in a lifetime event. I'm really going to enjoy the day. But I hope it doesn't rain!"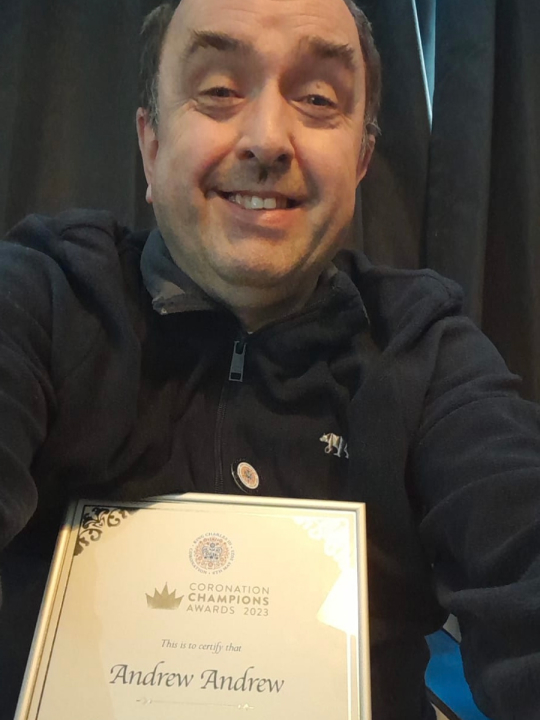 Andrew
Andrew, 53 from Havering, has been volunteering with the British Red Cross for around eight years. He currently volunteers at Queen's Hospital in Romford, acting as a point of contact for service users to enable them to access the services they require.

In the past, he has volunteered as an emergency response volunteer, responding to crises in the UK and providing emotional and practical support for people. More recently, he has provided practical support to arrivals from Sudan.

Andrew felt honoured to be invited to attend the Coronation Concert celebrating His Majesty The King's ascension to the throne in recognition of his charitable activities. He was selected as one of 500 Coronation Champions by the Royal Voluntary Service. The award recognises exceptional volunteers from across the country who go the extra mile to make a difference, with each Coronation Champion receiving an official pin and a certificate signed by Her Majesty The Queen Consort.

Nominated for the award by his fellow volunteers, he says: "I was quite set aback as I wasn't aware it was coming. I actually wasn't aware of the awards but it was an honour to say the least. It was quite moving for me".