"To be a tiny part in someone's journey to safety is so special"
Kate's first deployment as a Psychosocial Support volunteer was a baptism of fire. As a part of the team supporting British nationals evacuating Sudan, she describes the experience as all at once humbling, demanding and uplifting.
Last updated 30 August 2023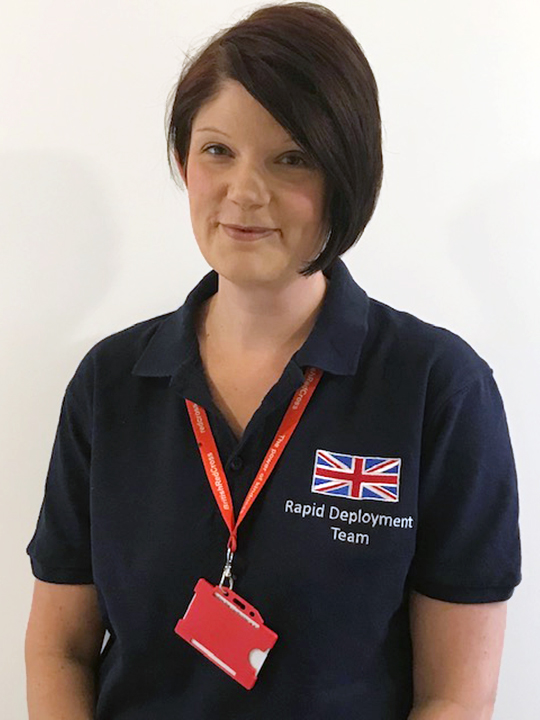 "I didn't really know what to expect"
In spring 2023, Kate and her team travelled to Cyprus. They were deployed to Larnaca Airport to meet British nationals being evacuated due to the outbreak of conflict in Sudan. 
The British Red Cross Psychosocial Support (PST) team hit the ground running, Kate explains: "We barely stopped for a week. The situation was changing constantly and we didn't know how many flights were coming in or when. We wouldn't know for sure until they were actually in the air."
Kate's team covered different areas of the airport, helping people who were getting on and off coaches, waiting in immigration queues or settling into military camps for overnight stays.
"There were a lot of women travelling with babies – sometimes newborns – and young children," Kate says. "Some had been in Sudan for holidays, family events or Eid celebrations, others had never planned to leave. I met people who'd been through harrowing experiences. Some had relatives who'd been shot. They'd fled from shelling and waited at air bases for a week or more, without sleep or regular access to food and water. Some had left with nothing and had been in the same clothes for 10 days."
"I just tried to be a friendly, welcoming face"
When British nationals are caught up in a crisis overseas, PST volunteers, like Kate, are specially trained to provide emotional and practical support.
"The role of the Red Cross in a situation like this is to bring humanitarian support, think about people's welfare in the midst of a crisis, add a smile to the process. We know what a huge difference we can make to how people are feeling. We can do whatever's needed, whether it's helping unaccompanied children to the right place, transporting luggage, visiting hospitals, advocating for people or just sitting and listening to their experiences.
"It was an absolutely incredible privilege to be there to help. We spent a lot of time listening – it's about making yourself known and looking around for eye contact. Often you can tell when someone needs to talk. I also offered to hold babies as their mothers had no pushchairs or slings to put them in."
Some people were trying to apologise for not knowing how to navigate an escalator or a boarding gate – it was so overwhelming. I just tried to create a breathing space for them.
"I'd do it all again tomorrow"
Kate says her experience of deployment was demanding, but also very uplifting.
"People were so glad of our help. It was a really humbling, unique experience. To be a tiny part in someone's journey to safety is so special."
Kate wears a number of hats at the British Red Cross. In her day job, she is a Learning and Development manager for Crisis Emergency Response where she helps 100 staff and 1500 volunteers feel competent and confident in their roles. Alongside this, she is also an Emergency Response volunteer supporting people affected by emergencies such as fires or floods. But it was in her PST role helping Sudan evacuees where she experienced her standout career moment:
"There was a lovely moment for me personally when I was sitting with a mum and her four children. I was holding her baby to give her a bit of a break and someone had given the other kids a pot of bubble mix, so they were blowing bubbles and trying to catch them. In the middle of all this chaos, they were just laughing so much! They made the situation feel so much more hopeful. I found that really emotional."
Interested in becoming a volunteer?
"I became a Psychosocial Support volunteer because I wanted to be able to be where the need was greatest," explains Kate.
There's a wide range of volunteer roles at the British Red Cross, so whether you're interested in Psychosocial Support, Emergency Response, answering our support line or working in a charity shop – there's an opportunity that suits you.