"Seeing her run towards them brought tears to my eyes"
Alex was one of the British Red Cross volunteers who supported people arriving from Sudan to UK airports earlier this year. Here, she describes two encounters she'll never forget.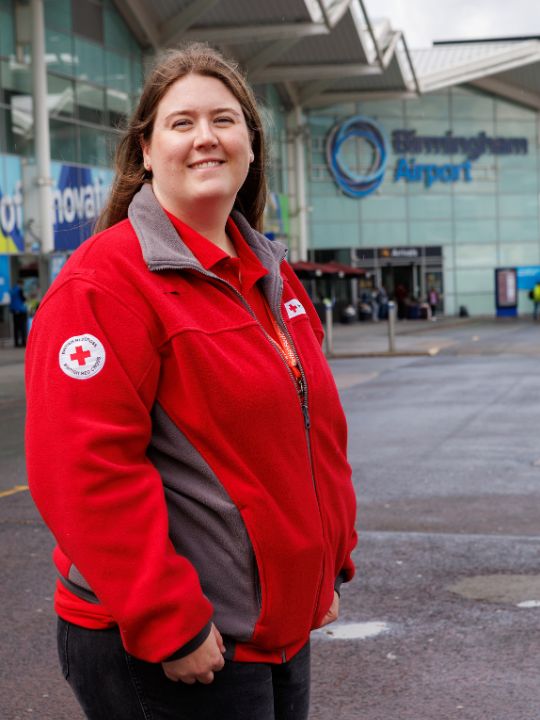 Volunteering was the perfect opportunity
Soon after the war conflict in Ukraine began, Alex put on her Canadian Red Cross uniform and headed to Vancouver airport. Here she welcomed and supported hundreds of Ukrainian families fleeing the conflict.
When Alex moved back to the UK in late 2022, she immediately looked up volunteer roles with the British Red Cross.
"I really enjoyed the Emergency Response work I did in Canada," says Alex, who has a master's in international development.
"So when I realised there was basically the same team here, it seemed like the perfect opportunity."
Within weeks of Alex joining the Emergency Response team in the West Midlands, conflict broke out in Sudan. Alex swiftly signed up to support evacuees arrivals landing at Birmingham airport.
Thanks to her time in Vancouver, she had a good idea of what it would be like to support people who had just witnessed conflict.
Space to eat, pray and play
Alex and her Red Cross colleagues were based in a private room on the upper level of the airport. This gave people whose lives had been turned upside down some much-needed space and privacy.
As well as food and drink, the team distributed essentials like formula milk and bottles. The airport staff brought up second-hand prams and suitcases – a godsend for parents with young children and people carrying their possessions in plastic bags.
A prayer area with mats and private booths was set up in one corner. In another, toys and crafts kept children busy while their parents got support from the volunteers.
"Lots of people looked really exhausted, but the children were pretty amped up!" says Alex. "They were running round and had a lot to say. Many had become friends, as their families had spent days travelling together."
Sleeping in their own beds
Many people arriving in Birmingham were Sudanese British nationals who'd been visiting family when the fighting started.
"They looked so relieved to be back in the UK," says Alex. "They were so close to getting home and sleeping in their own beds."
But home wasn't necessarily nearby.
Desperate to leave Sudan, many people had boarded the first flight available – which often wasn't bound for the UK airport they'd flown out from. Now, 3000 miles later, they needed support with the last leg of their journey.
"I can't imagine travelling for days, arriving in Birmingham late at night with my children and then being like, 'We need to get to Cardiff now!'" says Alex.
Fortunately, the Red Cross - along with airport and council staff – was ready to help. Alex gave out taxi vouchers and filled in forms that arrivals could present at train stations for free travel across the UK.
Loved ones left behind
As well as practical and logistical support such as cash assistance, Alex provided evacuees with a vital listening ear.
"Lots of people had strong ties back home in Sudan and there were some harrowing stories about leaving behind family members who weren't British nationals," she says.
"You have to be able to listen and to be supportive. But equally you need to be able to move on pretty quickly, because the next person is going to have a different story and you need to be ready to support them."
A tearful reunion
Some encounters have stayed with Alex - like the one she had with Joyce (not her real name), who she met in a coffee shop.
Joyce was waiting anxiously for her two children and their father, who were due on a flight that afternoon.
She had spent a week in Jeddah, Saudi Arabia, waiting for her children to arrive by boat from Port Sudan. Then she was told they were getting on a plane to Birmingham. She had to get there - fast.
Joyce flew from Jeddah to Vienna, spent the night in the airport and flew to Gatwick the next morning. She then caught a train to Birmingham airport.
By the time she spotted Alex in her Red Cross uniform, she was exhausted and tearful.
"She was extremely worried for her children, and she'd had the most stressful week herself," says Alex.
"She and I bonded straight away. We had a hug and I invited her to come up to our space, and together we waited for her children to arrive.
Seeing her run towards them when they came through the doors brought tears to everyone's eyes.
A picture to treasure
Alex also remembers a boy, aged around eight, who came to the room with his mum and baby sister. He was busy drawing a picture of a Red Cross volunteer when his mum told him it was time to catch their train.
He gave us his picture but kept apologising for not having finished it. Here was a kid going through the hardest time of his life, but he was so polite.
"And still wanted to do things for other people. I was really moved."
Give volunteering a go
If you'd like to support people in crisis like Alex does, we need volunteers nationwide. Just search for roles near you.
You might also like...
Our Emergencies Fund
When disaster strikes, the first few hours are critical. Our Emergencies Fund helps us to respond quickly and give people urgent help in the UK and overseas.
DONATE