Your song, your story: a happy playlist
People around the world share songs that help them feel less lonely, and boosts their mood and wellbeing
Music plays an important role in supporting wellbeing. It can help to improve your mood, bring people together, and make you feel less lonely. Research suggests music stimulates positive chemicals in our body in the same way physical activity does. Some therapists even use music to help with relaxation and healing practises.
Whether you use the power of music to move your heart, your mind or your body, it can be an important tool to help support your wellbeing.

'Your song, your story' is a feel-good playlist created by people across the world sharing songs that help them feel happy and hopeful.
Listen to the playlist, try the wellbeing activities, and find out the inspiration behind the choices and why the tracks are important.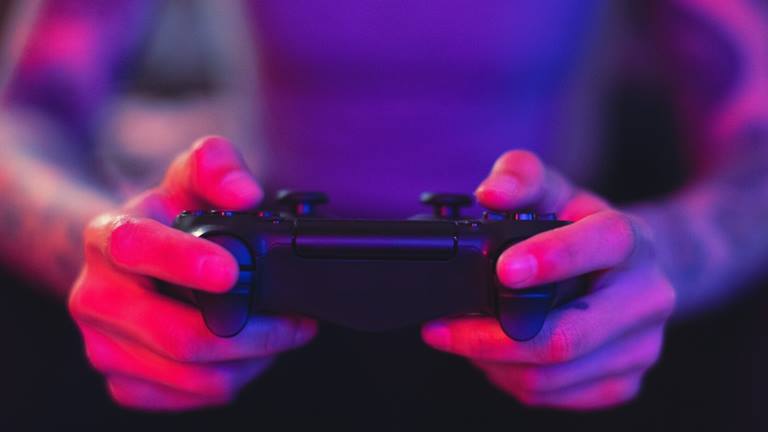 How music can help your wellbeing
Esther is a British Red Cross Volunteer and a member of the Generation Digital project, which aims to connect isolated people through technology. Here she explains why she wanted to create the 'Your song, your story' playlist.
"I created this playlist because I believe that music is a great way to tackle loneliness. Sharing your favourite songs with others can connect people when they feel further away than ever before. Listening to music has always been an important feature of my happy place. I hope that this collaborative playlist of songs that make people happy can do the same for you and help you feel a little less lonely."
Esther, British Red Cross volunteer
Music for wellbeing and mindfulness
Mindfulness is about taking a moment to notice your body and your surroundings. It can train your brain to become more 'present' in the moment as well as feel calmer. Sometimes that means sitting quietly and meditating, but many of us find that difficult.
Our thoughts can race without something to focus on. So, using music instead can help you to focus and be mindful at the same time.
Activity
Pick one of the songs on the playlist, perhaps the one you like the best, and take a moment to listen to it. You can sit down or go for a walk, but try to focus mostly on the music.
Pick a feature of the song to focus on:
Listen carefully to the words. What is the song about? What emotions and meaning is the artist trying to convey?

Listen carefully to the beat. Can you count them? Could you tap along to it? How fast or slow is the song?

Listen to a single instrument that you can hear in the song – is there a drum, a violin, a piano, a guitar? Can you hear the notes it is playing? How does the melody change over time?
Do this again with another song in a different style. How do different genres or types of song make you feel differently?
Listening to just one song can make a difference, but for the best effects, listen for around 10 minutes.
Try this activity when you need to take a break or as part of self-care Learn more about building a self-care plan, and how using positive things like music can help support your wellbeing.
Using the playlist as inspiration
Activity
Read through the songs and stories list below. Why did people choose their song? How are the reasons similar and different?

Now listen to the songs, reading each story again. Do any of the songs make you feel happy? What songs would be in your playlist?

Start a conversation with someone you know about music, or something else that helps you feel better. Explain why. Sharing things like this helps us realise we are not alone in what we feel.
Here, the people who chose songs for the playlist explain why they picked that particular track and what it means to them.
| | |
| --- | --- |
| (Sittin' On) the dock of the bay - Otis Redding | Not too sure why but those first cords just make me happy inside |
| Lovely Day - Bill Withers | Need I really say more? |
| Backflip - Rivers Cuomo | Reminds me of how happy I felt when I watched the show that it came from. Even though it was a kids show, and I'm technically an adult, I feel like it reminds me that I'm still young y'know. |
| Stand Out - Tevin Campbell | It reminds me of my childhood when the world seemed limitless and I could be whoever I wanted and do whatever I wanted. |
| Hideaway - Tessanne Chin | It brings me back to being in Jamaica with my head sticking out the window as a kid with my family. Every time I play that song, I'm just happy. |
| You'll be in my heart - Phil Collins | It's comforting, makes me feel like I'm not alone |
| Wish You Were Here - Pink Floyd | Kind of a sad one but really relatable when you're feeling lonely |
| Leezie Lindsay - Eddi Reader | The quiet atmosphere this song set is really nice, it can calm me down when I am lonely and kind of sad. |
| Ghost Of You - 5 Seconds Of Summer | I sing this one with my friend and it reminds me of her when I'm not with her |
| What's up - 4 Non Blondes | This song really encapsulates being a young person to me, and not really knowing what's going on but telling yourself it's ok to not feel ok all the time, especially when you sing the chorus really loud. Plus, it reminds me of a TV show me and my best friends used to watch together and now they live on the other side of the world and listening to this song helps me feel closer to them. |
| One Day Like This - Elbow | My dad used to play it a lot when I was younger and it's just filled with hope |
| Romantic Ageru yu (The Dragon Ball end theme) - Bosa nova version | This song makes me feel like I'm going on an adventure, full of excitement, it's going to be lots of fun on the journey, the future is bright! Seriously, that's how I feel about this song, one of my top ten! |
| Brothers on the slide - Cymande | It's both jazzy yet modern and makes me feel like my music taste is more sophisticated than it really is! |
| | |
| --- | --- |
| Black Betty - Caravan Palace | The tempo is fast and fun! |
| Dare - Gorillaz | It was one of the first songs that I listened to by the Gorillaz. It's extra special to me because the Gorillaz were the first band that I discovered on my own that I actually liked |
| Good Times - Roll Deep & Jodie Connor | Reminds me of the dance parties that my siblings and I had when we were younger. This song was all over the radio and it was always a good time when we heard it |
| Drop in the ocean - OMI & AronChupa | It's got an upbeat tempo and always makes me feel like dancing. Dancing makes me happy :) |
| Tiger Feet - Mud | Just can't help but dance around when this comes on. |
| Lollipop - Mika | I like it because my sister introduced it to me when we were younger and it reminds me of when I was little and life was good |
| Different Colours - WALK THE MOON | This song is all about celebrating our differences and supporting each other which is a powerful message when you feel lonely. In particular, the lyrics 'We carry each other, we're just different colours' resonates with me because regardless of where you come from and what your struggles might be, it's important to remember that there are others to help carry you through it. |
| September - Earth Wind and Fire | I can't be in a bad mood when I hear this song - certified anthem and no mistake. It's just got such a good and instantly identifiable opening few seconds that get me in a boogying mood! |
| Brown Skin Girl - Beyoncé, Blue Ivy, SAINt JHN, WizKid | This song never fails to put a smile on my face and a spring in my step. The message of loving and appreciating your natural beauty and your perfection just the way you are is made so much more poignant by the dynamic of Beyoncé singing it with and for her daughter. It fills me with so much hope that the next generation of little girls are learning how to love themselves and recognise their value regardless of the colour of their skin much better than we did, and that they will make this world better, brighter and more equal. |
| We're All in This Together - High School Musical | It's a fun care-free mainstream song, but it actually has a deep reassuring and positive message. |
The songs listed were chosen by young BRC volunteers. Mentioning them on this page is not an endorsement by the British Red Cross.
Ways to boost your wellbeing
Everyone encounters stress or moments of difficulty in their lives. Managing your wellbeing and mental health can help you build resilience and make it easier to deal with those harder moments. Use our wellbeing activities and information for support , or try these resources.
Contact the Support Line
If you're feeling lonely, worried are looking for support we can help. Call our support line on 0808 196 3651 to speak to a British Red Cross volunteer. Find out more information about what they can help you with, or advice about other support that's available click below.