Translated wellbeing resources
Explore wellbeing resources including activity packs and wellbeing cards in multiple languages
A number of our wellbeing activities, including our Wellbeing cards and Kindness activity packs, have been translated into different languages to allow more people to use and share our resources.
These will help you cope with everyday issues and also develop personal skills to manage feelings of worry and loneliness.
Kindness activity pack
Our engaging activity pack helps children and young people learn about feelings, coping skills and the power of kindness. It's available to download (PDF) in English, Welsh, Arabic, Farsi, Pashto, and Tigrinya :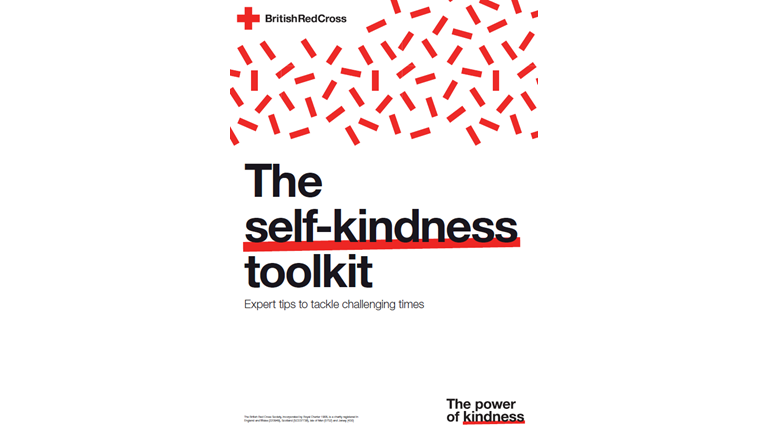 Self-kindness toolkit
Explore information and engaging activities to help you to be kind to yourself with this toolkit. It's available to download or to order for free as printed colour copies for use with groups and individuals.
Covering a range of topics, from resilience to building connections and confidence, it will help you manage stress and be kinder to yourself. You will also develop a greater understanding of yourself and those around you.

The Self-kindness toolkit is available to download in English here: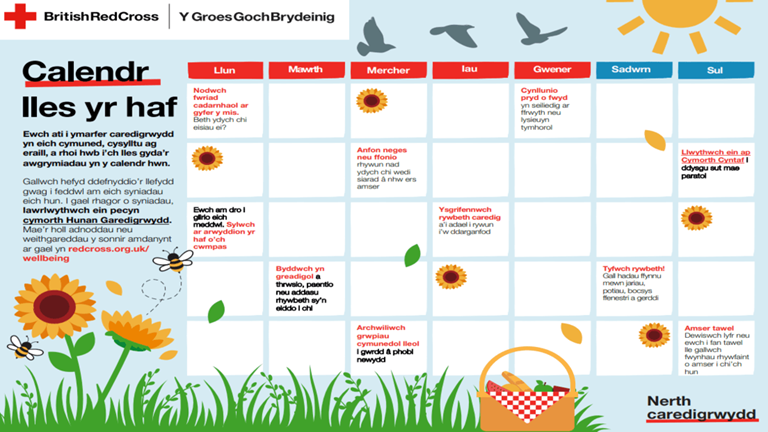 Summer wellbeing calendar
Download our free Summer wellbeing calendar to improve your wellbeing. The calendar helps you practise kindness throughout the week, and is also great for building community connections to boost your general wellbeing.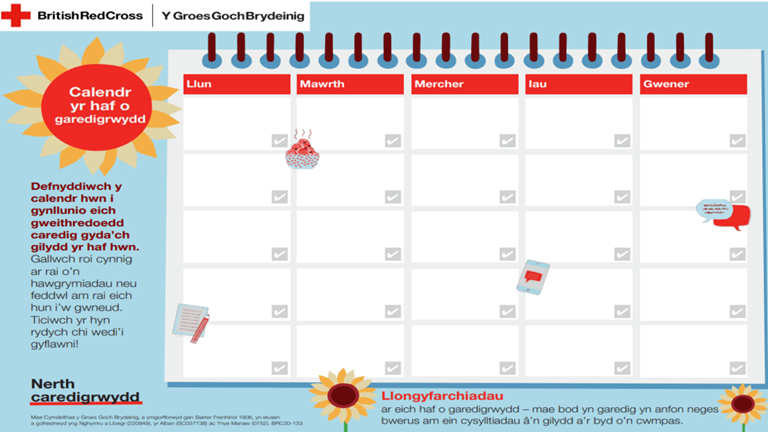 Summer of Kindness calendar
The summer holidays is a great time to try new things. Our summer of kindness calendar encourage simple acts of kindness, build resilience and cover topics such as mental wellbeing and loneliness that will help children and young prepare to go back to school.
Wellbeing cards
Our wellbeing cards provide ideas and activities to help you tackle loneliness and cope with everyday issues. They cover areas such as problem solving, coping with change and making decisions confidently.

They're available to download (PDF) in the following languages:
How to support your own wellbeing
Wellbeing plays an important role in maintaining your overall health as well as supporting you in times of difficulty or when feeling overwhelmed. You can help to support yourself with our range of activities, resources and advice that can help you build essential life skills. Find out more about our wellbeing offering and how to use it, or try these individual resources.
Support line
If you know someone who needs more support than you can give them or is seeking advice, suggest that they call our free and confidential support line. British Red Cross volunteers can support in over 200 languages and are available to offer guidance and help, particularly to those experiencing isolation, loneliness or need additional support.
Call the support line on 08081963651.