Humanitarian crisis in Mozambique
What do people need following the natural disasters in Mozambique, and how can they recover?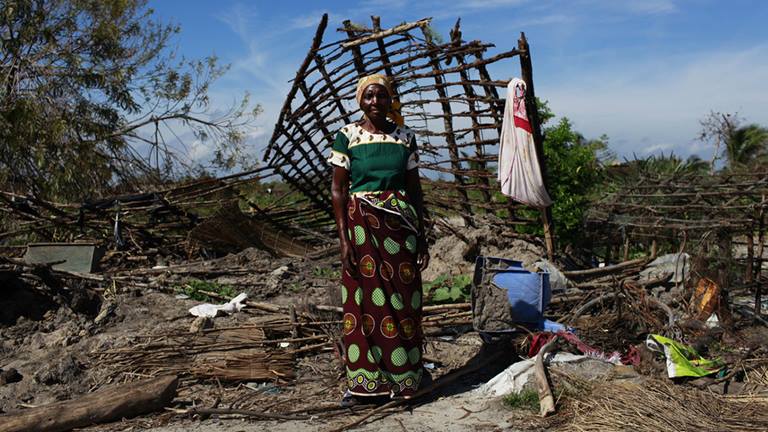 Age:

11-16

Type:

Lesson plan

Subjects:

PSHE, Tutor time

Topics:

Newsthink, Disasters and emergencies
In April 2019, Tropical Cyclone Kenneth slammed into the south-east African country of Mozambique. The huge storm brought 140 mile per hour winds and 8-metre high waves crashing on to the coast. This was six weeks after being struck by Cyclone Idai.

These video and photo activities look at what has happened, the practical support provided by humanitarian organisations, the emotional support people might need, people's short-term and long-term needs, and how people can be resilient.
Learning objectives
Learners will:
consider the immediate and long-term needs of communities hit by extreme weather events
build understanding of how these needs inform the work of humanitarian organisations like the Red Cross
explore the importance of resilience in overcoming difficulties and the qualities that make someone resilient.
Resource overview
1. Video discussion: Cyclones strike Mozambique
A video clip helps to introduce the topic, with information about the disaster and the aftermath.

2. Photo activity: People's stories
Using some photographs, learners will consider people's needs immediately following the disaster, and in long-term recovery.

3. Extension activity: Resilience and community support
Learners consider how people have shown resilience following the disaster, and how they can be resilient in their own lives.
Credits
This activity was written by Nick Hunter and published in May 2019.
The image of Celeste, whose house was destroyed by Cyclone Idai © Caroline Irby/British Red Cross.