Newsthink Refugee Week 2023
Learn about the UK's annual awareness event – Refugee Week – through a humanitarian lens using this Newsthink resource.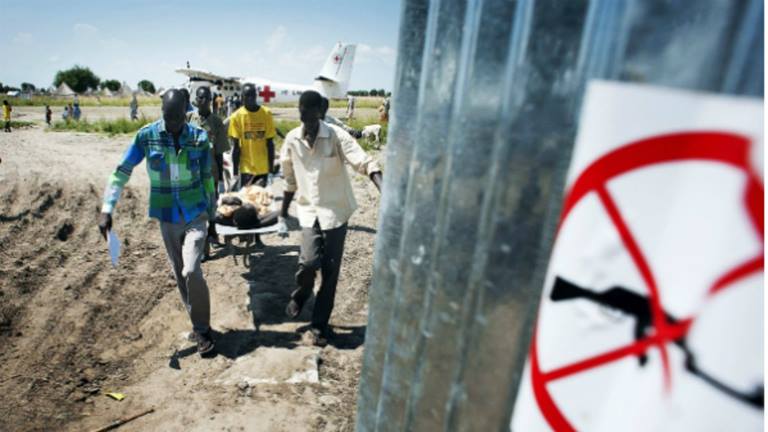 Age:

10-19

Type:

Quick activity

Subjects:

PSHE, Tutor time

Topics:

Humanitarianism and the Red Cross, Refugees and migration, Newsthink, Conflict
Learn about the UK's annual awareness event – Refugee Week – through a humanitarian lens using this Newsthink resource. Use images to explore the needs of people with refugee status and the positive impact support can have on those who have fled their dangerous environments.

Help your learners to consider why some people flee their neighbourhoods, using the recent conflict in Sudan as an example. Learners will have the opportunity to consider the significance of Refugee Week and this year's theme: compassion.
You may find our detailed guidance on how to talk to children and young people about conflict useful when learning about this topic.
Learning objectives
Learn about a humanitarian awareness event.
Apply learning and empathy to understand why the event takes place.
Share learning by discussing a debate topic, and showing active listening skills.


How do I use this resource?
Download the PowerPoint and teacher notes to deliver the activities. Use one, some or all the activities, as suits you. Each one can be done in ten to fifteen minutes. Embed this activity into your lessons or use it in assembly or tutor time to engage learners with current events and humanitarian news.

Resource overview
Use the 'see, think, feel' framework to explore and discuss the photos depicting Sudanese people leaving their homes and people with refugee status who are staying at a camp in neighbouring Chad. Discuss the photo

showing people at a demonstration, where one person is holding a 'Refugees Welcome' sign.

Debate the following statements: "People fleeing dangerous environments should be treated with compassion", "Refugees and asylum seekers should be given protection, support and resources for their immediate needs" and "We can all help to make refugees and asylum seekers feel welcome".

Make connections by asking learners to consider other examples they are aware of where civilians have fled their homes to seek refuge and what it means to show compassion.
Learn more
Help learners aged between seven and 18 gain a better understanding of migration and refugees with our primary and secondary activities. Learners can develop empathy as they learn about the lives of others, using the theme of kindness.
Widen the discussion by exploring the conflict as a cause of civilians fleeing their homes, using the existing Newsthink resources: