Activities to help support students cope with exam stress during the exam period.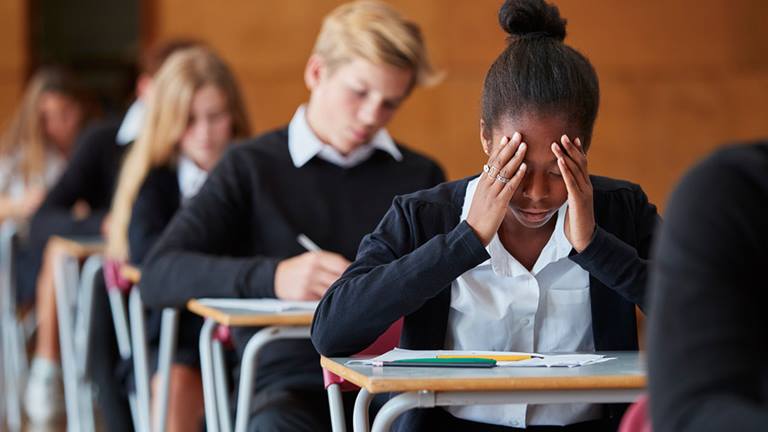 Age:

11-16

Type:

Lesson plan

Subjects:

PSHE, Tutor time

Topics:
Activities and tips to help you and others cope with exam stress. For many students, the exam period is one of stress and anxiety. While the effects of stress can be minor or even positive for some, research suggests that one in seven students can feel highly anxious about tests.
These activities are designed to help learners to identify exam stress symptoms in themselves and their peers, explore what to say to someone who is stressed, and how to help each other to cope with exam stress.
Learning objectives
Learners will:
be able to recognise the signs of exam stress in others and themselves

practise a mindfulness activity to help you not stress about exams

develop strategies for supporting others to deal with stress
Resource overview
1. What does exam stress feel like?

Learners watch a video and discuss the signs of stress and coping skills that can help deal with those feelings.

2. Mindfulness activity – Watch the world go by

An introduction to mindfulness, with a breathing and visualisation activity. 

3. Helping others to overcome stress.

How to spot the signs of stress in others, and ways learners can support each other. 
Supporting student wellbeing
This resource supports students with stress during the exam period. Explore more of our resources for additional wellbeing activities that can help them learn coping skills and build resilience to better manage challenging times.
Live Lessons
Young people face a variety of challenges in their lives. In our Coping with challenges workshop an educator will provide students with a resilience-building framework to help them cope with different challenges as well as provide the opportunity to discuss their opinions and idea around the topic. Delivered by a BRC educator these live workshops are available as a face-to-face or online delivery and are appropriate for students ages 10 to 19.
Don't miss out
Sign up to our mailing list and receive new teaching resources, newsworthy resource packages, and information about educational offline and online products straight to your inbox.
Credits
This activity was written by Nick Hunter and published in May 2019.
The image of messages of young people sitting an exam © Monkey Business Images/iStock.