World War One: centenary resource
This unique teaching package uses the British Red Cross' digitised archive and original source material from WWI.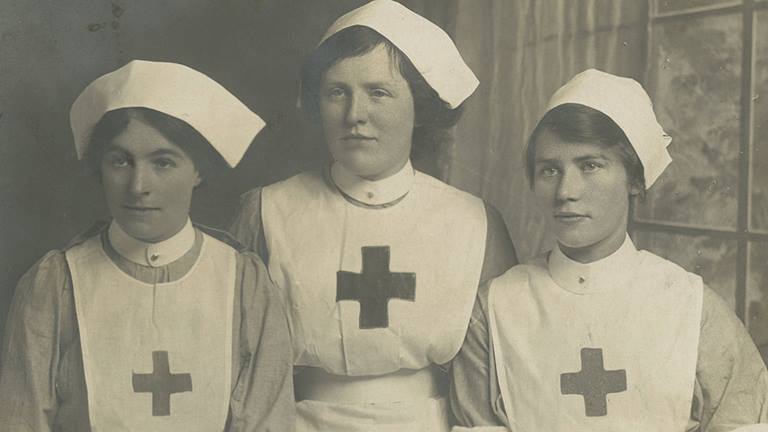 Age:

11 - 16

Type:

Teaching package

Subjects:

Citizenship, History

Topics:

Conflict
Commemorate the centenary of the end of the First World War with this reworked resource for 11- to 16-year-olds.
This interactive teaching package has three modules with a range of activities to pick and choose from. It uses powerful archive letters, case studies and photographs so that young people can discover more about the valuable role volunteers played during WWI.
Learners will search the digitised archive of First World War volunteers to find real examples of the people who helped during the war. They will explore the different aspects of this volunteer work and protections available for those affected by war, and will learn about humanitarianism in action. They will also apply this learning to their own lives and modern-day situations.
Linked to the UK school curricula, this unique resource brings the history and humanity of those who helped during the First World War to life.
Learning objectives
Learners will:
increase their awareness of First World War volunteers in a voluntary aid detachment (VAD)
discuss the people who volunteered, what they did and what drove them to help
consider how the First World War helped to empower women
find out about the rules protecting people during the First World War, and international humanitarian law today
explore the subject of refugees during the war and in the modern day
consider methods of raising funds in order to help others
apply this knowledge to their own lives and the world around them.
Resource overview
1. Overview
A helpful guide to using this teaching resource.
2. Curriculum links
This document maps out how the resource links to the UK curricula.
3. Introduction
Use the images and discussion questions in the PowerPoint to get the learners thinking about the topic.
4. Module 1: The power of volunteering
Find out about some of the volunteers in the archive, explore the auxiliary hospitals where they worked and discuss how the roles of women changed.
5. Module 2: Protections in war
Learners will be introduced to the rules of war and how prisoners of war were helped during the First World War. They will also consider the meaning of the red cross emblem and its role in protection during conflict.
6. Module 3: Humanity in action
Learn about what volunteers did, the Missing and Wounded Service, help given to refugees and fundraising methods.
7. Teacher factsheet
Some helpful extra information and links to support you in teaching this topic.
Inspire others
When you're using our resource for the WWI centenary, we'd love you to share your work and inspire others. We have a template press release to make it easy to share with regional media to show that your school is involved in this important topic.
Credits
This resource was written by Rob Bowden and Rosie Wilson of Lifeworlds Learning and published in November 2014. It was reworked and updated by Katy Parker and Lucy Tutton in October 2018.