Ukraine crisis: four months on
It has now been more than three months since we launched our Ukraine Crisis Appeal. This is how the situation looks today, and how your donations have helped the Red Cross reach more than 2 million people so far
Last updated 4th July 2022
In the four months since the conflict in Ukraine escalated, millions of people have been forced from their homes.

It is estimated that over 6.2 million people have left the country, while a further 8 million are displaced within Ukraine.

In areas where the fighting is intense, hundreds of thousands of people are without access to basic needs, like food, water, and electricity.

Though the news cycle has moved on from the minute-by-minute coverage seen in the early days of the conflict's escalation, enormous suffering continues to be inflicted on civilians in Ukraine.

Were the conflict to end tomorrow, the road to recovery for the country would take years. Currently, 18 million people need humanitarian assistance, while critical infrastructure across the country is in desperate need of urgent repair.
DONATE TO THE UKRAINE CRISIS APPEAL
What has the Red Cross done in Ukraine so far?
For the past eight years, the Ukrainian Red Cross and the International Committee of the Red Cross (ICRC), have been working with communities affected by the conflict.
Since February, the Red Cross and Red Crescent Movement has been working inside Ukraine and its neighbouring countries, reaching around 3.6 million people so far.

Emergency response specialists from 25 countries have travelled to the region to support local Red Cross teams in bordering nations like Poland, Romania, and Hungary as well as in Ukraine itself.


In the three months since teams were first mobilised…
More than 2.1 million people have been reached with life-saving aid
Almost 640,000 people have been helped with housing rehabilitation, shelter and/or temporary accommodation
More than 204,000 people have received emergency financial support
Over 110,000 trained volunteers are responding.
In total, 1 in 10 people forced to flee their homes have been reached by the Red Cross.

Healthcare and medical assistance is a priority: teams from the ICRC have supported 34 hospitals and 41 health centres or clinics with the delivery of medicines and medical equipment like defibrillators and resuscitators.
A new ICRC health unit in Ushhorod, western Ukraine, opened in June 2022 and is providing both urgent and primary care needs free of charge to all patients.
Anastazia, the head nurse of the Ushhorod medical centre, says that the needs of displaced people are growing: "At the beginning we had approximately 20 [people] per day that were arriving and now we see more patients come in, approximately 40 to 50 people. And we expect that to increase overtime as well."
The Red Cross has also trained 35 medical staff in blast trauma care to help them treat patients injured in conflict.
Has the Red Cross been involved in evacuations?
As a neutral, impartial humanitarian organisation, the Red Cross has a unique role in the situation.
As such, the Ukrainian Red Cross has now supported the evacuations to safer areas of 200,000 people, while the ICRC has helped 4,500 flee the areas of Sumy and Mariupol, where they had been trapped by fighting.
What is the Red Cross doing to support Ukrainian refugees?
In Ukraine's bordering countries, Red Cross teams are hard at work assisting the millions of refugees that have fled the country.

More than 3 million people have crossed the border into Poland alone. In the first days after the conflict escalated, the Polish Red Cross set up reception centres on the border, where they could welcome and support people arriving in the country. Since then, they have reached over 276,000 refugees with essential items like warm clothing and hygiene kits.
They also began to roll out a cash assistance programme. In the first phase of this work, the aim is to reach 30,000 people.
Other countries that share a border with Ukraine have been receiving refugees as well. Hundreds of thousands of people have arrived in Moldova, Hungary, Slovakia and Romania.
In Hungary, 12,000 Hungarian Red Cross volunteers have supported more than 148,000 people with things like food, water, and mental health support.
In Slovakia, a further 230,000 people have been reached with support including hot meals and psychosocial support and the provision of child-friendly spaces for children to play and feel safe in.
What about Ukrainians arriving in the UK?
The British Red Cross is the biggest provider of support for refugees in the UK and our teams across the country have now assisted more than 7,000 people since their arrival, helping them find emergency accommodation and helping those who don't speak English.
British Red Cross teams have been deployed to airports and train stations to welcome Ukrainians arriving in the UK and we are also working with Local Authorities to ensure that we can provide the best possible support to those who need it.
We have put together an information leaflet for Ukrainians arriving here, with information on services like housing, healthcare, universal credit and schooling. The leaflet has been downloaded over 9,000 times in different languages.
Three months in and we know that we are only at the beginning. As the conflict continues in Ukraine, the Red Cross and Red Crescent Movement remains committed to reaching as many people in crisis as we can, whether it is needed for months or years ahead.
Read more on Ukraine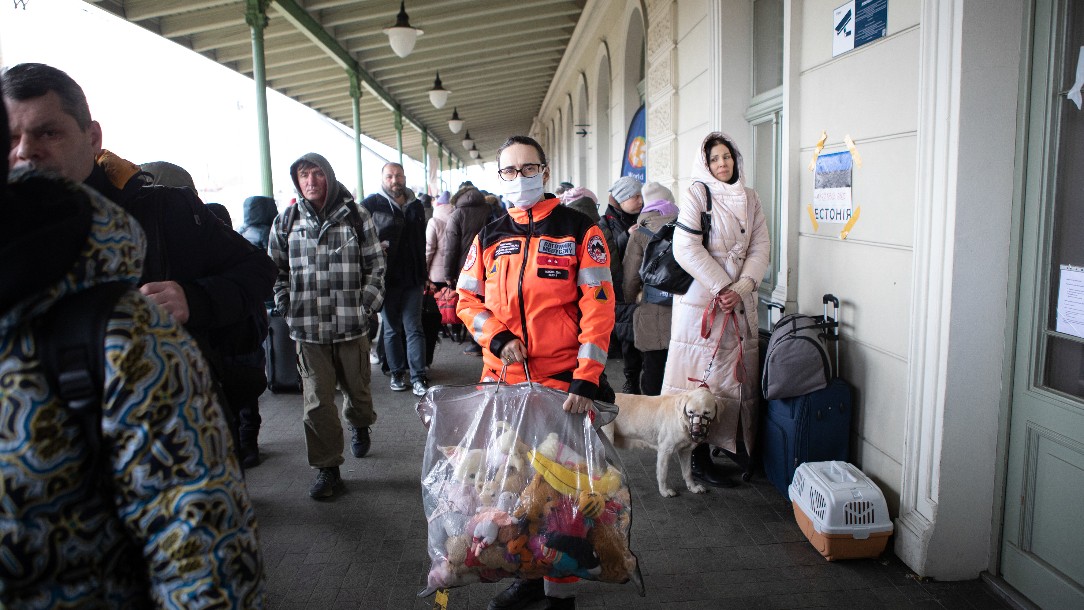 Stories of kindness in a crisis, from a Red Cross centre in Ukraine to a train station in Poland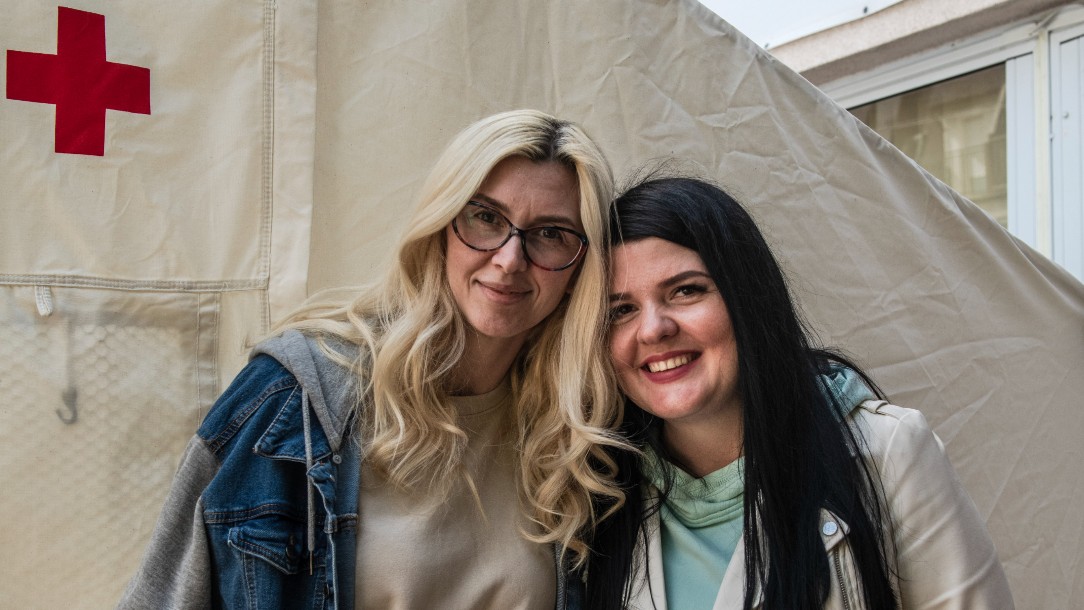 How the Polish Red Cross is supporting Ukrainian people like Olena, Jana and Anna with cash assistance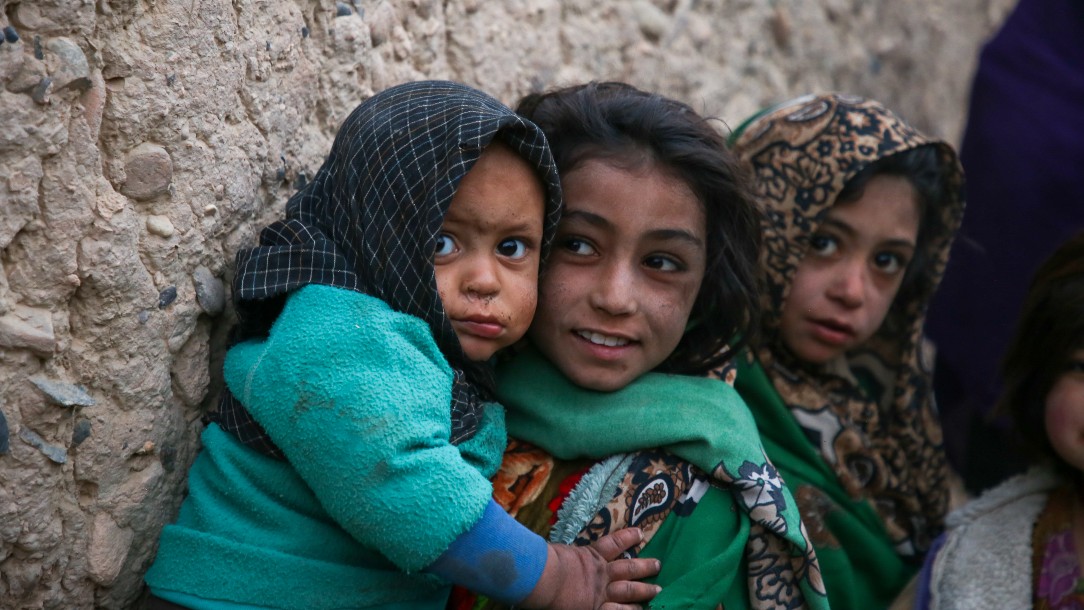 From Afghanistan to Yemen, we have teams on the ground reaching people when they need it most