"Being part of the procession is my way of saying 'Thank you'"
Meet the four volunteers who were selected to represent the British Red Cross in Queen Elizabeth II's historic funeral procession 
Last updated 19 April 2023
After the death of Her Majesty The Queen, who was our Patron for more than 70 years, the British Red Cross was invited to send four representatives to take part in her funeral procession.
Steve, Irina, Stephen and Andrew, all of whom are long-standing British Red Cross volunteers, were among the 2,000 people chosen to march in the procession from Westminster Abbey to Wellington Arch on Monday 19th September 2022.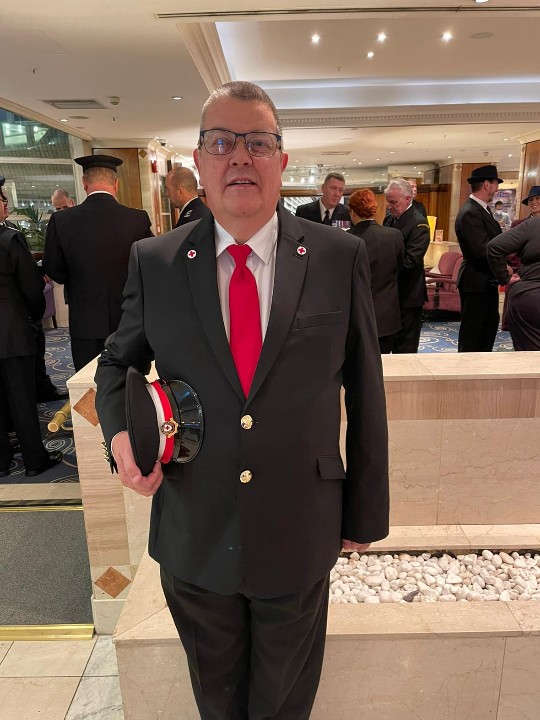 "Proud and emotional" 
"Very few people can say that they took part in the state funeral procession for Queen Elizabeth," said Steve, who joined the British Red Cross after his retirement. "My kids, grandkids and generations to come in my family will know that I was there on the day. It makes me very proud and emotional to think of that."
Steve has volunteered over 700 hours of his time to the British Red Cross over the past two years, working with Afghan and Ukrainian refugees, and training as an ambulance driver and care assistant in the North-West of England.
"On the day itself I know I will feel a mixture of emotions," said Steve, speaking before the funeral. "I just hope I do Her Majesty and my family proud."
"My way of saying 'Thank you'"
Fellow ceremonial volunteer Irina felt the same way.
"Being part of the procession is my way of saying 'Thank you' for all the support, commitment and comfort Her Majesty has shown to those in need," said Irina. "She supported the work the Red Cross did, not only in the UK but abroad as well. I know she was a role model to many people and a comfort in one way or another."
Irina joined the Red Cross as a community resilience advocate in January 2021. "What we try to do is link different organisations with the community, to get them involved in emergency plans, with the fire brigade, the police, the ambulance service, so the community can create plans for emergencies," said Irina. "Giving that power to the community and getting them involved is the main thing that is important to me – that empowerment is wonderful."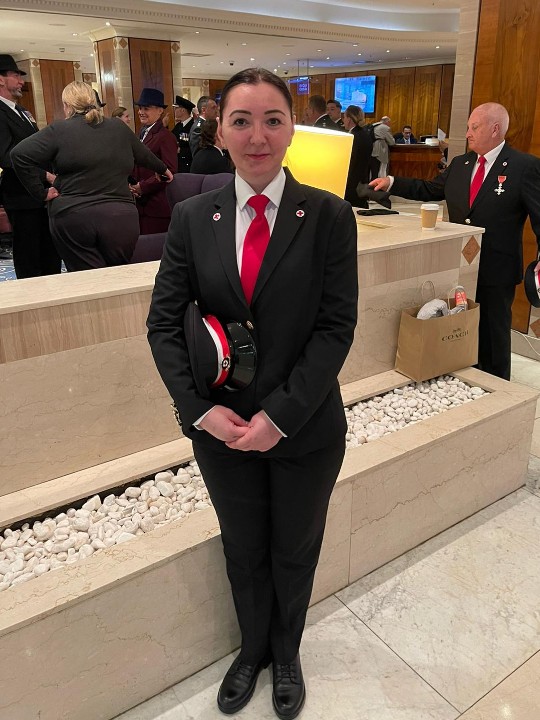 British Red Cross ceremonial uniform
All four of our volunteers were dressed in their ceremonial uniforms, which is also worn by British Red Cross volunteers who take part in the Remembrance Sunday ceremony at the Cenotaph on Whitehall each year.
Stephen from Derby had an extra detail on his uniform – the MBE medal he received in 2016 for his services working with prisoners.
Stephen joined the Red Cross after his retirement and has now been with us for nearly seven years.
Supporting people from all walks of life
"I volunteer with refugee support and emergency response, supporting vulnerable people in their hour of need," said Stephen. "The Red Cross has become my second family and it is a privilege to support a charity doing so much to help people from all walks of life."
Stephen was visiting his father in Manchester when he received the news that he had been selected to join Her Majesty's funeral procession.
"He is proud as punch that I'm going to be taking part," said Stephen. "It means so much to me that I have been able to make my dad so proud. I know we will all be nervous, but we will all be in it together."
Finding solace in volunteering with the Red Cross
For Andrew, who has worked as an emergency response volunteer for the past seven years, the day will be particularly poignant. His wife died suddenly almost exactly one year ago.
"The news of Her Majesty's passing brought back my wife's passing, so it's going to be very emotional," said Andrew, who served in the Royal Air Force for 30 years.
Since his wife's death, Andrew has found solace in his work with the Red Cross.
"Doing all this volunteering, it keeps me busy and to some extent takes my mind off it," said Andrew. "I personally have attended three fires over the last two months, where people have lost everything."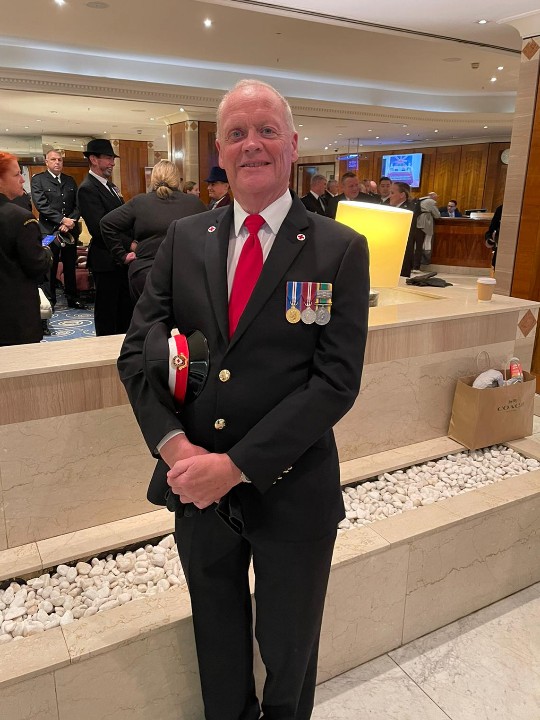 "It's going to be very emotional"
One incident that particularly stands out for Andrew was a fire in a flat in Didsbury, Greater Manchester.
"The lady had taken her two kids to school and come back to find their flat was destroyed," said Andrew.
"The lady was suffering from shock, so we put her in the back of our vehicle, gave her a hot drink and something to eat. She had nothing left and when I gave her a British Red Cross cash card, she was in tears."
Having been involved in the Cenotaph ceremony last year, Andrew knew partly what to expect on what was to be an emotional day.
"I've still got some parade shoes from the RAF, so they've been polished up," said Andrew. "My personal thoughts on the day will be for my late wife. She would have been extremely proud that I am representing the British Red Cross."
Read more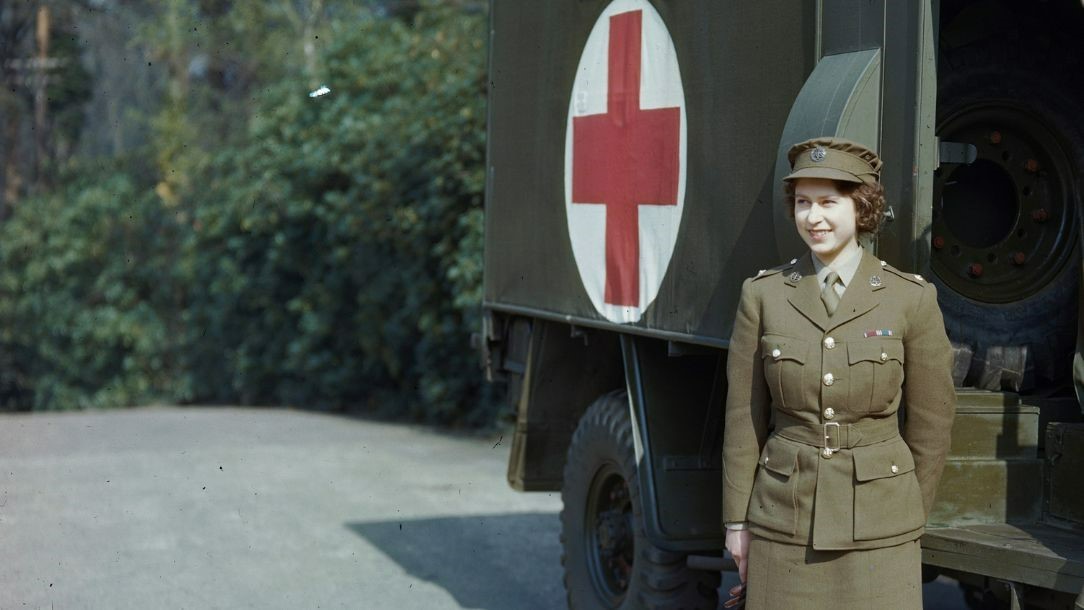 Remembering 70 years with Her Majesty The Queen as our Patron. Here, we take a look back at some moments in that relationship, from her earliest address at our National Conference to comforting service users during their time of need.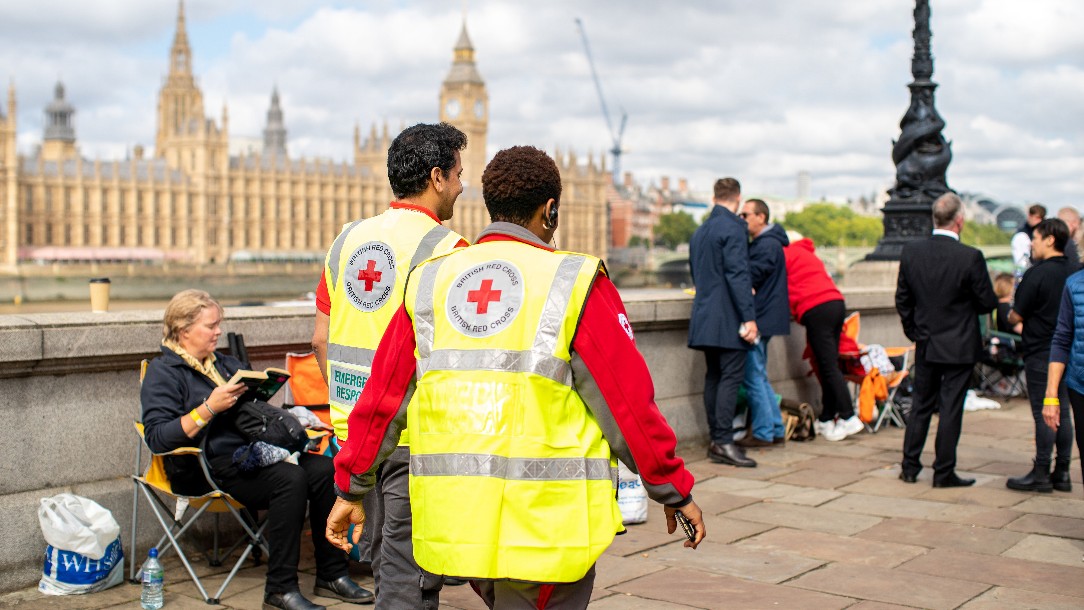 Emergency response volunteer Andy and crisis response officer Becky explain how we have been supporting as the Royal cortège has made its way from Scotland to London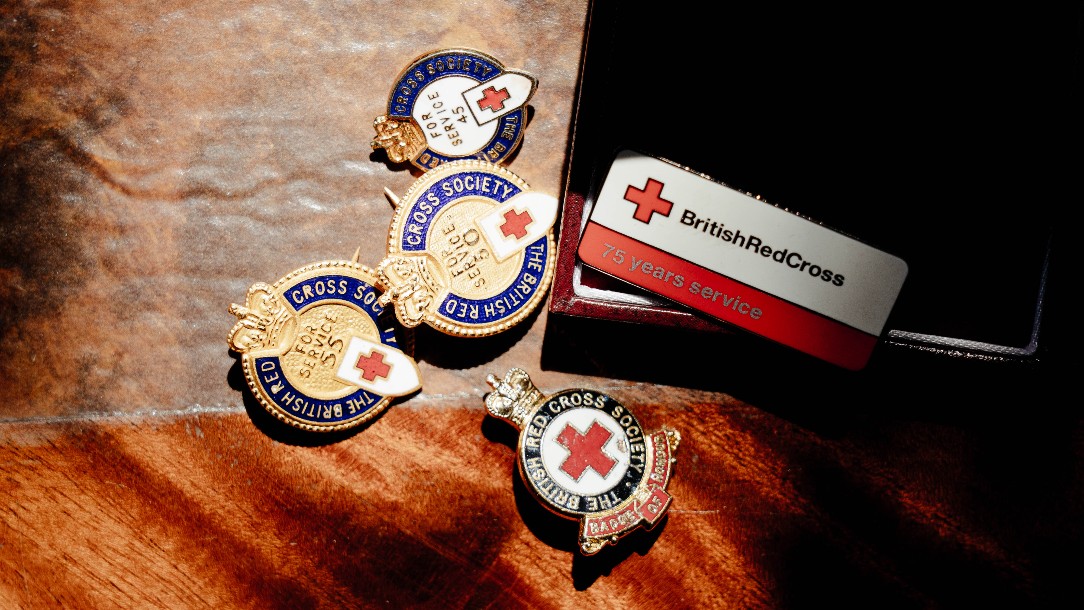 This Volunteers' Week, we're celebrating some of our longest standing volunteers, as well as the bright future of volunteering at the British Red Cross
Donate in memory of Queen Elizabeth II
The British Red Cross will use your donation wherever the need is greatest, both internationally and in the UK.
DONATE NOW