"Volunteering gives me positivity. I look forward to my days in the shop"
Matt's journey as a British Red Cross volunteer has been transformative, bringing structure, community, and time to focus on recovery after life took a surprising turn in 2022.
For Matt, 2022 was not the best year. A stroke had affected his mobility and hearing, leaving him exhausted. Unemployment followed when he was made redundant from his job at a care home.
He says: "I had a stroke last year and I've recovered enough to get out and about. But my walking isn't good – I have to use a crutch. I'm tired all the time, and I lost my hearing in my right ear suddenly. I already had tinnitus in my left ear so now I can't hear well and that's tiring too."
Matt needed a more flexible routine. Three months later, Matt found himself at his local British Red Cross shop in Wymondham, Norfolk, joining the British Red Cross' vast team of volunteers.
Just ten minutes from home, volunteering at the shop three days a week has soon become a seamless addition to his schedule. He says:
Everything ties in nicely. I volunteer in the shop, I go to the gym, and then I get the bus home at about 4pm.
A surprising step on the road to recovery
Beyond convenience and the structure it brings to his week, Matt discovered that volunteering has also played a key role in his recovery.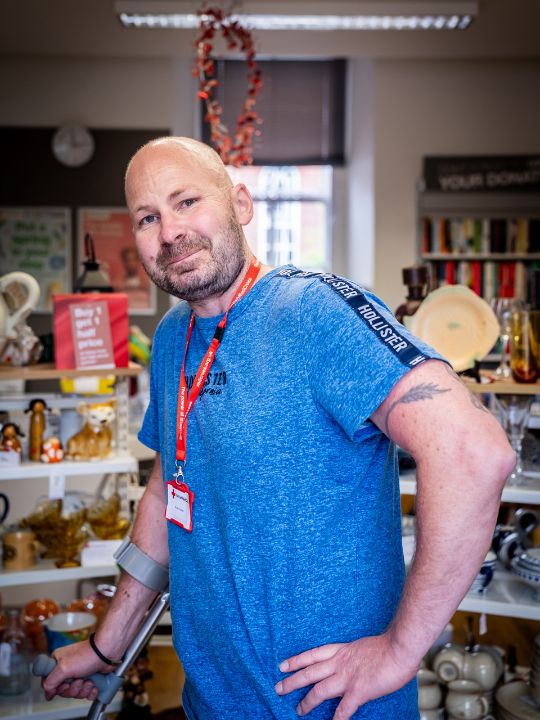 "After I had my stroke, I needed to work on my coordination. One of my first jobs in the shop was to sort out a big jar of the size cubes that go on clothes hangers. Jobs like that are really helpful for my coordination," he says.
Matt was able to boost his strength-building routine when he spotted and bought a pair of dumbbells from the shop.
As well as identifying bargains, jobs at the shop vary. Matt tends to work in the backroom where it's flat and easier for his balance.
He spends his time sorting and labelling donations like CDs and clothes.
"My favourite thing about volunteering is the people"
Between the hard work, there's plenty of time for laughter and getting to know other volunteers. Matt recalls a recent moment: "I tend to joke about a bit sometimes. Yesterday I was wearing a kid's hat, and one of the volunteers came through to the back room, and it made her laugh."
One of the best things that has come out of volunteering in the shop for Matt is the people and bonds he's formed with the rest of the shop team.
"It's surprised me just how quickly I've got on with everyone in the shop. There's a wide selection of people – some are older than me, and there are also some school kids that come in and volunteer. In fact, I get on with everybody."
A name mix-up as a result of his hearing challenges ended up bringing Matt even closer to one of his fellow volunteers, Mary (but you can call her Pat).
"Because my hearing's rubbish, I asked another volunteer her name and thought she said it was Pat. So for the next two months, I called her Pat. Then I heard someone else call her Mary. I thought "Hmm! Mary sounds nothing like Pat." We still joke about it – and I still call her Pat now!"
"Volunteering gives me positivity"
Nine months later and Matt's gone from strength-to-strength. Beyond the personal benefits, he emphasises the fundamental value of giving back.
"It makes me feel better to know that I'm doing a good thing with the British Red Cross, helping all these people across the world.
"I think the power of kindness is about the team just being there in the shop. They're not being paid, but they're willing to give up their time to help other people."
When asked if he would recommend volunteering, his response is powerful: "Absolutely. Before I was made redundant, I wouldn't have thought of it. But now I'm very glad I did."
It's clear that for Matt, volunteering is not just about the day-to-day tasks; it's about community, recovery, and finding unexpected joy in the simple act of giving back.
Interested in becoming a volunteer?
Whether you're interested in working in a charity shop like Matt, supporting someone as a wheelchair volunteer, or responding to emergencies, we've got a wide range of volunteer roles at the British Red Cross to suit everyone.
Join the world's emergency responders and find a volunteer role that suits you today.