The British Red Cross has supported people who fled their homes and survivors of trafficking in Europe at the height of the refugee crisis.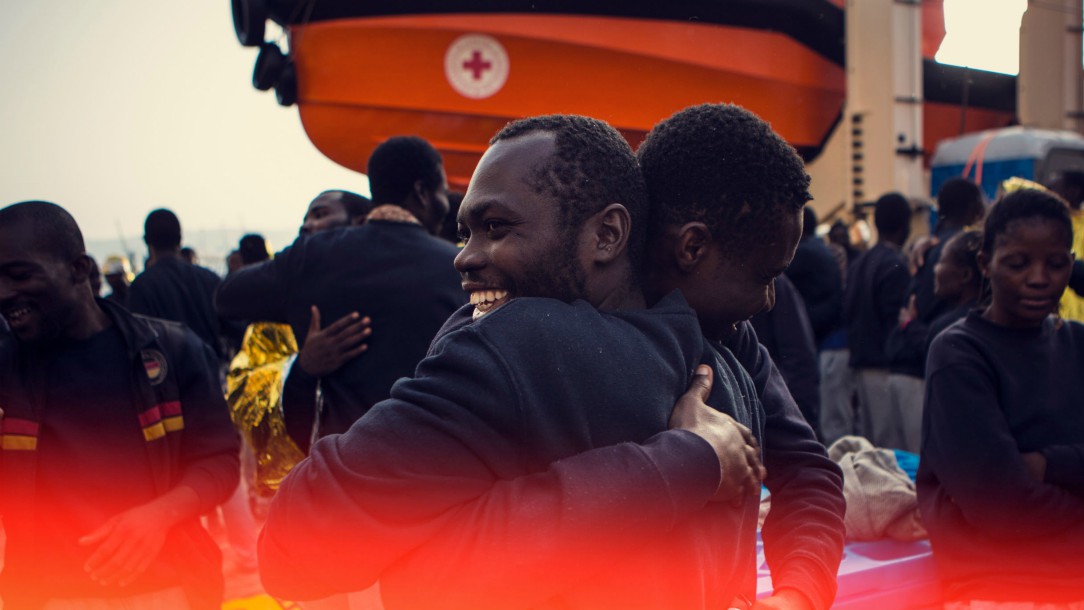 Alongside the International Federation of the Red Cross and Red Crescent and the International Committee of the Red Cross, we are currently supporting learning across our network on topics such as:
humanitarian education and First Aid training
anti-trafficking
youth engagement
volunteer management
European Disaster Management Network
European Network for Psychosocial Support
European Migration Network
fundraising
digital and innovation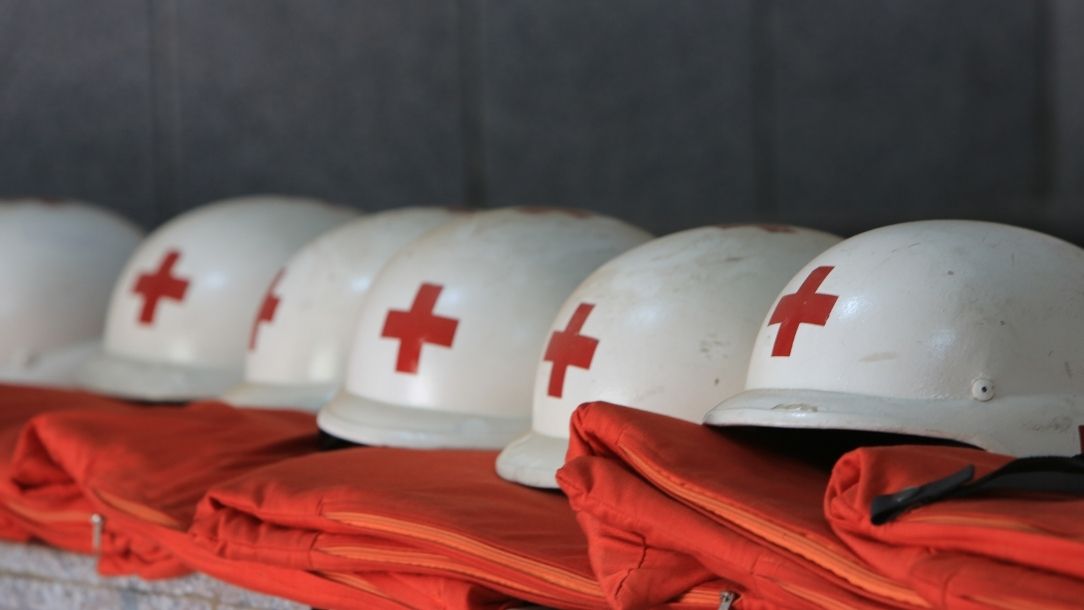 Over the last decade
The British Red Cross has been proud to work with our partners in Bosnia, Greece, Ukraine and the UK over the last decade, to support refugees and some cases, survivors of trafficking.
Over the past decade, more people have been forced to flee their homes than at any time since World War Two. Figures from 2018 showed that over 107,000 people fled to Europe by sea.
Even now, some people have few other options and travel to Europe on poor quality, overcrowded vessels at risk of sinking.
Those who arrived in Europe ended up in many different countries and needed support to settle into their new communities. Many decided to flee to Europe because of conflict or natural disaster in their home countries.
Support our Global Refugee Fund.
Bosnia: hot food and essential supplies for migrants
Between 2019 - 2021, Red Cross teams in Bosnia and Herzegovina helped around 4,000 migrants in the reception centres every day. This included meals, hygiene items such as soap, clothes and first aid.
Many people had travelled through Bosnia and Herzegovina to seek asylum in EU countries. Only half of refugees in stayed in the six temporary reception centres available in Europe. The rest were forced to sleep rough. Many walked for weeks, including children and pregnant women, arriving hungry and exhausted.
To support people through Bosnia's harsh winter, the Red Cross also provided tents and sleeping bags in one of the camps, in the town of Vucjak.
Seven of our mobile teams helped 41,000 people sleeping rough with food parcels, hygiene parcels, blankets, clothes and sleeping bags. Specialist psychological support volunteers also offered emotional support.
The migrants' arrival put pressure on local services in areas that were already poor. To help, we gave cash grants to local families. People used the money to buy supplies they needed or to started or supported their own small businesses.
Support for survivors of trafficking and other vulnerable migrants
The British Red Cross supported partner Red Cross and Red Crescent organisations in Europe to help people who arrived in their countries. This included people who were trafficked or who were at risk of trafficking. We also supported refugees and asylum seekers in the UK.

The British Red Cross and the Turkish Red Crescent helped 36 staff from 15 Red Cross organisations learn to recognise and act on human trafficking. The training was carried out between 3 to the 6 July 2018 in Angkor through an event to train trainers, who then passed the skills on to staff and volunteers in their home countries.

Together with others in the Red Cross and Red Crescent Movement, we also launched a toolkit for trainers. Staff in any National Society used it to help their teams identify and support people who have been trafficked.

In addition, the British Red Cross launched a new trafficking response resource hub in March 2019. Sharing resources, good practice advice and tools, it supported Red Cross and Red Crescent organisations' anti-trafficking work across Europe and worldwide.
Greece: vital support to refugees
During the height of the crisis between 2015 and 2019, we helped our partners keep children safe, provide clean water and give important information to refugees in Greece.
The British Red Cross also gave cash grants to refugees, so they can buy the essentials – food, shelter and warm clothes for winter.
More than 1.6 million food items and other supplies such as blankets and soap were distributed.
We helped people to learn how to stay healthy in difficult conditions.
We supported the International Federation of Red Cross and Red Crescent Societies (IFRC) to run a centre in northern Greece. It provided thousands of refugees and asylum seekers with information, casework and cash grants.
Ukraine: cash grants helped people start small businesses
Ongoing conflict in Ukraine meant that people in some areas faced problems in earning a living. Some had to flee their homes, some were unemployed former servicemen and others were local people whose jobs or businesses ended or closed because of conflict.

To help people support themselves and their families, the British Red Cross worked with the Ukraine Red Cross to give people cash grants to start small businesses. We helped support 164 households in 2017 and then another 170 in 2018.

People got grants of up to £750 to start and expand their businesses. Food and other essential supplies were provided to families to tide them over while their businesses were being built up.

The businesses are now well underway and nearly 90 per cent of them are making a profit. Businesses include livestock farming, sewing, hairdressing, baking and handyman work.

Once the grants had been used to start the businesses, people shared what they had done at roundtable events in their communities. By sharing their business plans and ideas, they helped other people who wanted to set up their own businesses, as well as the local authorities.
The UK: how we're helping
In 2017, British Red Cross services reached more than 30,000 people in 58 towns and cities across the country. This made us the largest provider of this kind of support in the UK.
And although we're no longer helping in Europe, we're proud to be helping refugees in the UK. If you have been separated from your relatives, we can help you find your missing family members. We also speak out about important issues facing refugees and asylum seekers.
Contact us for more information
Internationalcontact@redcross.org.uk