Support for people who fled their homes and survivors of trafficking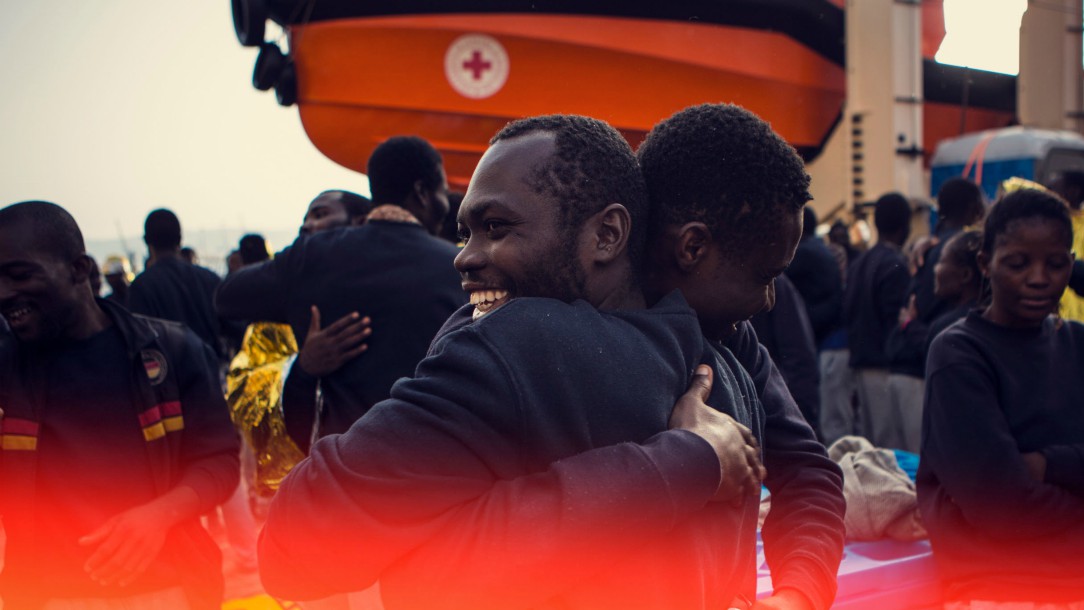 Even though it no longer makes the headlines, there is still a crisis affecting thousands of people in Europe, including refugees and asylum seekers. The British Red Cross works with our partners in Greece, Ukraine and the UK to support refugees and survivors of trafficking.
Around the world, more people have been forced to flee their homes than at any time since World War Two. The latest figures from 2018 show that over 107,000 people fled to Europe by sea. Some people have few other options and travel to Europe on poor quality, overcrowded vessels at risk of sinking. Tragically, since the beginning of 2017, over 2,700 people are believed to have died or gone missing while crossing the Mediterranean.
Those who arrive in Europe end up in many different countries and need support to settle into their new communities. Many will have decided to flee to Europe because of conflict or natural disaster in their home countries. Unfortunately, others have been brought here against their will.
Support our Global Refugee Fund.
Support for survivors of trafficking and other vulnerable migrants
The British Red Cross supports partner Red Cross and Red Crescent organisations in Europe to help people who have arrived in their countries. This includes people who have been trafficked or are at risk of trafficking. We also support refugees and asylum seekers in the UK.

Last year, the British Red Cross and the Turkish Red Crescent helped 36 staff from 15 Red Cross organisations learn to recognise and act on human trafficking. This was done through an event to train trainers, who then passed the skills on to staff and volunteers in their home countries.

Together with others in the Red Cross and Red Crescent Movement, we also launched a toolkit for trainers. Staff in any National Society can use it to help their teams identify and support people who have been trafficked.

In addition, the British Red Cross launched a new trafficking response resource hub. Sharing resources, good practice advice and tools, it supports Red Cross and Red Crescent organisations' anti-trafficking work across Europe and worldwide.
Greece: vital support to refugees
Since the crisis got worse in 2015, we have helped our partners keep children safe, provide clean water and give important information to refugees.
The British Red Cross has also given cash grants to refugees, so they can buy the essentials – food, shelter and warm clothes for winter.
More than 1.6 million food items and other supplies such as blankets and soap have been distributed.
We have helped people to learn how to stay healthy in difficult conditions.
We support the International Federation of Red Cross and Red Crescent Societies (IFRC) to run a centre in northern Greece. It provides thousands of refugees and asylum seekers with information, casework and cash grants.
Ukraine: cash grants help people start small businesses
Ongoing conflict in Ukraine means that people in some areas face problems in earning a living. Some had to flee their homes, some are unemployed former servicemen and others are local people whose jobs or businesses ended or closed because of conflict.

To help people support themselves and their families, the British Red Cross worked with the Ukraine Red Cross to give people cash grants to start small businesses. We helped support 164 households in 2017 and then another 170 in 2018.

People got grants of up to £750 to start and expand their businesses. Food and other essential supplies were provided to families to tide them over while their businesses were being built up.

The businesses are now well underway and nearly 90 per cent of them are making a profit. Businesses include livestock farming, sewing, hairdressing, baking and handyman work.

Once the grants had been used to start the businesses, people shared what they had done at roundtable events in their communities. By sharing their business plans and ideas, they helped other people who wanted to set up their own businesses, as well as the local authorities.
The UK: how we're helping
If you are a refugee, asylum seeker or vulnerable migrant in the UK, the British Red Cross may be able to help you.
In 2017, British Red Cross services reached more than 30,000 people in 58 towns and cities across the country. This makes us the largest provider of this kind of support in the UK.
If you have been separated from your relatives, we can help you find your missing family members. We also speak out about important issues facing refugees and asylum seekers.
Contact us for more information
Internationalcontact@redcross.org.uk