Get first aid cover for an event
Find out how our medical teams can support your event.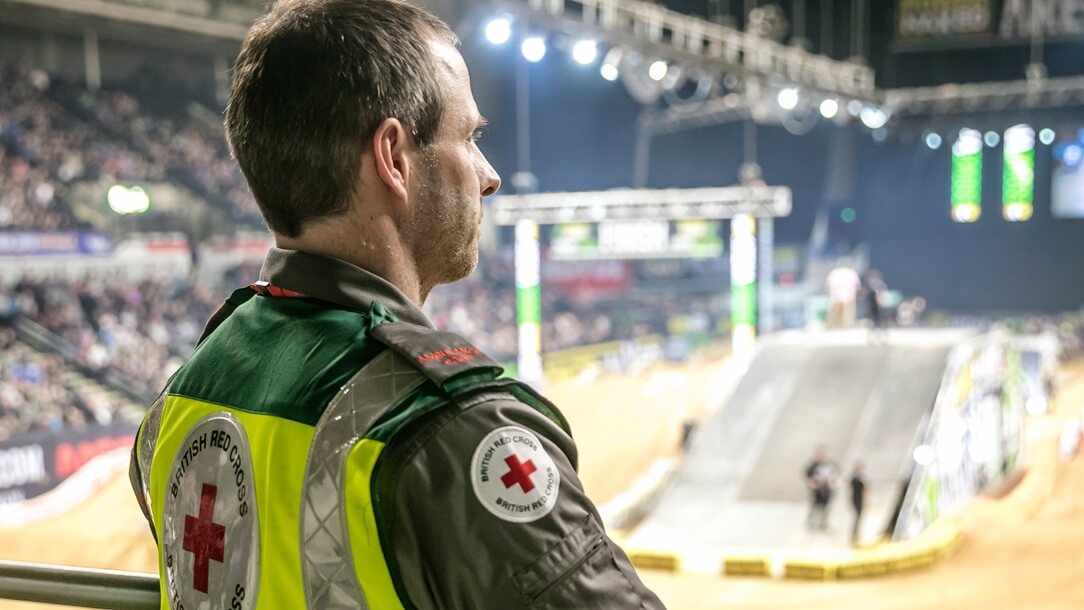 This page is available in Welsh (Cymraeg).
The British Red Cross offers trained, insured medical-personnel for events. Our first aid support gives event organisers peace of mind that their attendees are in safe hands.
What we offer
Trained, experienced and reliable first aiders, ambulance crew and paramedics.
The best equipment, with secure communications.
A dedicated point of contact to help you plan your first-aid risk assessment.
Peace of mind that the health and safety of your event attendees are in good hands.
Choose the Red Cross for your event and expect:
a trusted and reliable partner to look after your attendees, no matter the emergency
access to an unrivalled, national network of event medical-personnel
any and all profits go towards helping people in crisis, both in the UK and overseas.
Have we supported your event?
We are committed to continuously improving the services we offer.
If we have provided first aid support for your event, please tell us about your experience by filling in this short questionnaire. It should take less than 5 minutes to complete.
The information you provide will be anonymous and is completely separate from any personal information we hold for service delivery purposes.
Trained and reliable medical personnel
All British Red Cross medical personnel undergo rigorous training.
We can provide first aiders trained in the use of basic life support and automated external defibrillators (AEDs) right through to paramedics and ambulance crew.
Our work with external partners such as Pearsons and the Institute of Health Care Development (IHCD) gives you peace of mind that we have the right people for the job.
Help planning your event medical cover
How much cover you need will depend on a number of factors – such as audience size, location and the duration of activities.
With a dedicated point of contact we'll guide you through the planning and risk assessment process. We'll ensure you get the first aid cover you need to meet your duty-of-care obligations and provide a safe event.
One-stop shop
Whatever your needs for a large event, we can offer:
qualified medical staff
vehicles
field hospitals
on-site medical facilities
reliable communications networks.
We make the arrangements so that everything you need is in place. Our dedicated team of support staff will be on hand to ensure everything runs smoothly.
Established first aid expertise
When you work with the British Red Cross, we bring best-in-class expertise from the event industry and our work in emergency and disaster situations in the UK and around the world.
We've been looking after the sick and wounded since we were established in 1870.
The British Red Cross helps anyone, anywhere, get the support they need if crisis strikes. We believe in the power of kindness.
Get in touch with our events team today
With national coverage, we provide first aid and medical cover for events around the UK. Get in touch today and find out if we have availability for your event.