Hire a wheelchair from the British Red Cross for short-term use.
The British Red Cross provides over 58,000 wheelchairs to people across the UK every year. Thanks to our incredible team of Red Cross wheelchair volunteers, we can offer wheelchair hire for just £17.50 a week, with free wheelchair accessories and 12-week servicing, for up to 20 weeks.
Hiring a wheelchair is the best way to guarantee wheelchair support for short-term use (six months or less) but if you are unable to afford the cost we may be able to offer further assistance.
We also work in partnership with the NHS and local commissioning groups to help provide a range of equipment to local residents. Learn more about our partnerships.
About our wheelchair service
As the largest national provider of short-term wheelchairs in the UK, the Red Cross is committed to ensuring that everyone in need of a temporary wheelchair has adequate access to one.
If you, or someone you care for is recovering from a short-term injury or ailment, a wheelchair can make a significant difference to their recovery, mental health and well-being.
Our wheelchair service offers:
a choice of manual wheelchairs for people aged 5 and over
free wheelchair accessories
locations across the UK

use of a wheelchair from 1 to 20 weeks



12-week mandatory servicing (see terms and conditions).
Whether you're recovering from an operation, a sprained ankle, or have an ongoing condition that flares up, such as arthritis or fibromyalgia, hiring a wheelchair could help to ease the pressure, and improve independence at home.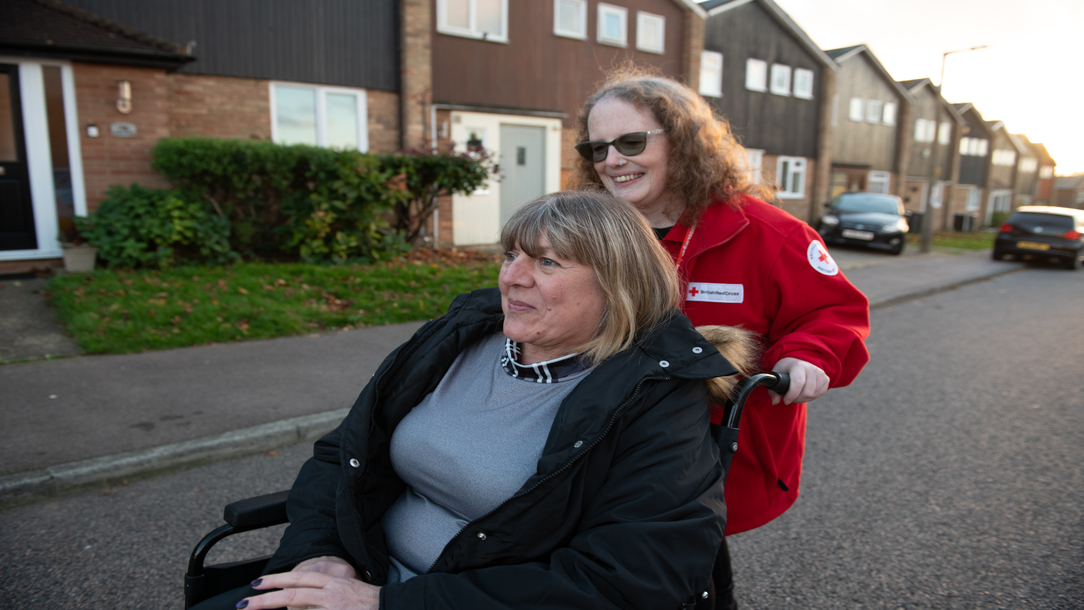 Red Cross wheelchairs and accessories
The British Red Cross Mobility Aid Service offers comfortable manual wheelchairs suitable for anyone over the age of 5. All Red Cross wheelchairs are available in a range of sizes, with fitted footrests as standard, and can be adapted with free accessories to better accommodate individual needs.

Learn more about Red Cross wheelchairs below.
Bariatric wheelchairs
Bariatric wheelchairs are larger, wider and stronger than traditional wheelchairs, and can support a weight of 16 stone (101kg) and above. Red Cross bariatric wheelchairs feature:
reinforced frames,
an anti-tip device for added safety,
and are easy to fold.
Hire a bariatric wheelchair
Learn how to use a bariatric wheelchair
How to choose a wheelchair
If you require a wheelchair, an allied health professional will recommend the best wheelchair suited to your needs but here are a few things that you should consider:
upper body strength
existing health conditions
If you have someone to assist you
size of the wheels
size of the seat
maximum weight
wheelchair height

your daily routine (if you travel often)

If you require wheelchair accessories.
Learn how to use a wheelchair and fit wheelchair accessories.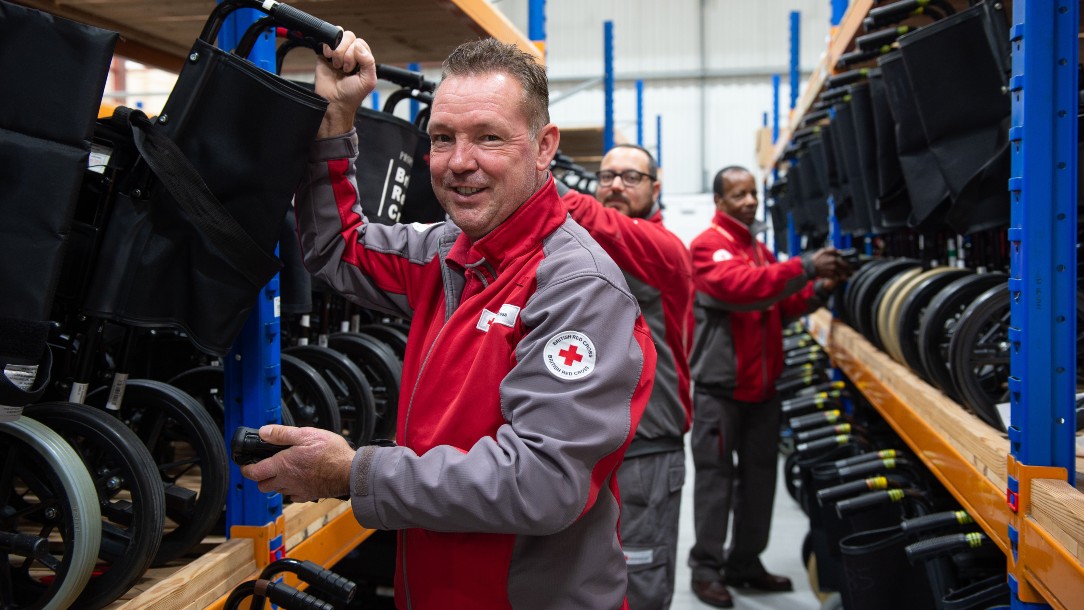 Which wheelchair should I pick?
You must be able to stay in an upright position and have enough strength in both arms to push yourself in a self-propelled wheelchair. If you have heart problems, difficulty breathing, low or no vision, or suffer from seizures or blackouts a self-propelled wheelchair is not suitable.
How to get a wheelchair
You can hire a Red Cross wheelchair for 1 to 20 weeks at £17.50 per week. All wheelchairs must be returned at 12 weeks for safety checks and mandatory servicing.
Terms and conditions (PDF).
Accessories are offered free of charge. If you are unable to afford the cost we may be able to offer further assistance.
Book a wheelchair by phone
Not all of our locations offer online bookings.
If your location is unavailable:
How to book a wheelchair by phone?
Measure the widest point of your body (usually hips or mid-thigh)

Provide the information requested

Confirm your age
Complete your payment
Confirm your booking.
Delivery and collection
Where possible we offer delivery and collection for individuals who may not be able to get to our local services. There is a charge of £20.

To learn more about the services available in your area contact your nearest Mobility Aids Service.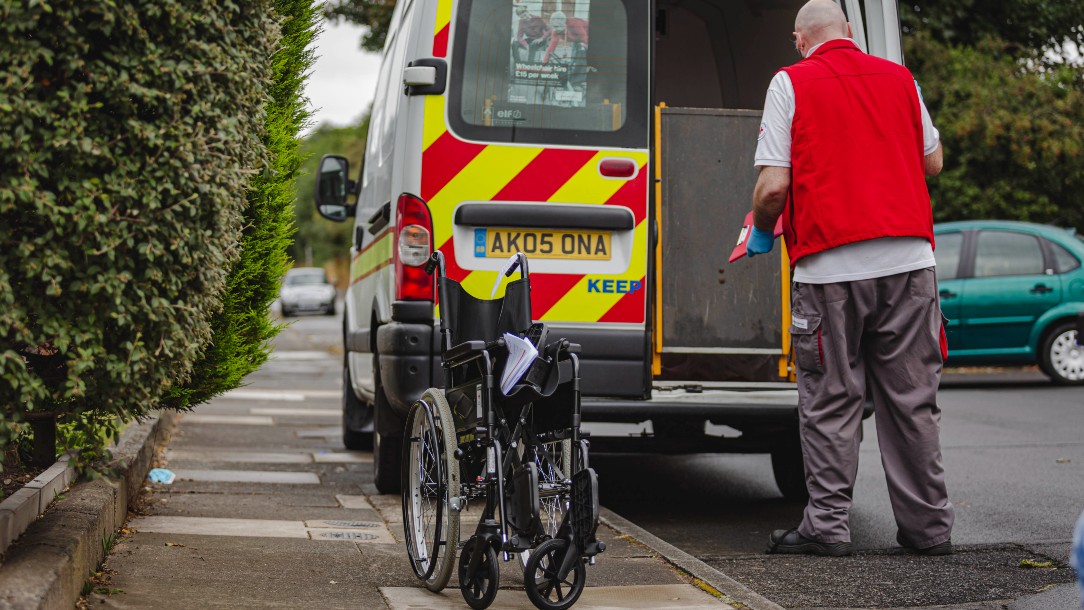 Do you have an existing booking?
You can amend or cancel your booking if you have not yet received your wheelchair.
How to return a wheelchair
All wheelchairs are loaned for an agreed fixed period, are serviced at 12 weeks and undergo a safety check before being assigned.

When returning a wheelchair please ensure that everything hired is returned, including any cushions, leg rest extensions, footplates and seatbelts. A cost may be incurred if any items are missing or damaged.

Contact your nearest Mobility Aids Service to arrange to return your wheelchair.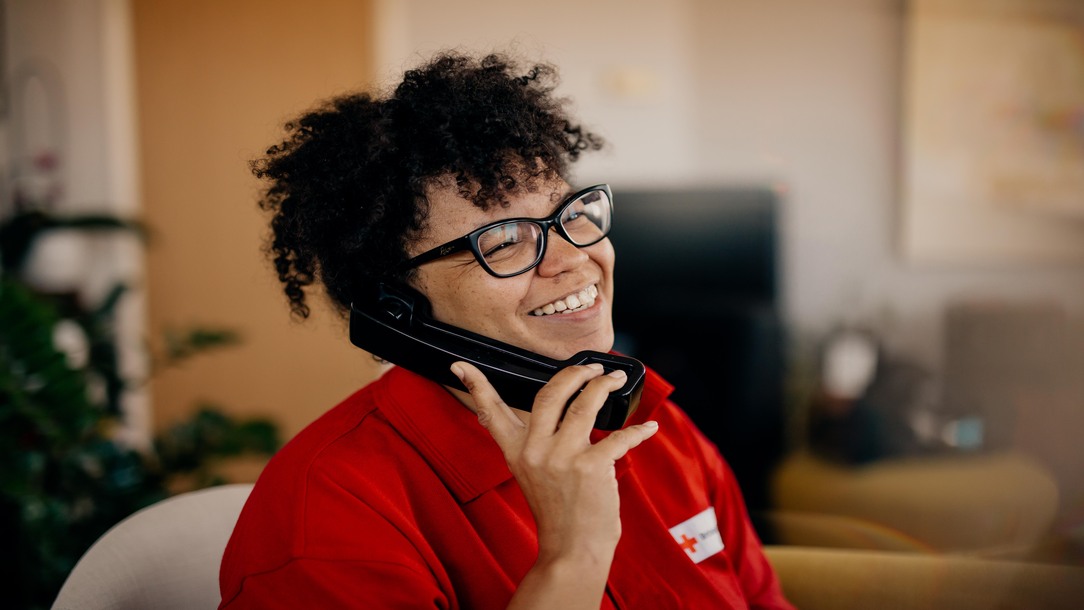 Our partnerships
In Wales, Northern Ireland, Isle of Wight and in parts of East Anglia, Hampshire and Avon & Wiltshire, we receive funding from health commissioners to help provide our service to local residents.

In these areas, local residents are able to borrow some mobility aids equipment for short-term use at no cost (although we may ask for a voluntary donation).

We are working in partnership with the NHS by providing wheelchairs to help people leave hospital and recover in the comfort of their own homes.
Terms and conditions (PDF).
Terms and conditions (Welsh) (PDF).
Need further assistance?
We offer assistance and support to those who may not be able to meet the financial costs.
If you need assistance or have a question about your booking, need your wheelchair for longer or if your equipment becomes damaged, please call us on 0300 456 1914.
Terms and conditions (PDF).