The Afghanistan crisis
The Afghanistan crisis: Newsthink
Use our new look Newsthink to explore the crisis in Afghanistan through a powerful photo and explore how humanitarian crises affect people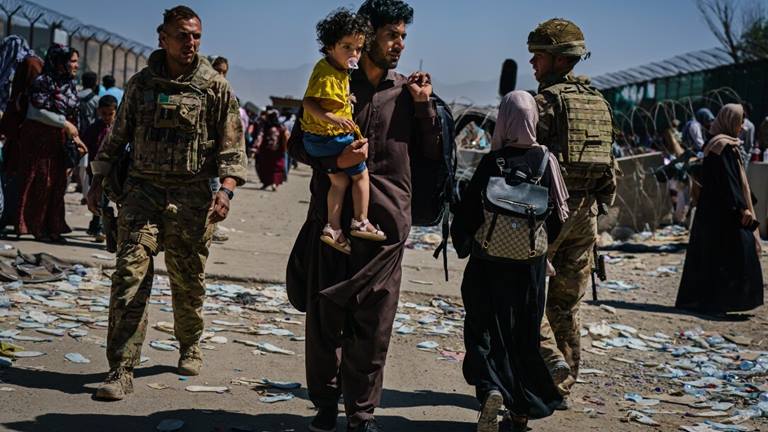 Age:

11 - 19

Type:

Quick activities

Subjects:

PSHE, Tutor time

Topics:

Conflict, Newsthink, Refugees and migration
Events in Afghanistan dominated the news in August 2021, but what do you think the people in Afghanistan are feeling? Use this quick photo-based teaching resource with young people to explore the impacts conflict and crisis have on people, and discuss our common human values. 
Learning objectives:
Examine and discuss an image related to a current humanitarian news event
Analyse and identify how people are impacted by this event
Discuss and debate a statement relating to a core value by explaining whether you agree or disagree
How do I use this resource?
Explore the Afghanistan crisis through an evocative photo. Download the PowerPoint above to deliver the activities. Use one, some or all of the activities, as suits you. Each one can be done in ten to fifteen minutes. Embed this activity into your lessons or use it in assembly or tutor time to engage learners with current events and humanitarian news. Topical news events can be emotive and this resource has been updated to reflect the changing crisis within Afghanistan after requests from educators.
Download the guide on how to create a safe, supportive and inclusive learning environment.
Resource overview
Explore the photo of the people at Kabul airport, and ask learners to analyse the moment captured using the "see, think, feel" framework
Debate the statement: All people deserve to be safe. Do learners agree or disagree? Why? Encourage learners to reflect on their values and opinions in their own time through a reflective journal
Explore what further actions people can take to learn more about this issue, or support the people affected
Credits
Photo credit © MarcusYam for Getty Images. This resource was created by the British Red Cross in August 2021