Together again: how one family was reunited miles from home in a global pandemic
When Faridun and his family were forced to leave Afghanistan, their search for safety kept them apart for four years. Until one day last year, when one of his sons stepped into a Red Cross family tracing office…
Last updated 25 April 2023
I DON'T NEED MY HOUSE, OR MY SHOP. I JUST NEED THE SAFETY OF MY FAMILY.
In 2016, 57-year-old Faridun was a successful shop-owner and father of two grown-up sons, Darwesh and Baryal.
"We had everything in Afghanistan," recalls Faridun. "Beautiful house, a shop. Everything we needed, we had. [And then] we lost everything."
After Faridun's campaign for political representation turned the family into a target, his fears for their lives presented a difficult choice. His son Darwesh had already seen friends targeted for their beliefs and knew they could be in danger.
"There were three options: convert, leave, or be killed," says Faridun, who sold everything he had to pay agents to get the family to the UK. "I don't need my house, or my shop. I just need the safety of my family."
Their journey to safety would span 3,000 miles and keep the family apart for four years.
Baryal, his pregnant wife, and their daughter left first, starting their journey to the UK, a country Faridun considered the safest in the world.
Back home, the threat of violence loomed. In spring 2017, Darwesh was beaten so badly, he was hospitalised. Tragically, his wife suffered a miscarriage shortly after.
The start of a long road to safety
Faridun knew the rest of the family had to leave, too. After selling his shop, he called the agent who had helped Baryal and his wife, who told him he could take only two people. This time, it would be Darwesh and his wife.
In spite of health concerns – Faridun had a heart attack shortly after Darwesh and his wife left Afghanistan – his only worry was making sure his sons and their families were safe.
Darwesh and his wife rarely knew where they were on their journey, forced to put complete faith in the agent escorting them. After months of travelling, they finally arrived in the UK. Alone, without a word of English between them, but safe.
"It's not good that you are going to someone's house without any permission, without knocking on the door, but the United Kingdom border security were very kind," says Darwesh.
After claiming asylum in London, Darwesh, his wife and daughter were transferred to Birmingham, where they started to rebuild their lives. Darwesh's wife gave birth to a healthy baby boy in August 2018.
More happy news followed, when Darwesh was granted refugee status. Shortly after, he started taking English classes with the Red Cross. Little did he know, the same organisation would soon play a role in his journey to family reunion.
Back in Afghanistan, Faridun and his wife were about to begin a gruelling three-month journey to the UK. It was a journey Faridun feared he might not survive.
They finally arrived in the UK in late 2019. They could only hope and pray that their sons and their families had also made it safe and sound.
HOW CAN I FIND THEM IN A POPULATION OF MILLIONS?
Faridun on the search for his sons
Faridun focused on the daunting task ahead: "In this old age, how can I manage in a new nation? How can I find them in a population of millions?" he recalls thinking.
A chance meeting with another man from Afghanistan would prove key. After explaining his situation, the man led him to the Red Cross.
Henry is an international Red Cross family tracing coordinator for West, North and East Yorkshire. The service works to reunite relatives who have lost contact due to armed conflict, disaster or migration.
"It was a usual, very busy day at work in the Leeds office," he recalls. "I saw this gentleman there with his wife. They were quite distressed, and were trying to find out how to look for their son."
Henry gathered details on Baryal, which he uploaded onto the family tracing team's secure database. Once those details are in the system, it can be a long wait until a match – if any – is found.
"We have to manage expectations – we try our best but we can't promise to find anyone," explains Henry.
When Henry checked the database before leaving work for the evening, he was stunned as a name flashed up on the screen. It was a potential match.
Finding loved ones through Trace the Face
Unbeknown to his father, Baryal had already visited the Red Cross in his own search.
"We try and act quickly if somebody thinks that the family member they're looking for is in the UK and there's a high chance we'll be able to reunite them," says Isabel, family tracing coordinator for Greater Manchester, where Baryal was living. "But at this stage, we didn't have any evidence or anywhere to even start looking."
At that point, Baryal had been the first member of his family to contact the Red Cross. With no known address, Isabel suggested Baryal upload his photo to Trace the Face, a Red Cross and Red Crescent Movement website that holds photos of thousands of people all over the world who are looking for a family member.
WE TRY AND ACT QUICKLY IF SOMEBODY THINKS THAT THE FAMILY MEMBER IS IN THE UK AND THERE'S A HIGH CHANCE WE'LL BE ABLE TO REUNITE THEM.
Isabel, Red Cross family tracing coordinator
"The hope is that if somebody who knows that individual recognises their photograph, they'll be able to click a link at the bottom and quote a reference number and that will feed back to me," says Isabel. "It's a fairly new tool but there is potential for it to be really successful."
Unlike on social media, personal details are kept confidential to protect the person looking.
The challenges of Covid-19 restrictions
In Leeds, Henry had a dilemma. With Baryal's face looking back at him on his computer screen, his next task would normally have been to invite Faridun to the office.
Sadly, since his interview with Faridun the Covid-19 pandemic had swept the globe, with schools and offices in the UK forced to close. Family tracing teams, and the people they were supporting, were severely affected.
"[The lockdown] definitely added challenges," Henry says. "When you do a tracing interview it can be quite distressing for the person and it's easier, if you're in person, to understand those cues when they're getting upset, or they might need a break."
Faridun, who had recently been delighted to receive refugee status, was told over the phone that Baryal had been found less than a week after his visit to the Leeds office.
"I can't describe [it] in words," says Faridun. "I was going crazy that I found my eldest son."
The team arranged a call between Baryal and his parents, where they would hear each other's voices for the first time in years.
"He was just absolutely overjoyed," says Isabel. "He kept saying 'I'm so happy I came to the Red Cross and met you. Thank you for doing this for me.'"
To be reunited miles from home in the middle of a global pandemic was incredible enough, but there were further miracles in store…
A four-year search comes to an end
Two hundred miles south, in London, Darwesh had found a job in a convenience shop. Having searched from city to city for his family, he still had hope of one day finding them.
In April 2020, he heard about Trace the Face through a friend, and it was here that he recognised a picture of his brother.
"I wasn't sure that it was Baryal, because he had lost so much weight," says Darwesh. "I was really worried – was he OK?"
That Monday morning, Aida, international family tracing coordinator for the London office, was alerted that Darwesh had recognised his brother.
She had already heard the previous week's good news about Baryal finding his parents.
"I remember smiling when Darwesh was telling me all the information about his parents and how he got separated from his brother because I needed to see if it matched… and it did," Aida explains. "I remember him saying 'Are you serious? Are you serious?' I told him that we would share his brother's contact details shortly, which he was very patient about – he said 'I've been waiting for this moment for four years, I can wait half an hour longer.'"
I'VE BEEN WAITING FOR THIS MOMENT FOR FOUR YEARS - I CAN WAIT HALF AN HOUR LONGER.
Darwesh to Aida
From there, things moved quickly. Aida phoned Isabel, who was then tasked with passing along the happy news to Baryal, who was woken up by the phone call.
"I really will never forget making that phone call to let him know that we'd found his family," says Isabel. "Baryal's reaction was so comical and joyful. He didn't believe me at all!"
Reunited in a Covid-19 lockdown
Once Baryal and Darwesh had been put in touch, Baryal was able to tell Darwesh about their parents. At this point, Darwesh still had no idea whether they had made it to the UK.
"There was a two-minute silence," Darwesh remembers. "[It was like] - what, are you joking? I was asking for my brother, you gave me my father as well?"
For Faridun, the missing pieces of the puzzle were about to be put back together - three thousand miles from home and over four years since the last time they were all together.
FOR A FEW MINUTES THERE WAS ONLY CRYING. WHEN I SAW MY GRANDCHILDREN, THEY WERE TOTALLY NEW TO ME.
Faridun
"On the call there was my little son," he says. "For a few minutes, there was only crying. When I saw my grandchildren they were totally new to me, a new human species."
Through the offices in Manchester, Leeds, and London, one family had found each other in a time of global crisis. They would spend hours a day speaking on the phone or over Zoom.
The pandemic puts things into perspective
In another twist of fate, the brothers learned that their daughters had been born two days apart, so when restrictions were eased in summer 2020, the family reunited for a joint birthday party in Manchester.

Though the family is now back together, there are still bumps in the road. Baryal is waiting to be granted refugee status, and can't start work until then.
"I've been through that situation," says Darwesh. "You wake up in the morning and you have £37.75 per week, per person. I'm thankful to the British government that they're helping people like me, but they should allow work for these guys."
For Henry, Isabel and Aida, the pandemic has highlighted just how difficult it is for people to be separated from their families.
THE DIFFERENCE, FOR THOSE WHO SEPARATED FROM THEIR FAMILIES IN THE UK, IS THAT THEY KNOW WHERE THEY ARE.
Aida, international family tracing coordinator
"[Because of Covid-19], we know how it feels now, to not get that hug at the end of the day, or to not be able to nip round the corner when you're feeling a bit low," says Isabel. "It will give everyone more empathy, I hope, for people seeking asylum and refugees who are separated from their families."
"The difference, for those who are separated in the UK, is that they know where they are," Aida points out. "People who use our service don't have any information. They don't have this finite ending of [knowing] where their relatives are, or if they're alive or not."
A family's hopes for the future
Darwesh hopes to follow in his father's footsteps and open his own shop in London one day, and has big hopes for the futures of his children.
"The future is theirs," he says. "If they want to be a footballer, they will be, if they want to be a doctor, they can be. If they want to be an engineer, they can be," says Darwesh. "When I think about these things [that have happened to the family], it seems like somebody wrote it. You don't know what will happen next."
Read more about our work with refugees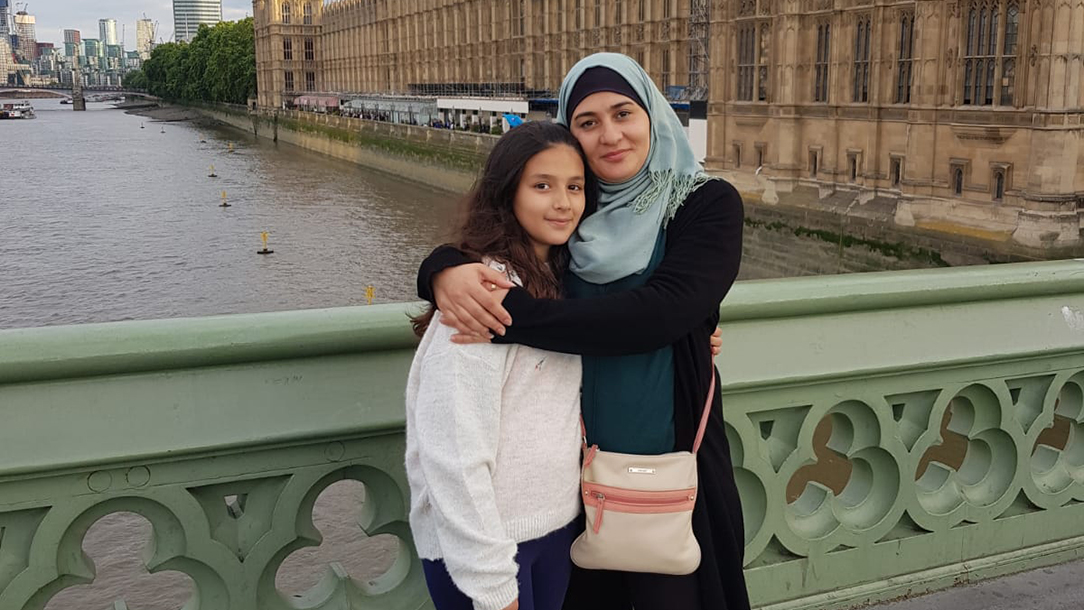 The Nationality and Borders Bill has been passed into law. This is what it's likely to mean for people seeking protection in the UK