Democratic Republic of Congo
Red Cross volunteers are supporting people to stay safe from Ebola and recover from sexual violence.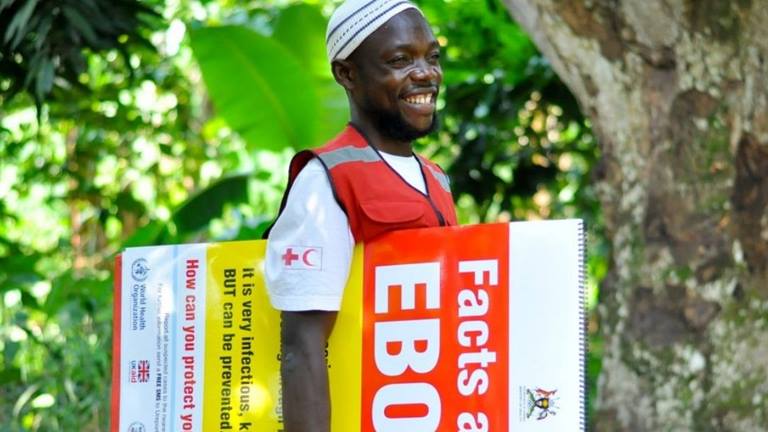 The Democratic Republic of Congo (DRC) is challenged by a multitude of serious humanitarian crises, including alarming levels of food insecurity, the world's worst measles outbreak and consecutive Ebola outbreaks.
These crises are made worse by widespread violence from armed groups and intercommunal fighting, which has forced over 5 million people to flee their homes and leave their belongings behind.
The British Red Cross is supporting the DRC Red Cross and providing much needed support to victims of violence.
DONATE TO OUR INTERNATIONAL RELIEF FUND
Three years, four Ebola outbreaks
On 7 February 2021, the DRC declared its fourth Ebola outbreak in less than three years.
Since May 2018, the country has been battling consecutive Ebola outbreaks in different regions:
May – July 2018: Outbreak in Equateur Province. 33 fatalities
August – June 2020: Outbreak in North Kivu, South Kivu and Ituri Provinces. 2299 fatalities
June – November 2020: Outbreak in Equateur Province. 55 fatalities
February 2021 - ongoing: Outbreak in North Kivu. Number of fatalities rising.
The latest Ebola outbreak came at a time where the local population is still trying to recover from the previous outbreak, while also trying to contain Covid-19 and the world's worst outbreak of measles.
Luckily, the International Federation of the Red Cross, together with other humanitarian actors, have built strong capacity at a local level, and DRC Red Cross is well equipped to respond.
The British Red Cross provided just over £8 million to the Ebola response.
Red Cross helps to fight Ebola
In the DRC, people touch their loved one's bodies before burying them - part of their traditional burial practices. But when a person has died of Ebola, this can spread the disease to their family and friends.
To tackle this problem, hundreds of Red Cross volunteers who live in the affected communities are helping their neighbours by sharing important information. They explain how burials need to be done differently when someone dies of Ebola and what to do if someone might be infected with the virus.
Building trust in the community
The Red Cross volunteers also build community trust, so that communities understand the importance of the humanitarian response activities. This reduces community resistance and fear.
So far, they have reached more than 3.5 million people since May 2018.
The Red Cross has also trained specialist burial teams in remote communities to safely bury people who have died of Ebola. These burial teams have carried out over 25,000 safe and dignified burials across DRC. They also make sure that people's homes and medical equipment are disinfected.
Red Cross teams have set up hand-washing points at health centres and decontamination bases in three areas where the Red Cross supports safe burials. They help to destroy contaminated material, disinfect vehicles and store equipment.
We also helped 60 health facilities to prevent and control Ebola infection. This includes advice and training on removing protective equipment safely, so the virus is not passed on.
The DRC Red Cross has 150,000 volunteers to call on and the Red Cross Movement will continue to work there as long as we can make a difference.
Ebola in a war zone
The outbreak in North Kivu and Ituri provinces was the first time Ebola had spread in an active conflict zone. This seriously complicated the humanitarian response and made it difficult to control the spread of the virus.
Security issues can make it harder to reach the people most in need, with some areas completely closed to humanitarian aid workers. Sadly, in some instances, health care workers and Ebola treatment centres were attacked as a result of fear, misunderstanding or banditry.
Security issues affect all the humanitarian partners, not only the Red Cross Movement. In many instances, the Red Cross is actually better accepted by the communities because of the good engagement with our local volunteers.
Controlling rumours
The eastern regions of DRC are hit especially hard by conflict. Decades of violence has created profound mistrust and fear among the local population, and many rumours are circulating about the disease itself, as well as the humanitarian organisations responding to Ebola.
The British Red Cross provided significant support to track rumours and provide better information to the local populations. Engaging the communities in the planning of humanitarian responses, as well as listening to and acting upon the communities' concerns is crucial in these situations.
Cash grants help survivors of sexual violence
In the Democratic Republic of Congo, women are regularly attacked by members of armed groups. Women not only have to deal with the physical and emotional violence, but also terrible stigma around sexual assault in their community.
Women are frequently disowned by their husbands, families and villages. This can force them to leave their homes, making it difficult to earn a living for themselves and their children.
Since 2016, the Red Cross has been supporting approximately 500 survivors of sexual violence per year with cash grants. The women also received training in budgeting and business skills.
Using the money as they thought best, the women could take care of their urgent needs for food, clothes and shelter. They then invested the grants in farming or small businesses depending on what would work best for them.
Before the project began, some of the women were begging or doing occasional work when they could get it. Now, many of them earn a living from farming, breeding livestock, work as a seamstress or small businesses.
As a result, women's incomes have risen from an average of $5 to $62 per month. This has helped every single woman keep her children in school. Some women have also been able to pay for family health care or buy houses, household goods, farm animals or land.
Read more about Ebola: