How to support people in Ukraine
Here you will find answers to your questions about donating to the Ukraine Crisis Appeal.
Last updated 11 May 2022
With over 192 Red Cross or Red Crescent societies, nearly every country in the world has a Red Cross or Red Crescent society. This means our staff and volunteers are almost always on the ground to support. The Ukrainian crisis is no different.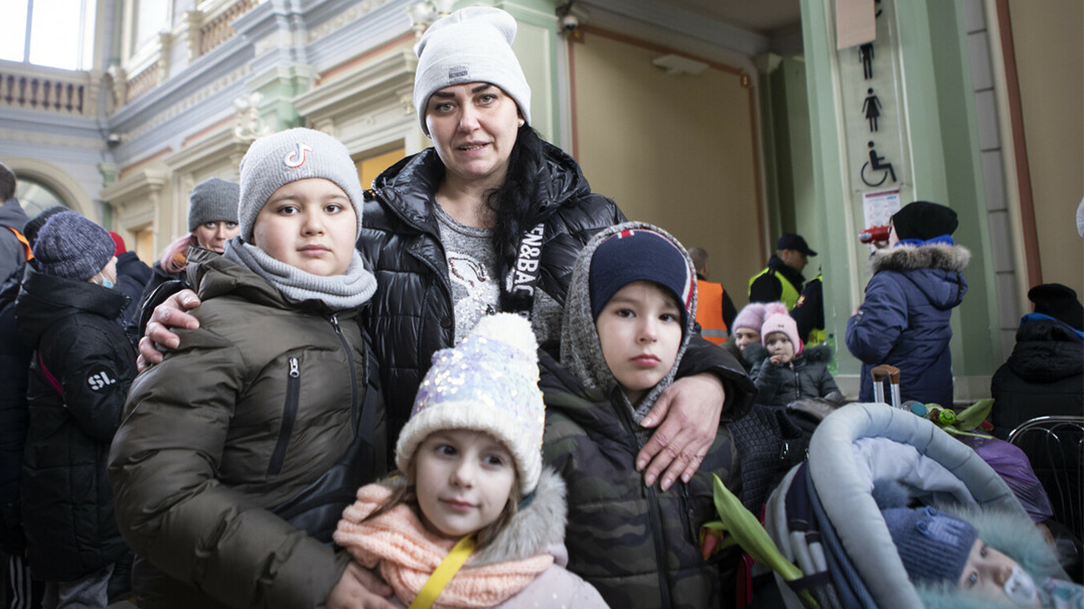 I want to know how the British Red Cross is supporting Ukrainians in the UK
I want to know more about the Homes for Ukrainians scheme
I want to donate money to Ukraine
I want to donate items/goods to Ukraine
I want to volunteer to help Ukraine
I want to help with transportation
I want to support family and friends in Ukraine
I want to fundraise for Ukraine
I want to find out more about the ICRC in Russia
How is the British Red Cross supporting Ukrainians arriving in the UK?
British Red Cross teams are supporting Ukrainian arrivals at Stansted, Liverpool, Manchester, and Luton airports, and Kings Cross station. We are also supporting people at Northern Ireland Ukraine assistance centres in Belfast, Newry, Craigavon and Ballymena.
In Wales, we are in conversation with Devolved National Governments and Local Authorities to plan and deliver welcome centres. In Scotland, we have been supporting people arriving at ferry terminals from Northern Ireland, and we continue to liaise with the Scottish Government about additional support that may be needed.
What kinds of support are you providing people from Ukraine?
Our volunteer and staff teams are providing psychosocial and practical support. This includes things like food, water, hygiene items, nappies, a hot cup or tea or coffee, and essentials to help people keep in touch, like SIM cards, mobile phones and chargers.
We're also providing translated welcome packs about life in the UK. On some occasions, we are also providing people with mobility aid, such as wheelchairs
How many people have you supported?
As of 21 April, we have supported 1,008 people but we remain in discussions with the UK Government and other organisations about how else we could support in the weeks and months ahead.
It's likely that we'll support people with community integration, understanding rights and entitlements, and helping them to access health care, education and employment, housing, and financial support.
We may also support people arriving with tracing family members they have lost contact with.
Can I host Ukrainian refugees in the UK?
Yes, you can under the Homes for Ukraine scheme. The government has announced that the UK will welcome as many Ukrainians as needed through the scheme, but this relies on sponsors.
As this is a huge humanitarian crisis, the government is urging the British public to come forward and offer a place to stay for at least six months.
Under the scheme, Ukrainians will have access to public services, work and benefits. Charities, faith groups, businesses, councils and communities will all need to work together to support Ukrainians arriving in the weeks and months ahead.
How do I register for the Homes for Ukraine scheme?
You can register your interest here and through the government site, Homes for Ukraine, now. Applications will then open in two phases.
Phase one: If you already know someone you'd like to sponsor (opens Friday 18 March):
If you know who you'd like to sponsor, visa applications will go live on Friday 18 March. You can get in touch with the Ukrainian person or family you'd like to sponsor directly and fill in a visa application with their details and yours. The scheme is open to Ukrainians and their immediate family members.
Phase two: If you don't know anyone to sponsor but would still like to (opens Monday 21 March):
If you are looking for someone to sponsor, you could get in touch with charities, faith groups or local community organisations who are starting to make connections between individuals.
The organisation, Reset Communities and Refugees, is also helping to match refugees and sponsors and the government will be working with organisations in the coming days and weeks to match sponsors with people from Ukraine.
Applications for sponsoring a Ukrainian refugee that you don't yet know will open on Monday 21 March.
Download our wellbeing resources
How much of my donation to the Red Cross will go to the people of Ukraine?
During emergencies, staff at the scene make sure your money is used properly and spent effectively on the ground. We also work closely with the UN and other charities to ensure money is spent most effectively.
So that services help as many people as possible, any organisation faces associated costs. Whether here in the UK or overseas, we work very hard to keep these to a minimum, and on average these equate to around 9 per cent.
The rest will help the Ukraine Red Cross Society, International Committee of the Red Cross, and other Red Cross partners working in border countries, to support the humanitarian response in Ukraine and the border countries.
This response includes:
Supporting families with food, first aid and medicines
Supporting hospitals and healthcare facilities
Repairing vital infrastructure
Helping to repair homes, healthcare centres, schools and community centres.
What happens if the British Red Cross raises more funds than needed?
The Ukraine Crisis Appeal will support people in areas currently affected and those potentially affected in the future by the crisis.

In the event that we raise more money than can be reasonably and efficiently spent, any surplus funds will be used to help us prepare for and respond to other humanitarian disasters anywhere in the world.
Is the Bitcoin advert from the British Red Cross legitimate?
We are aware of an advert asking for Bitcoin donations to our Ukraine Crisis Appeal. This is not from British Red Cross and we are contacting Action Fraud about this.
If you wish to make a donation to support people in Ukraine, the best way is to donate to the Ukraine Crisis Appeal.
If you have any concerns about, or wish to check the legitimacy of a fundraising event being held in the name of British Red Cross or our appeal email: fraud@redcross.org.uk.
How do I get a refund on the donation I made?
Charities are legally required to follow the Charities Act, designed to protect the people the money is intended to help. It states that money given freely and without condition cannot be refunded except in exceptional circumstances, which would be a decision our Trustees would have to make, following guidance from the Charity Commission.
If you have further questions or feedback, please contact supportercare@redcross.org.uk
Will any of the British Red Cross Ukraine Crisis Appeal money be spent in the UK?
It is very likely a proportion of the British Red Cross Ukraine Crisis Appeal money will be spent in the UK, in line with the needs of people arriving in the UK, who have been affected by the crisis.
The number of people who will come here, and the needs they will have, are still not entirely known, but our understanding is growing daily through what we see on the ground both within the UK, and with our movement partners in Ukraine and neighbouring countries.
We do know that people arriving are likely to have experienced trauma, and be arriving with little to no belongings. They will need short term and longer term support so our response, and the amount of money needed to fund it, is still being worked on.
What is the DEC Humanitarian Crisis Appeal?
The British Red Cross is a member of the Disasters Emergency Committee (DEC) which brings together 15 leading aid agencies to raise money at times of humanitarian crisis. By working together, we can raise more money to reach those in need at this time.

The DEC Ukraine Humanitarian Appeal launched on 3 March and for the two weeks following that (until 16 March), charity members raised funds together under the DEC brand.
Is the British Red Cross collecting food, clothes, medical supplies and other essentials for Ukraine?
We are not currently accepting items such as clothes, food or medical supplies for the Ukraine. These kind offers are really appreciated, and we do understand that not everyone is in a position to give money right now, but we can only accept money for emergency appeals.
Items have to be sorted, cleaned, and transported, which slows down our response.
Why is the British Red Cross only accepting cash donations for Ukraine and not items?
We know that people up and down the UK have been incredibly generous. While some local charities have been able to get those donated items to border countries, there's been such a huge response from right across Europe, it's difficult to use all the things that have been donated, and get them to the right place.
Cash donations are by far the quickest, safest, and most direct way to help people and to support the work of the Red Cross in Ukraine and neighbouring countries.
A cash donation means we can help with whatever is needed, source things locally, and transport items quickly. It also means volunteers can concentrate on the response, rather than sorting and transporting donations.
Is the British Red Cross accepting medical supplies?
We cannot accept medical supplies such as PPE or medical equipment. We can only accept money for emergency appeals. This lets us support the people who need our help most.
However, we will be providing medical supplies as part of our response, and Red Cross societies in neighbouring countries are also sending medical equipment.
Is the British Red Cross accepting blood donations?
Unlike other national societies, the British Red Cross does not run a blood donation service. Blood donations are being managed locally and there is no facility to donate from the UK.
Can I donate breast milk to Ukraine?
Unfortunately, no. The British Red Cross does not accept breast milk donations. We do not have the facility to store or send breast milk.
I've got items I've collected/would like to take to Ukraine but it's not possible. What can I do?
There are lots of ways you can turn things you'd like to donate into money for the Ukraine Crisis Appeal.
If you have donated items, like clothing, blankets or other things, you can:
Sell things on eBay and direct the proceeds to the appeal (see non-profit advice from eBay)
Organise a sale, or offer items in return for a donation to the appeal
Can I volunteer with the Red Cross in Ukraine?
Currently, we are not sending volunteers from the UK to Ukraine. This includes medical and logistical experts.
Our teams there have told us that the best way to support the response in Ukraine is to raise funds. This is our focus, through our emergency appeal.
We'll always listen to what our incredible teams of volunteers and staff need. In terms of numbers, there are around 4,000 Ukrainian Red Cross Society (URCS) volunteers and more than 600 staff members of the International Committee of the Red Cross (ICRC) across the country.
Your donations allow them to work as one team to support people through this. We'll be keeping our channels updated with the latest on the Red Cross response.
Can I volunteer with the British Red Cross for Ukraine?
Support line volunteers - Ukraine specialists
In the UK, we're looking for Ukraine support line volunteers to provide practical and emotional support to people affected by the Ukraine crisis.

We are looking for volunteers who can provide help through our telephone support line for one shift a week, Monday to Friday. Shift times generally run from 10am-1pm, and 1pm-5pm. However, some flexibility around this is possible.
Fluency in Ukrainian or Russian is highly desirable, and training will be provided.
Please note that we don't have any other specific volunteering roles in the UK to support Ukraine. We are constantly monitoring the evolving situation and will keep our volunteering page updated with opportunities.
Can you help a friend or family member leave Ukraine?
If you are concerned about a British family member in Ukraine, please contact the Foreign, Commonwealth and Development Office by email fcdo.correspondence@fcdo.gov.uk or by calling: 020 7008 5000.
For British nationals who need assistance, consular support is still available through the Foreign, Commonwealth & Development Office 24-hour helpline:
+380 44 490 3660 (from Ukraine)
+44 (0) 1908 516666 (from the UK).
Can you help us transport goods to Ukraine?
We are unable to help people transport donated goods or to use donated vehicles to transport goods. Thank you for the kind offers.
We are asking people in the UK to help by donating to the Ukraine Crisis Appeal, these donations are by far the quickest, safest, and more direct way to help people and to support the work of the Red Cross in Ukraine and neighbouring countries.
Can I fundraise for Ukraine and give the proceeds to the British Red Cross?
Yes, you can organise a fundraising event to support people in Ukraine. To discuss this, please get in touch: 0300 456 1005 (calls are charged at standard UK landline rate).
You can also email us at getfundraising@redcross.org.uk or register your interest in a fundraising event.
How can I fundraise to support the appeal?
There are also lots of creative ways you can get involved to support the appeal, for example:
Streaming or gaming, via a gameathon or live stream
Host a cake sale
Host a Red Cross 'cup of kindness' tea party (online or in real life)
Sponsored challenges – hold a sponsored silence, sponsored walk or think up your own challenge
Bag packing at supermarkets in return for donations
Set up a Facebook fundraiser to raise money from your social network
We also have lots of ideas for virtual events, from quizzes to book clubs
Swap your skills for donations, by holding an online or in-person tutorial. Share your cooking, language or music skills and raise money at the same time
Find more fundraising ideas and British Red Cross fundraising packs.
Learn more about virtual fundraising.
What is happening with the ICRC in Russia?
There has been misinformation and some false claims circulating about the International Committee of the Red Cross (ICRC) and its work in the Ukraine during the current conflict.
In addition, people have been asking questions about the visit of the ICRC's President, Peter Maurer, to Ukraine and Russia in recent weeks, and wanting to understand more about its mandate to speak to all sides of a conflict.
We address these claims and provide information about the way the ICRC - and all Red Cross and Red Crescent societies work – and how the principles of neutrality, impartiality and independent humanitarian action underpin here.