Digital and innovation careers
Using digital technology and innovative approaches to enhance how we help those in crisis.  
The information and digital technology directorate (I&DT) develops and delivers information and digital services to help us improve the support we give to people in crisis. Our talented digital team manages an estate that includes 25 websites, four apps and one Alexa Skill.
Both the digital and innovation teams bring about positive change and embed positive change across our large and varied organisation. The innovation hub brings together separate innovation teams in different directorates to centralise ideas and put them into action.
A charity career is like no other and comes with a sense of fulfilment that you are truly making a difference to people's lives. If you are passionate about how information technology shapes and strengthens the charity sector, and want to work for an employer who wants to bring out the best in you, take a look at our latest I&DT job vacancies.
See what our staff say
Jess Edwards, Digital Product Owner
What's your favourite thing about working here?
My favourite thing about working at the British Red Cross is the common motivation we all have to make things better. I often work with people who have a completely different skillset to me, so it's great to know that our underlying reason for being here is the same. It makes working here really fulfilling; you know that everyone is working towards that common goal of making a difference in whatever way we can.
What's a typical day like?
The day usually starts with a stand-up, which is a great way to ease into the day, catch up with the team and remind yourself of your priorities for the day. I could then be in a UX or discovery workshop for a new product or feature, or working with developers to understand how we're going to tackle a development problem. I may be attending sprint planning, a backlog refinement session or a retrospective. Or as a team, we may have a session to work on how we can improve our internal processes. Then there's the Digital team initiative 'focus time', which allows us to really get stuck into a task without the distraction of meetings, whether that be focusing the product backlog, delving into user insights and feedback or Google Analytics, or spending time learning new skills.
In short, no one day is the same!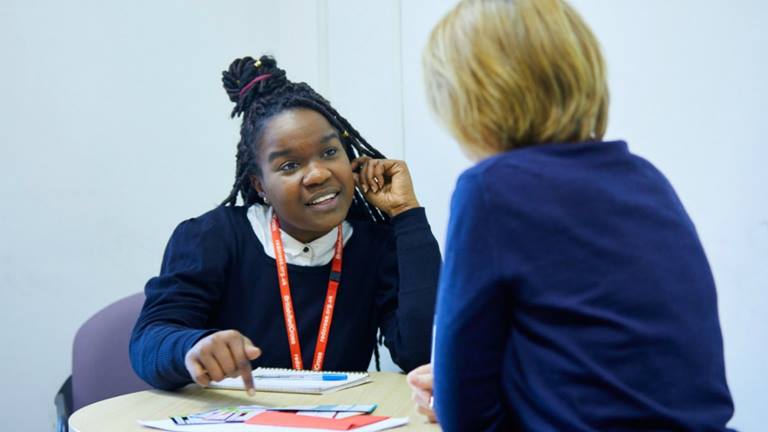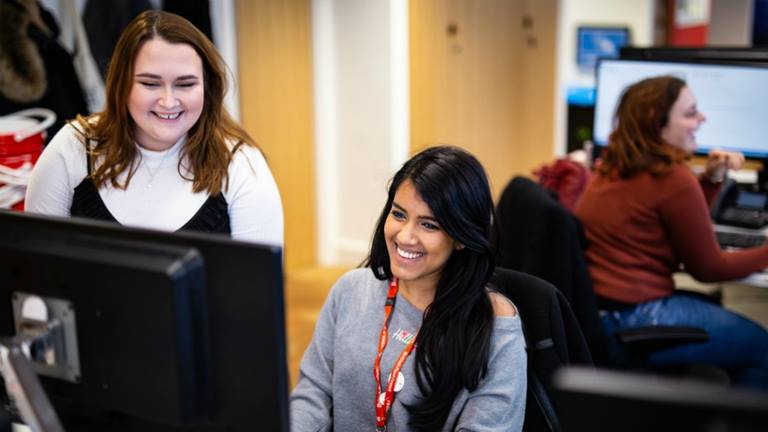 What's your team like?
It's an exciting time for the Digital team, as we are evolving our ways of working to be more agile and being advocates for this in the wider organisation too. This is only possible because the individuals in the team are really motivated to do so; we hold ourselves to high standards and are determined to keep improving and learning.
Being in the Digital team means we are in a great position to work on products and projects with a variety of other teams who provide the front-line services. I love this aspect of being in Digital, as it allows me to understand and help improve how we deliver the services we offer as an organisation.
We're a team that loves to socialise outside of work. There are the cake, boardgame and Friday lunchtime clubs, and we are often found at the pub after work!
What you get in return
As well as a rewarding career with a global charity, you'll get access to a wide range of enhanced benefits:
Flexible working – Your work-life balance is important to us. We'll do what we can to make sure you can work in a way which suits you and your lifestyle
36 days annual leave (including bank holidays) plus the chance to purchase 5 extra days leave – It's time to refresh. We recognise the importance of plenty of time off to recharge
Training and development opportunities – We want you to be the best you can be. We provide a range of courses and training opportunities to further your development
Maternity, paternity, adoption, shared parental and careers leave – Take the time you need to care for your loved ones
Wellbeing support and advice helpline – Mental health matters. We want all our staff to know they have someone to talk to when they need it most
Pension scheme – We want you to feel secure in the knowledge you can look forward to a comfortable, happy retirement
Employee discounts – As a British Red Cross member of staff, you will be eligible for a Blue Light Card which offers discounts at various well-known shops, restaurants, and brands
Cycle to work scheme – Hop on your bike and get active. Your physical health and wellbeing is important to us
Season ticket loan – We'll provide an interest free loan to spread out the cost of your commute to work
You can read our family friendly policies.
Conduct
The British Red Cross does not tolerate any form of misconduct, including sexual harassment, exploitation and abuse. We have a code of conduct in place which all staff and volunteers are bound by.
We are fully committed to promoting an environment in which all staff, volunteers and those we seek to help feel empowered to report any misconduct.
Find out more about our code of conduct and complaints procedures.