Manchester attack - support for young people
Help young people to reflect on the Manchester attack and think about how people supported each other.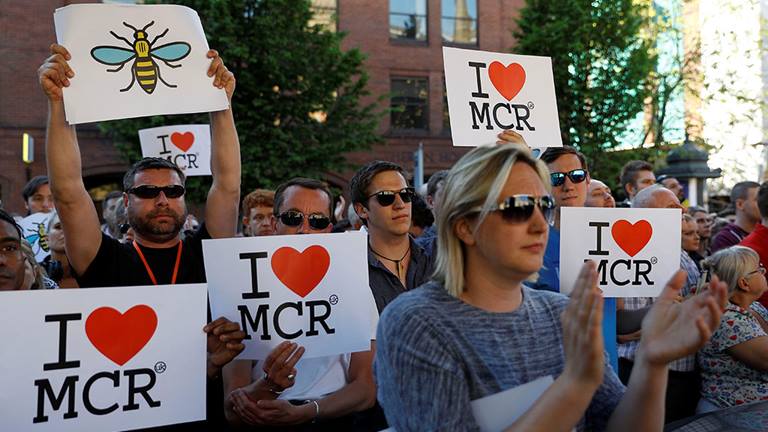 Age:

11-19

Type:

Lesson plan, Photo

Subjects:

PSHE, Tutor time

Topics:

Disasters and emergencies, Humanitarianism and the Red Cross, Newsthink
In the late evening of 22 May 2017, an explosion in the foyer of the Manchester Arena killed 22 people and seriously injured many more. The blast occurred as concert-goers, many of them children and young people, were leaving a performance by the US singer Ariana Grande.
These discussion activities encourage young people to explore ways people helped each other after the explosion. They also explore the roles of practical help and emotional support during and after an emergency.
Learning objectives
Learners will:
have a safe space to share their thoughts on the attack

discuss coping strategies for when they are upset

think about how they can support others after a traumatic event

discuss examples of people who helped each other after the attack.
Resource overview
1. Starter
Share thoughts on the attack.
2. Talking and listening
Learners discuss how they and others might react to news of a traumatic event, and consider who might need help and what they could do to support them.
3. Discussion: Humanitarian help
Research and discuss examples of people helping each other after the attack on the arena or after other emergencies.
4. Plenary
Learners consider how the people of Manchester reacted with love, kindness and empathy following the attack.
Credits
This resource was written by P J White of Alt62 and published in May 2017.
The photo shows people holding placards as they take part in a vigil for the victims of an attack on concert-goers at Manchester Arena on 23 May 2017 (© Reuters/Peter Nicholls).