Use our Newsthink resource to explore the events in Ukraine through a powerful photo and explore how humanitarian crises affect people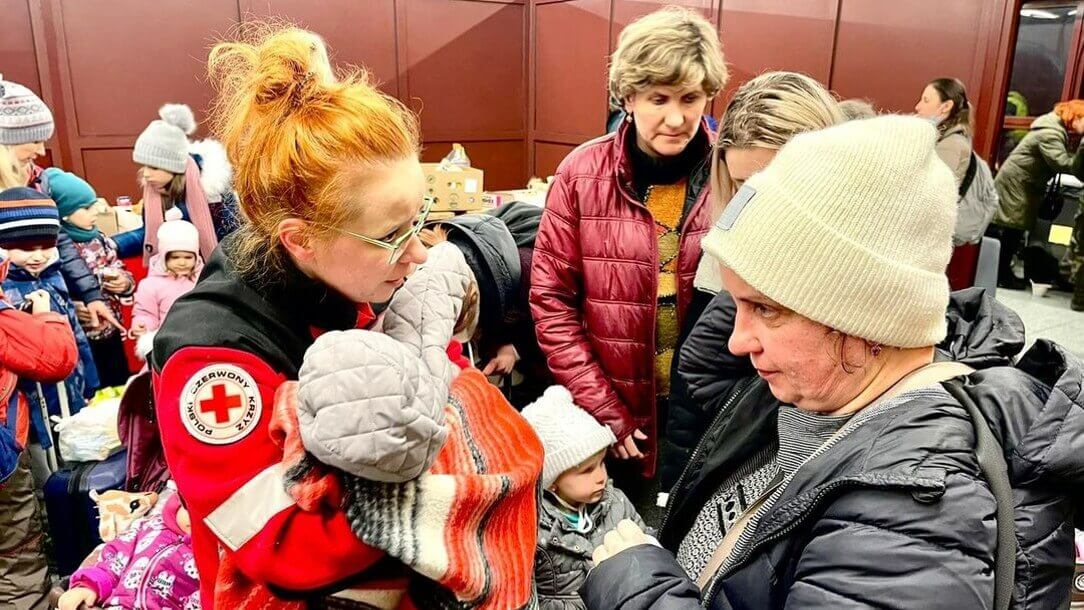 Age:

11 - 19

Type:

Quick activities

Subjects:

PSHE, Tutor time

Topics:

Newsthink, Conflict, Refugees and migration
Even before the frightening events seen this year, communities in Ukraine were bearing the brunt of eight long years of conflict. Use this teaching resource, based on a picture taken of the International Red Cross working in Poland in February 2022, with young people to explore the impacts conflict and crisis have on people, and discuss our common human values. 
If you would like support on how to approach global conflicts like the Ukraine crisis with learners, you can use our resource on exploring conflict in impartial and neutral ways.
Learning objectives
Examine and discuss an image related to a current humanitarian news event
Analyse and identify how people are impacted by this event
Discuss and debate a statement relating to a core value by explaining whether you agree or disagree
How do I use this resource?
Explore events unfolding in Ukraine through the lens of a humanitarian. Use a photo to explore the impacts conflict has on people. Download the PowerPoint above to deliver the activities. Use one, some or all of the activities, as suits you. Each one can be done in ten to fifteen minutes. Embed this activity into your lessons or use it in assembly or tutor time to engage learners with current events and humanitarian news.
Resource overview
Explore the photo of the people at Polish Red Cross rest stations and ask learners to analyse the moment captured using the "see, think, feel" framework.
Debate the statements: 'Civilians should never be targeted' and 'all people deserve to be safe'. Do learners agree or disagree? Why?
Compare this photo and these events to the Afghanistan crisis using our Newsthink from last year. Ask the question 'all people deserve to be safe" again – do learners still agree? Why?

Encourage learners to reflect on their values and opinions in their own time through a reflective journal.

Explore what further actions people can take to learn more about this issue, or support the people affected.
Learn more
Widen the discussion by exploring the impact of other recent conflicts, including the experiences of refugees in Afghanistan in 2021.
Discussing world news events
This resource can be used to discuss recent events that have been given extensive coverage in the news and on social media. Explore all conflict and its consequences and refugee and migration resources, or try one of these news-related activities:
Supporting resources
Support your learners when discussing difficult topics with our wellbeing resources. These activities help children and young people to build empathy, kindness and resilience skills that can help them cope when faced with challenges.

Don't miss out
Sign up to our mailing list and receive new teaching resources, newsworthy resource packages, and information about educational offline and online products straight to your inbox.
Credits
Photo credit ©Polish Red Cross. This resource was created by the British Red Cross in March 2022.