Coronavirus around the world: the new epicentre
South Asia is now at the epicentre of the Covid-19 pandemic. This is how you can help                                                                                                                                                                                                   
Last updated 4 August 2023
As spring arrives in the UK and government restrictions begin to ease, it can be tempting to think that the pandemic is on its way to being beaten.
Sadly, the situation in other nations around the world tells a very different story.
With hospitals on the brink of collapse and crematoriums overwhelmed as Covid-19 cases top 400,000 a day, the situation in India remains critical.
In April, we directed all donations made to our Global Coronavirus Appeal to India, in light of the country's devastating second wave of Covid-19. As world Covid deaths continue to rise and the wave spreads to neighbouring countries, the need in the wider region has become urgent.
Covid-19 is spreading across South Asia. The Red Cross is providing water, sanitation and hygiene support and vital help with the vaccination rollout. We cannot leave anyone behind.
Donate to the Global Coronavirus Appeal
Covid-19 deaths: a loss felt around the world
South Asia is now at the epicentre of the latest wave. As of 7 May, there are more than 3.8 million cases of Covid-19 in India, Afghanistan, Bangladesh, Bhutan, Maldives, Nepal, Pakistan and Sri Lanka. Over 270,000 deaths have been reported.
In Nepal, over 8,000 new cases have been reported every day since 6 May, bringing the total number of cases to over 450,000. Intensive care units are completely full, and oxygen supplies are urgently needed to treat Covid-19 positive patients
In Bangladesh, both daily cases and deaths have skyrocketed since early March. Vaccinations were stopped at the end of April due to a supply shortage, which has left many without vital protection against the virus
In Pakistan, a new wave of Covid-19 which started in March has seen cases rise to more than 5,000 a day with total cases as of 17 May now at over 880,000
In Sri Lanka, the sudden surge has seen cases double in a two-week period from the end of April into early May. The health system is struggling with the influx of patients to treatment centres and hospitals and it is predicted that the country will have recorded 20,000 Covid-19 deaths by September 2021.
Since the beginning of the pandemic, more than three million people have died of Covid-19 globally. Each death represents someone who was loved and will be missed, more than three million individual tragedies and an unimaginable collective loss.
The number includes countless healthcare workers and frontline responders, including Red Cross volunteers and staff who have lost their lives while supporting or caring for others through the health crisis.
Beyond the human loss, the economic impact means that people are falling into extremely vulnerable situations as a result of the pandemic. Many now struggle to access medical care, food, and water, as well as items like masks and hand sanitiser.
How the Red Cross is helping around the world
We started the Global Coronavirus Appeal last year, as the first wave of the pandemic spread across the world.
Since then, with our network of over 13.7 million people, the Red Cross Movement has been in a unique position to support the rollout of vaccines in some of the world's most vulnerable areas.
We are supporting the vaccination rollout in Bangladesh, supporting in sanitation and hygiene programmes in Nepal, and have over 46,000 Red Cross staff and volunteers supporting the Covid-19 response efforts in India.
We have reached almost 80 million people with food and other assistance. More than 8 million people have been met with mental and psychosocial support, and we have reached in excess of 650 million with risk communication on Covid-19. But there is so much more to do.
Currently, transmission and new detected cases globally are at the highest level we've seen since February 2020.
Though the rollout of vaccine programmes across the world is a reason for optimism, we mustn't think that this is the beginning of the end of the pandemic.
Only 7 per cent of the world's population has received at least one dose of the vaccine. This falls far short of the estimated 60 – 70 per cent needed to reach sufficient immunity.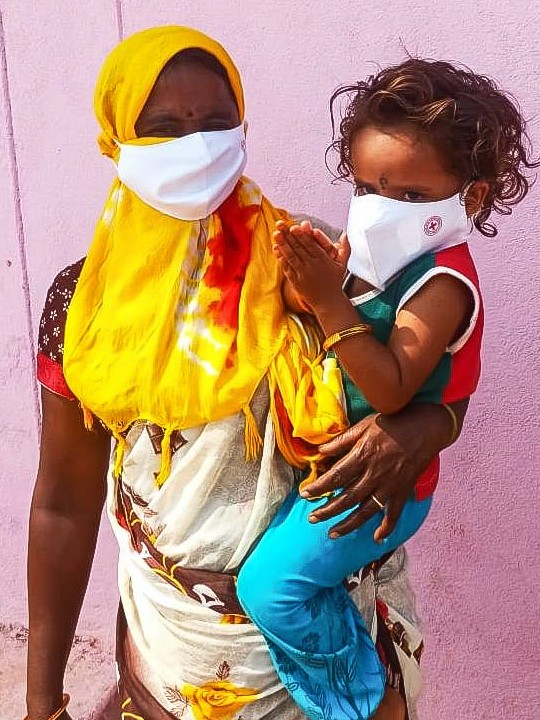 How you can help
Your donation to the Global Coronavirus Appeal will reach someone in urgent need, no matter where they are in the world. Your donation could provide…
A Covid-19 prevention kit to a family or front-line worker to help keep them safe

An oxygen cylinder or oxygen concentrator to help someone breathe

An ambulance to transport those with Covid-19 to hospital.

With your support, we can make sure no-one is left behind in our response to the pandemic.
More on the coronavirus pandemic:
Donate to our Global Coronavirus Appeal
Coronavirus is spreading in the world's most vulnerable communities, with the safety of millions at stake. Please help the Red Cross continue our vital work and help the most vulnerable people in society.
DONATE