Read about Amar's Covid-19 vaccine experience and hopes for the future
Amar, 27, from London, has had to adapt to a slower pace of life in the pandemic. He feels fortunate to have got the Covid-19 vaccine recently and shares his experiences.
How has your life changed during the pandemic?
Like many people before the pandemic, Amar was working in the office full-time and seeing friends at least a few times a month.
When lockdown hit, the biggest shift for him was working from home and not having his regular routine.
In the first lockdown there were positives, like not commuting, but he found the later lockdowns more difficult.
"I definitely think that the lack of varied social interactions were a defining characteristic of that period - you don't get those social interactions and seeing different friends and colleagues in different settings."
What was it like getting the Covid-19 vaccine?
Amar shares his experience of the Covid-19 vaccination process.
"We arrived and were checked in effortlessly and it just felt like a very slick operation by a team of people that really just cared about getting as many people vaccinated as possible so it's a big credit to all of the teams who have been running the hubs."
The vaccination itself was very quick. We filled in a form, it was one needle, a tiny pinch and that was it really.
The day after the vaccine, he developed some mild cold and flu symptoms but said that they were over in a couple of days.
What hopes do you have for the Covid-19 vaccine?
Amar hopes that as many people as possible get vaccinated:
"I think this pandemic has been defined by counting, we're counting case numbers and looking at statistics all of the time.
"We're often seeing those numbers creep up is a real negative, but one of the more optimistic numbers to keep track of is the millions of people that are being vaccinated. I hope for that number to keep climbing."
What would you share with others?
Amar believes everyone should trust medical professionals and be conscious of vaccine misinformation.
"I think it's really important at the moment to trust in the services and institutions [NHS] that we have in our lives looking out for us rather than the Facebook post spreading misinformation or the niggling skepticism of a friend or family member."
What are your hopes for the future?
As a young person living in a city, Amar hopes to get his social lifestyle back:
"I'm really looking forward to being able to get to live music events, theatre and comedy - all of the things that we haven't had a chance to do over the past year."
What would you share with others?
"Think about the situation we are in right now, look at the vaccine as something that can improve that situation."
Review and reflect
How has life changed for Amar?
What was his Covid-19 vaccine experience like?
What hopes does he have for the future?

The views in this story are those of the interviewee. The British Red Cross recommends that you continue to practise social distancing after getting the coronavirus vaccine.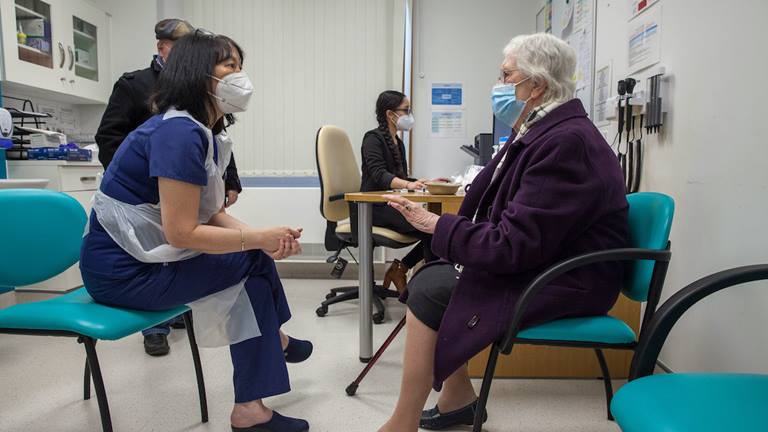 How to have a difficult conversation about vaccines
Explore how to discuss the Covid-19 vaccination with others who feel less confident about getting vaccinated.
Managing worries and decision making
Use these simple techniques to help you manage worries and make confident decisions.