Dennis' coronavirus vaccine story and experience
Read about Dennis and his experience of getting a Covid-19 vaccine and adapting to life in lockdown
Long-time British Red Cross volunteer Dennis is in his early 90s but still lives an active and social life, which he hopes now he's had his Covid-19 vaccine he can get back to soon. Read about his experience and hopes.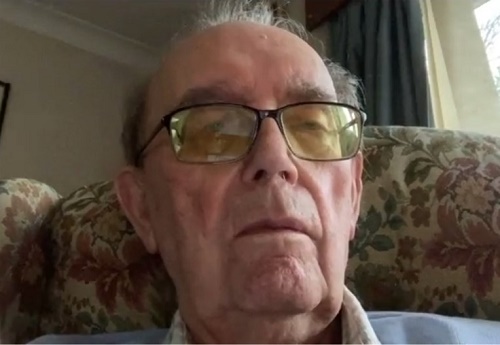 How has your life changed during the pandemic?
Life has changed dramatically for Dennis since the beginning of the coronavirus pandemic. He used to have a busy social life getting out and about often. He has adapted by embracing technology.
"So it means the friends I would normally see we do it by video meetings and that sort of thing. It's obviously not the same."
"I've been quite active on the telephone checking on friends to see how they are, I miss company a lot."
What was it like getting vaccinated?
Dennis took the offer up as soon as he was called about getting one of the vaccines. As someone in the higher priority group he was invited to get a vaccine in January.
He's partially sighted so he can't drive anymore, but luckily the NHS arranged transport to the vaccination centre for him. He felt at ease that the NHS understood his medical needs and he was happy with the cleanliness of the centre.
He said that the process was as he expected. He had his temperature checked and described the jab itself feeling like a small prick, it didn't hurt at all. Dennis received the Pfizer-BioNTech vaccination.
He describes how he felt after the jab and his passion for the greater good.
"The only adverse effect was that I did get very tired."
He was disappointed that the roll out of the second jab was delayed by the government, but understands that it was for the best, so that more people could have their initial dose. He still feels more protected than he was before.
"I should have had my second jab 4 days ago, but of course that was cancelled for the good of everybody. I'm now told I'm up to 80% protected."
I would say to everybody – have it. For your good and for the good of the rest of the population. Easy.
What are your hopes for the future?
Dennis is looking forward to freedom in the future and being able to join his daughter on a cruise. He loves the sea and the prospect of the cruise is keeping him motivated. Being a sociable person, he's looking forward to meeting up with family and friends – he's usually out at least once or twice a week so really misses social gatherings.
If you were to share a message with other people what would it be?
"Just do your best, have the vaccination and look forward to being free again."
Review and reflect
What challenges has Dennis faced during the pandemic?
What has helped him manage his challenges?
What hopes does Dennis have for the future?
The views in this story are those of the interviewee. The British Red Cross recommends that you continue to practise social distancing after getting the coronavirus vaccine.
Managing worries and decision making
Worries are normal, but there are things we can do to manage them. Use the circles of control activity to think about how to manage worries and help ourselves take positive actions.