Dr Emeka's coronavirus vaccine story and experience
 Dr Emeka Okorocha, an NHS doctor and influencer, shares his thoughts about the Covid-19 vaccine
Dr Emeka, who you might recognise from BBC's Junior Doctors, or his social media channels, shares how life has changed during the pandemic, what it was like getting a Covid-19 vaccine and his hopes for the future.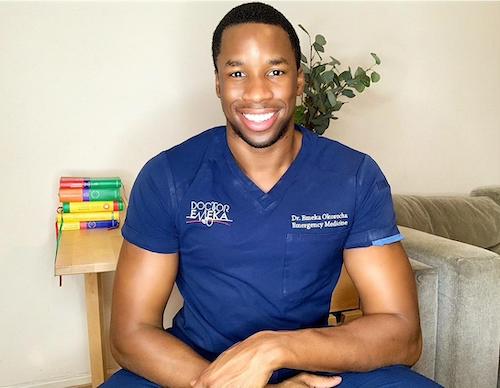 How has your life changed during the pandemic?
When we asked him how his life has changed during the pandemic he said,
"Life has been completely different. Many of the pastimes I've known have been unfortunately - but appropriately - put on hold. Work is definitely more daunting and life has become almost surreal. Holidays and sports games seem to be a thing of the past, and the masks, frequent hand hygiene and distancing from colleagues the norm. Life is definitely very different now."
What was it like getting vaccinated?
As a medical professional working on the frontline, Dr Emeka is in a priority group for getting a Covid-19 vaccine. He received is first dose of the Pfizer vaccine in January 2021. He is now waiting for his second dose.
"I have had my first dose of the Pfizer vaccine and [am] waiting for my second.
"I felt great. I documented the whole experience on TikTok. I had no real issues or side effects and everything was very straight forward."
You can watch Dr Emeka walk people through his vaccine experience here to see what you can expect. In his video he shows how he arrived at the clinic, was given a leaflet to read which answered lots of questions people may have about getting vaccinated. After his jab, he then received more information about possible side effects and his 'vaccine card', which shows you have had your first dose and you bring back with you for your second. You can follow him on TikTok @doctor.emeka.
What hopes do you have for the vaccine?
Dr Emeka is optimistic about the impact of the vaccines.
I'm hoping if enough people can get it, we will see a drastic drop in coronavirus related deaths and hopefully see herd immunity.
What would you share with others?
He encourages people not to let worries and hearsay influence your decisions more than they should. If you wish to know more information about the vaccines he recommends you take the time to find answers yourself.
Make sure you read the latest research to try to keep as well informed as possible.
For some key facts about the vaccines, look at the coronavirus vaccine FAQs and consult trusted sources linked on the vaccine voices homepage.
What are your hopes for the future?
Although he knows the vaccines are just one step in the process of recovery, he looks forward to a day when things are much better than now.
"My hopes for the future would be to get through this pandemic and eventually get back to a sense of normality."
Review and reflect
How has life changed for Dr Emeka?
What was his Covid-19 experience like?
What hopes does he have for the future?
The views in this story are those of the interviewee. The British Red Cross recommends that you continue to practise social distancing after getting the coronavirus vaccine.
Managing worries and decision making
Worries are normal, but there are things we can do to manage them. Use the circles of control activity to think about how to manage worries and help ourselves take positive actions.