Fredrick's coronavirus vaccine story and experience
Read about Fredrick's experience and what makes him feel confident about getting a Covid-19 vaccine
Fredrick, 89, was one of those in the higher priority age groups invited to receive his first dose of the coronavirus vaccine at the Newham clinic in January 2020 and was supported by Red Cross volunteers on the day. He explains what it was like and how he felt about receiving it and how his past experiences inspired his trust in medicine.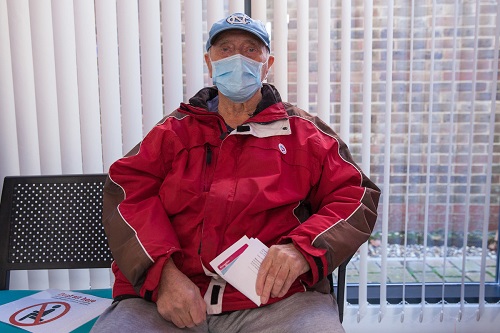 How has your life changed during the pandemic?
Fredrick explains how things have changed for him over the last year. "Life has been a lot quieter really. I'm normally out mixing. I used to go to church and all that has been stopped."
He spoke about what it was like this Christmas with the coronavirus restrictions in place.
"It's a bit odd having Christmas on your own. A bit boring really. I like being active and getting about. I do like my games. I've got a Playstation which keeps me amused. I played it when my children were little and carried on really. I like games you have to think about."
What was it like getting vaccinated?
Fredrick talks about how simple he found the vaccination process. He says it didn't hurt or leave any bruising and felt just like his normal flu vaccine, which he gets every year.
"The whole experience [of getting vaccinated] was very good indeed. No problems whatsoever. There was no queuing. It was very well organised.
"Someone from the Red Cross met me at the door. They showed me where to sit and where to go. We had a little chat and they told me what was going to happen. They were very polite. Very nice."
What are your thoughts about the vaccines?
Fredrick has a lot of confidence in the vaccines and explains why he was so eager to get it. His past experiences have inspired his faith in science and medical experts and his son is a paramedic and also got vaccinated recently.
"I just wanted to get it done. I've always had the flu jab. I've had several operations done so I'm used to being poked and prodded by doctors.
"I'd still have it even if I was the first one. I have had a couple of heart attacks and been resuscitated. I want to stay around.
He heard some of his neighbours had worries and wanted to share his experiences so they could make an informed decision.
"I've tried to persuade the neighbours about it. They were a bit dubious. I said 'If you don't want to die then have it'. When I first had heart surgery, the surgeon came by in the morning and said, "Do you want to live or die? Then sign this form". He said I had a 50:50 for living or dying. The operation was 12 hours and four of us had it the same morning. Two died and two survived, so I guess he was right about that."
If he was going to share anything with those who are less confident about it than him he would say take a moment to manage your worries.
Just relax. Take it easy. Make yourself relaxed and have it. It's not going to do you any harm. In fact, it will do you a lot of good.
What are your hopes for the future?
After working at Sainsbury's for 20 years, Fredrick looks forward to being able to go back and do his own shopping again.
"I miss going out. I always used to go to Sainsbury's and have a chat with staff. They must think I'm dead by now. I tell them all about how things used to be. We were a big family in those days. I've got a photo of me and Lord Sainsbury on the wall."
Review and reflect
What made Fredrick so confident about getting a Covid-19 vaccine?
What challenges did Fredrick face in lockdown and how did he manage them?
How did he try to convince his neighbours, and do you think this is a good way to convince someone?
The views in this story are those of the interviewee. The British Red Cross recommends that you continue to practise social distancing after getting the coronavirus vaccine.
Managing worries and decision making
Worries are normal, but there are things we can do to manage them. Use the circles of control activity to think about how to manage worries and help ourselves take positive actions.