Holly, internal communications officer at the British Red Cross, shares her experience of having the Covid-19 vaccine.
Holly, 27, has been waiting for the Covid-19 vaccine for some time, as she is high risk. She shares how she managed worries around the vaccine and how she found the experience.
How has your life changed during the pandemic?
Holly has been waiting for the Covid-19 vaccine since the pandemic started:
"Since the vaccination campaign began and we started to see a little bit of light on the horizon, I've been feeling more restless to get vaccinated, and hopefully return to normal (ish) life."
As someone who is clinically vulnerable, she has spent most of her time in a form of shielding – even when lockdowns were lifted she stayed away from public spaces and avoided meeting up with friends and family.
What was it like getting the Covid-19 vaccine?
Holly explains her experience and how she felt afterwards:
The vaccination itself was almost painless, and not as sore as my yearly flu jab.
"I noticed I had a little twinge of a headache, and an ache in my arm for about two days. The evening of, I was sleepy and sluggish, and had no problems sleeping through the night.
"For a few days afterwards I noticed I would tire more easily during exercise, and definitely slept more, but in the week since I've had my vaccine, I'm now feeling almost back to normal".
What would you share with others?
Because Holly is under 30, she was given the Pfizer vaccine. Although Holly wanted the Covid-19 vaccine so that she could get back to normal, she still had fears about the Covid-19 vaccine side effects:
"I felt stuck between the fear of the side effects of the vaccine, and the fear of serious illness, or even death, from catching Covid-19. It's not always easy to reason with that feeling of worry, and I knew that the anxiety would become crippling if I allowed it to fester."
Holly explains that she dealt with these worries by focusing on statistics and using this data to come to an informed decision:
"I read all of the data – millions had been vaccinated, and only a tiny number had experienced serious reactions, countless hours had been spent developing the vaccines to make sure that they were safe. I was scared of side effects, but I was so much more afraid of the effects of Covid-19 both on myself, and the people around me."
Vaccine hub
Holly was vaccinated in Scotland, so it might be a bit different to what you can expect if you're in England, Wales or Northern Ireland. If you or someone else is worried, visit our vaccine info hub.
Review and reflect
How has life changed for Holly?
What was her Covid-19 vaccine experience like?
What does she hope to share with others who are worried?


Read the next story
The views in this story are those of the interviewee. The British Red Cross recommends that you continue to practise social distancing after getting the coronavirus vaccine.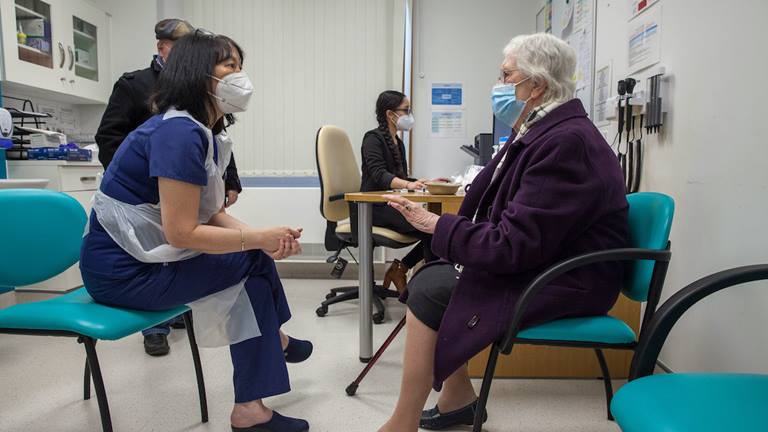 How to have a difficult conversation about vaccines
Explore how to discuss the Covid-19 vaccination with others who feel less confident about getting vaccinated.
Managing worries and decision making
Use these simple techniques to help you manage worries and make confident decisions.