Janet talks about her experience of getting a Covid-19 vaccine and what keeps her positive during lockdown
Great grandmother of 11 Janet, 89, has found ways of coping with the challenges of living through the coronavirus pandemic and is looking forward to the future with optimism as the vaccination programme gets going.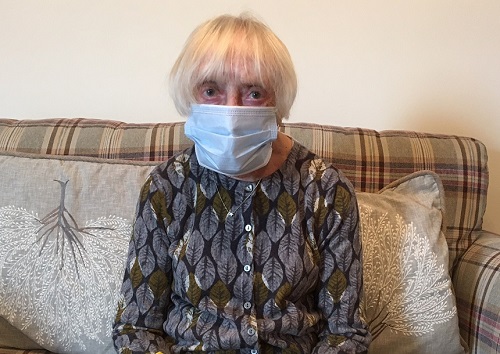 How has your life changed during the pandemic?
Usually busy and sociable, Janet's life has changed significantly over the last year, especially not being able to see friends and family.
"Absolutely turned upside down. That's all I can say. Socially, nil, and I think it alters you because you can't do the things you're used to doing."
How do you stay positive during lockdown?
Living alone is challenging but keeping busy whilst stuck indoors has been a way for Janet to stay positive. Feeling lonely is something she feels you need to recognise and tackle head on.
"I'll try and do something to take my mind off it, so painting, reading, doing anything really."
What was it like getting vaccinated?
As part of tier 2, Janet, 89, was invited to attend a clinic at a local hospital to receive the Pfizer vaccine in December 2020.
Janet spoke to friends who had been vaccinated Most felt more confident after their experience and only had mild side effects, like sore arms or feeling tired for a day or so.
Although reassured, Janet still had concerns about what it would be like going to the hospital and how she might react.
"I thought that going to the hospital, it might be a bit chaotic, lots of people would be there. I was a bit worried in case there was any reaction and I was going to not be well because I live on my own.
"But no, none of these things happened really. There were lots of people there, but it was quite organized, didn't have to wait too long before I took my turn and I didn't really have any of the reactions, I didn't even get a sore arm or anything. I was quite happy with it."
Being supported by volunteers who explained the process, and being given leaflets telling you about the vaccine, was important in helping Janet manage her experience.
Having to wait longer than expected for her second dose is disappointing to Janet, but she tries to see the bigger picture.
"I'm a bit disappointed about that because I could have had the two of them over and done with. But, on the other hand it is allowing other people to have their first dose and get at least some immunity, rather than give everybody their second while depriving others of their first one."
Thinking of others is an important aspect of getting the vaccination for Janet.
"After having the vaccine, you feel you are not so much of a danger to other people. It's not the case of you getting it mildly, it's you giving it to someone else who might take it badly."
What would you share with others?
To all people thinking about having it, don't even think about it, go and get the vaccination. You will feel much much more confident.
What are your hopes for the future?
Janet and her friends are feeling positive about the future as the vaccination programme continues.
"They [her friends] look forward to the vaccine and when they know they're going to get it, it's as if they've got a prize. They're really thrilled about it, you know. 'Oh, I've got my vaccine'. The consensus of my friends is that it's like a gift."
Janet feels getting vaccinated will help people cope better.
I think that it will make a great deal of difference to people's mental wellbeing.
"I will still wear my mask when appropriate and still keep away from people as much as I can, until the actual figures of the pandemic are dropping drastically. I still think I will feel more comfortable when I have to go shopping to know I've had my vaccine though."
Review and reflect
How has Janet managed to stay positive during the coronavirus pandemic?
What worries did Janet have and what helped her manage them?
What setback did Janet face in her vaccine journey and how did she manage that?
The views in this story are those of the interviewee. The British Red Cross recommends that you continue to practise social distancing after getting the coronavirus vaccine.
Managing worries and decision making
Worries are normal, but there are things we can do to manage them. Use the circles of control activity to think about how to manage worries and help ourselves take positive actions.