Jessi's coronavirus vaccine story and experience
Discover why Jessi wants the vaccine as quickly as possibly as she's been required to shield throughout the coronavirus pandemic
Jessi, 28, is a multimedia producer who works for the British Red Cross. In 2019 she was diagnosed with a rare ovarian cancer and was required to shield throughout the coronavirus pandemic. She hasn't been offered the vaccine yet, but looks forward to getting it. She is confident in the power of science and medicine.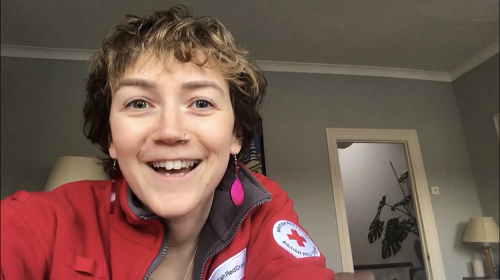 What will getting the vaccine mean to you?
"I think above everything else, it will give me that sense of freedom from fear. Living with cancer has meant I've needed to be shielding for much of the last year. Even when restrictions were eased during the summer, whenever I'd go and do nice things with friends, there was always still an element of fear. I've not been able to do anything really without the fear of picking up Covid."
How has your life changed during the pandemic?
Jessi got married in 2020, it was always the plan but had to be in a smaller way. She also found out that during the first lockdown her cancer returned and was incurable. Although this was a challenging time, lockdown gave her time to manage her worries by focusing on the things she could control.
"In a funny way I found that the lockdown allowed me to focus on the smaller stuff. I started eating really well and getting into yoga. Those self-care-type-things helped me to accept living with cancer in a way I'd not been able to before. I used to distract myself by being busy." said Jessi.
This is a mindset that Jessi is going to take forward into life after lockdown.
What are your thoughts on the vaccine?
Jessi explains because she's been ill she's seen the power of science and medicine.
"I've spent so much time with doctors – my oncologist is a professor and does a lot of scientific research."
I've got no doubts. I just want it as quickly as possible.
What would you say to other people worried about the vaccine?
"I do think there's an element of privilege with vaccine scepticism. When you have a condition like mine you don't really have a choice.
"I would imagine the vaccine will give me a little bit of comfort and security and most of all I am pleased I will not be one of them who might spread the disease."
For more information of how the vaccine works to protect us, look at the coronavirus vaccine FAQs.
What are your hopes for the future?
"We'd like to go on our honeymoon to Japan that we had planned for June last year. That to me would signify a sense of a return to amazing things.
"I also realised I really want to live by the sea, so that's the plan for 2021."
Review and reflect
How has Jessi coped during lockdown?
How do you feel after reading Jessi's story?
Has reading Jessi's story changed your feelings towards the vaccine?
The views in this story are those of the interviewee. The British Red Cross recommends that you continue to practise social distancing after getting the coronavirus vaccine.
Managing worries and decision making
Worries are normal, but there are things we can do to manage them. Use the circles of control activity to think about how to manage worries and help ourselves take positive actions.