Liz's coronavirus vaccine story and experience
Liz hasn't had a Covid-19 vaccine yet, but shares why she feels so confident about them
Liz, 75 from Birmingham has been a British Red Cross volunteer for nearly 53 years. She has used her positive outlook on life to help her cope during the coronavirus pandemic and is eagerly awaiting her letter to receive the vaccine.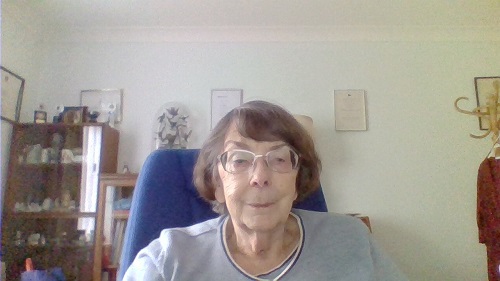 How have you coped with lockdown?
Liz has always lived alone which has helped her cope with lockdown. As the lockdown continues and the weary winter weather has arrived it's inevitable boredom sets in. Though Liz is managing to keep herself busy regularly joining Zoom sessions with organisations she volunteers for, which has enabled her to stay connected with others.
Describing how she has adapted Liz said, ''I was [once] told to have the courage to change the things you can, but the serenity to accept the things you can't, and to know the difference between the two. So, I'm just letting it all flow over me''.
What are your thoughts about the vaccines?
Liz and her friends aren't too concerned about the vaccines and she firmly believes in the science. Liz has recently had her 75th birthday which puts her in tier three for the vaccine, much to her delight.
My friends are standing there with their sleeves rolled up ready.
She herself hasn't had any previous reactions to injections.
Liz is aware of some of the misinformation and misleading things flying around about the vaccines, but she feels that they can be explained scientifically, and this helps her confidence in the vaccines. She feels confident after hearing how many people have been involved in the vaccine trials.
Liz said, ''I think a lot of people have been worried about the speed of rollout. There have been so many volunteers for testing, far more than any drug. I'm quite happy''.
She advises those concerned to check on the government websites for trusted information or speak to their GP or pharmacist, where you can address your worries and have them answered in a way that will reassure you.
Don't believe what Facebook tells you!
For more information on the facts around the development of the vaccines, look at the Coronavirus vaccine FAQs.
What are your hopes for the future?
Liz is looking forward to the future and being able to see her friends again and hopes to go on holiday later this year.
''Once the vaccine has settled down…we'll all be able to meet face to face again''.
Liz hopes that the vaccine will stop the virus and decrease the possibility of it springing up again in the future.
Update: Liz received the AstraZeneca vaccine at the beginning of February.
How do you feel about Liz's perspective? How has it made you feel about the vaccine?
What advice does Liz give to those who feel worried?
What are Liz's hopes for the future?
The views in this story are those of the interviewee. The British Red Cross recommends that you continue to practise social distancing after getting the coronavirus vaccine.
Managing worries and decision making
Worries are normal, but there are things we can do to manage them. Use the circles of control activity to think about how to manage worries and help ourselves take positive actions.