Paul and Patricia's coronavirus vaccine story and experience
Read about Paul and his mother Patricia's experience of getting a Covid-19 vaccine
Patricia, 83, received a coronavirus vaccine at the Newham clinic in London in January 2021. Her son Paul, 49, accompanied her. Paul explains how they felt about the experience, how they overcame their worries and their hopes for the future.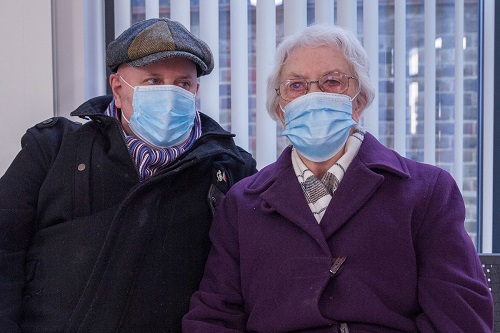 How has your life changed during the pandemic?
He started caring for his mother Patricia after she suffered from pneumonia last year. Paul explains how he feels less confident going shopping. "I was out of work before this so it's not affected our day to day a great deal. We just do our normal bits really. I can understand the plight of people it's put out of work."
What was it like getting vaccinated?
Paul talks about the process of his mother getting the first dose of her vaccine, from receiving the text message inviting them to going home after the first jab. She was invited for a vaccine in January because she was in a high risk group.
"We got down there and found it all well organised really.
"We got down there about 3.15. There were two or three in front of us in the queue. We got tested for Covid when we arrived and got the all clear and in we went.
"Then the nurse and the Red Cross called us into a room. They explained everything first and then gave her the vaccine. She said she felt nothing. We were then sent out and sat down for about 15 minutes to make sure everything was alright.
"Then one of the Red Cross came up and said we were good to go."
I can't fault the experience to be fair.
Did you have any worries about the vaccines?
When asked if he or his mother had any concerns about getting vaccinated, he said that the speed of the vaccine was a concern at first, until he realised the speed was just about the amount of work that went into making it."I thought it was a good thing she had it. The only thing I was a bit concerned about is that usually a new drug takes years to approve. You hear about cancer treatments that won't be on [the] market for years. They've done this very quickly. If 100 percent, then great. It shows you what they can do when they pull their finger out."
"I've got a friend, he lives with his dad, like I live with my mum. He said to me he's [his friend's dad] is currently not having it. He said to me can't make him. He's put his foot down. He's a similar age to my mum. He said he's got to go one day. That's not quite the attitude though, is it."
If he were to share one thing with others who are worried he said, "Have it done. A couple of days later she had some side effects. She was a bit headachey and had a bit of [a] sniffle. To be fair the Red Cross had said she might get a headache. The side effects lasted about a day or two. That's all - touch wood.
"I watch a lot of the news. Probably too much news to be fair. Fergus Walsh on the BBC said it was 80 per cent effective and that sounded good enough to me."
For more information about how effective the vaccines are, look at the coronavirus vaccine FAQs for links to trusted sources.
What are your hopes for the future?
Although Paul doesn't feel like his life has changed that much, there are things he misses and looks forward to, "I used to go to football at West Ham, I'm looking forward to going back to that."
Review and reflect
What worries did Paul have about the vaccines?
What made him feel more confident about it?
Why do you think Paul disagrees with his friend's dad's attitude?
The views in this story are those of the interviewee. The British Red Cross recommends that you continue to practise social distancing after getting the coronavirus vaccine.
Managing worries and decision making
Worries are normal, but there are things we can do to manage them. Use the circles of control activity to think about how to manage worries and help ourselves take positive actions.