Sophie's coronavirus vaccine story and experience
Learn more about intensive care nurse Sophie's experiences of the pandemic and her hopes for the Covid-19 vaccines
Sophie, an intensive care nurse working in Manchester talks about recently receiving a coronavirus vaccination, how her job has changed through the pandemic and what her hopes are for the future.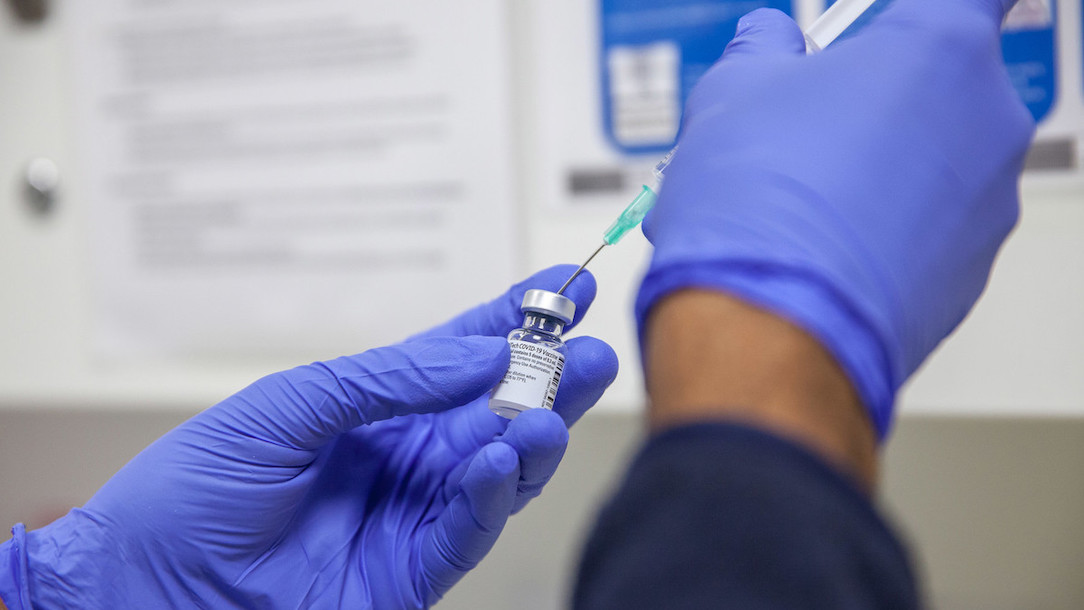 How has your job changed during the pandemic?
Sophie's job has changed quite a lot since March 2020. The personal protective equipment is probably the most obvious thing and her team is extremely busy.
"COVID has had a psychological impact on everyone, everyone worrying about getting it themselves and worrying about their families. It has just been relentless.
"The group I look after have been very poorly. And it's been very challenging, not having visitors come in to be with the patients. I am with the patients for a long time and they don't always get better and family visits are restricted. That has been a real challenge".
Sophie says, "You get quite emotional about it and just trying to have the stamina to keep going as we are all quite exhausted with it now."
During the first wave Sophie describes how the general public sent messages of support, cards and food the hospital.
It was lovely to see the general public cheering us on. There's not much of that happening now.
How has your life changed during the pandemic?
At home Sophie lives with her husband and toddler.
"It's been hard not being able to see her grandparents, you know, nowhere near as often as we did. I know it has been hard for everyone though."
Sophie describes how it was hard when her little one got different bugs and Covid symptoms and without testing it meant she had to isolate for 14 days. Describing the impact it has had on staffing.
"I didn't really feel that comfortable being off. It made me feel a bit guilty. But at the same time, you know, it's the best thing for the country if you do get symptoms to isolate and stay at home."
What was it like getting vaccinated?
As a frontline worker she was in a priority group for the vaccine. Sophie had the first dose of the Pfizer vaccination during a shift at work and describes her experience as positive. Everyone was friendly and looked after the welfare of the staff but also ensured they remained safe. There was lots of stewards and no confusion – everyone knew what they were doing.
"My experience was really good. The atmosphere was very positive, quite jolly even. I think people were quite happy to be getting [it]."
It felt [like a] momentous occasion.
Sophie describes her hopes for the vaccines, "I directly care for Covid-19 patients. So, it's hopefully going to offer me more protection there and stops me spreading it to my family. I thought I couldn't justify not having it as I didn't want to spread it to my family."
"It's good that elderly people and vulnerable people are getting vaccinated. Hopefully, it's going to really prevent more deaths."
When asked what she would tell people worried about the vaccines she said, "I'd say have it when you are given the opportunity, especially if you're in a risk group, because we've already had enough unnecessary death so far. And we don't want anymore."
She will receive her second and final dose of the vaccine soon. For more information about how the vaccines work to protect us visit our coronavirus vaccine FAQs.
What are your hopes for the future?
"I am hoping that people feel encouraged to have the vaccine and there will be fewer Covid-19 cases in ICU."
She also added, "I hope the population continue to care about health care professionals. It is great to know that people are thinking and caring for you as we are all quite fatigued."
As with the rest of the population Sophie is excited for spring and summer and to be able to go camping with her family again.
Review and reflect
What motivated Sophie to get vaccinated?
What challenges has Sophie had to manage over the last year?
How did acts of kindness help her?
The views in this story are those of the interviewee. The British Red Cross recommends that you continue to practise social distancing after getting the coronavirus vaccine.
Managing worries and decision making
Worries are normal, but there are things we can do to manage them. Use the circles of control activity to think about how to manage worries and help ourselves take positive actions.