The Tiffany Circle hosts unique events for its members. This includes talks, workshops and celebrations.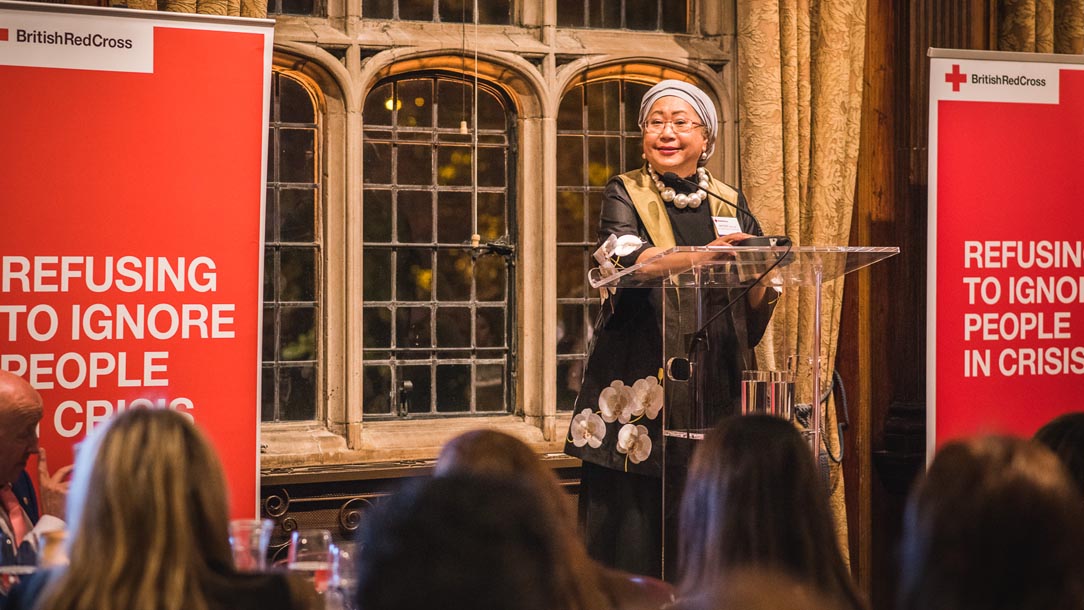 To come to one of our events and learn more about joining the Tiffany Circle, please get in touch.
Telephone: 020 7877 7106
Email: tiffany@redcross.org.uk
Upcoming events
REDTalks: Women on the front line
Date: 23 May
Time: 6.30pm - 9pm
Venue: BNY Mellon, 160 Queen Victoria St, London, EC4V 4AL
Women around the world face danger and prejudice because of their gender. In a crisis situation, these challenges can get worse.
Our panel of women who live and work on the front line of humanitarian crisis have seen these struggles first hand.
Join us as they discuss how crisis affects women, focusing on the challenges the women face, the positive change that women can create, and how their own gender has shaped their individual experience of crisis.
Unseen scars: Mental health and humanitarian crisis
Date: 4 September
Time: TBC (lunchtime)
Venue: TBC (central London)
War, population movement and violence have an obvious physical impact. But there are hidden scars that don't make the headlines.
People in crisis often suffer mental health problems. Most don't know who to turn to for help.
Join Dr Sarah Davidson, head of psychosocial support at the British Red Cross, to discuss the hidden scars that crises leave behind.
Dr Davidson will discuss a wide range of case studies. These include loneliness and social isolation in the UK and sexual violence in the Democratic Republic of the Congo.
Futures of humanitarian crisis workshop
Date: 25 September
Time: 6.30pm - 8.30pm
Venue: Twitter, Soho
Technology gives people knowledge, economic opportunities, the ability to manage natural resources and more.
In a rapidly changing world, technology will play a vital role in making communities safe and strong.
As part of the Red Cross' Global Dialogue on Emerging Technology for Emerging Needs series of events, this workshop is a chance to join the debate.
Hosted by Shaun Hazeldine, director of policy, strategy and knowledge at the International Federation of Red Cross and Red Crescent Societies (IFRC), this is an opportunity to help us plan for the future of humanitarian aid.
Tiffany Circle Sixth Anniversary
Date: 5 October
Time: 6.30pm - 10pm
Venue: Drapers' Hall, Throgmorton Avenue, London, EC2N 2DQ
Join us at London's historic Drapers' Hall to mark the sixth anniversary of the UK Tiffany Circle.
This event will celebrate the generosity and compassion of our members.
It will also reveal the impact we've have had on the lives of vulnerable people around the world.
Supporting refugee families: Festive shoebox appeal
Date: 30 November
Time: 10.30am - 12.30pm
Venue: British Red Cross, 44 Moorfields, London EC2Y 9AL
Have fun and help vulnerable people at Christmas by joining our shoebox appeal.
We're running a shoebox wrapping event at the British Red Cross head office in London. We'd love you and your family to join us.
There'll be games for children, food, Christmas music and festive cheer for everyone.
If you can't make it, please consider wrapping a shoebox of gifts. We can give this to someone in the UK who's in crisis at Christmas.
Tiffany Circle festive social
Date: 4 December
Time: TBC (evening)
Venue: TBC (central London)
Join fellow Tiffany Circle and Young Tiffany Circle members to celebrate the start of the festive season.
Our festive social is an evening of cocktails and conversation. It's an opportunity to meet other remarkable women who help the British Red Cross to support people in crisis.